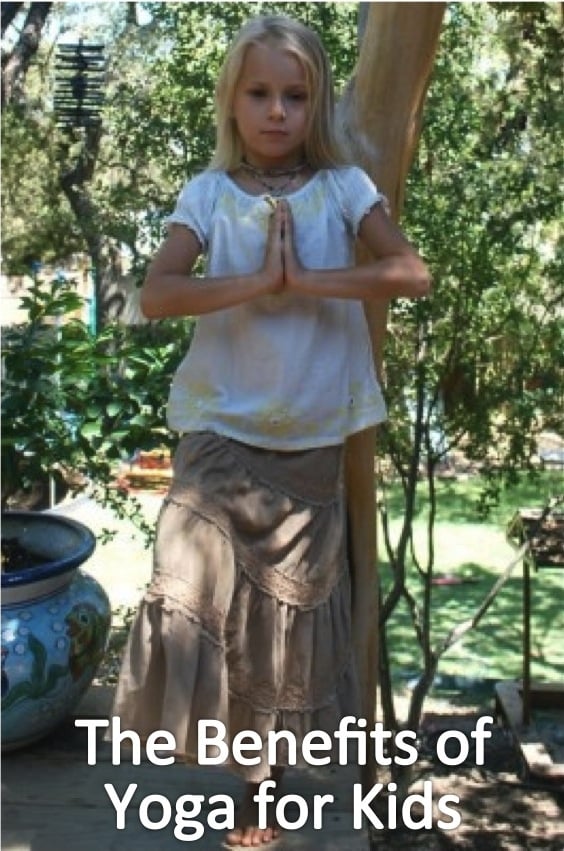 You already know how helpful yoga is for your Mind, Body, and Spirit. Imagine what a start you can give your kids by introducing them to the benefits of yoga from an early age!
Yogis believe a flexible body and an open mind go hand in hand. A natural style of parenting believes loving hearts, common sense, and open minds are the keys to bringing the peace and compassion the planet needs more than ever.
Guest author, Michelle McIntyre, gives us the scoop on why yoga is so good for kids.
Yoga is the coordination of specific postures with breathing, meditation, and concentration to focus and calm the mind. There is an increasing interest in the use of yoga for children to quiet the mind and increase overall health and well-being.
As a yoga instructor, I have had the pleasure of teaching children over the past ten years in both school and after school programs, yoga studios, as well as camps and hospitals.
Emphasis on individual abilities rather than competition makes yoga appropriate for all children, including those with physical limitations and lack of involvement in organized sports. Yoga provides a non-threatening and gentle method to increase physical fitness and enhance health and well-being.
Studies have found yoga to be effective in:
calming children
reducing obesity
curbing discipline problems
controlling anger and panic attacks
enhancing imagination, concentration, and academic performance
Health problems likes headaches, stomachaches, constipation, and colds are reportedly improved with a yoga practice, as well as a decreased need for medication for children with attention deficit disorder.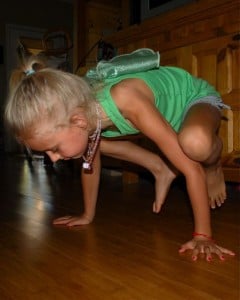 Whether you take your child to a yoga class or just begin a practice at home, the poses should be adapted to the child's individual developmental and physical needs.
The focus is less on the perfection of postures and more on the cultivation of compassion, non-judgment, connection between breath and postures, and introducing the foundations of a life-long practice.
Common components necessary when teaching yoga to children include the environment and atmosphere, parts of the yoga session, and recommended length of class. The environment may be a room away from distractions with the lights low, a yoga mat and soft music playing.
The parts of the class I have created include breathing exercises, poses, age-appropriate games, and relaxation. For example, a favorite breathing exercise for the five to eight year olds is becoming a deflated balloon and then visualizing someone coming to their mat and blowing air into their balloons.
The children inhale the air through their nose and grow to become beautiful balloons, which then "float" off their mat around the classroom.
The frequency of practice is recommended at least one time per week. Ideally, four to six times per week is best to enjoy the cumulative benefits of yoga. The length of your session depends on the attention span and developmental age of the students.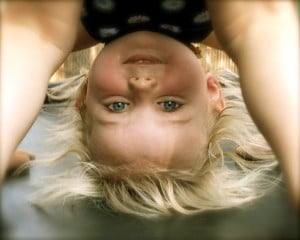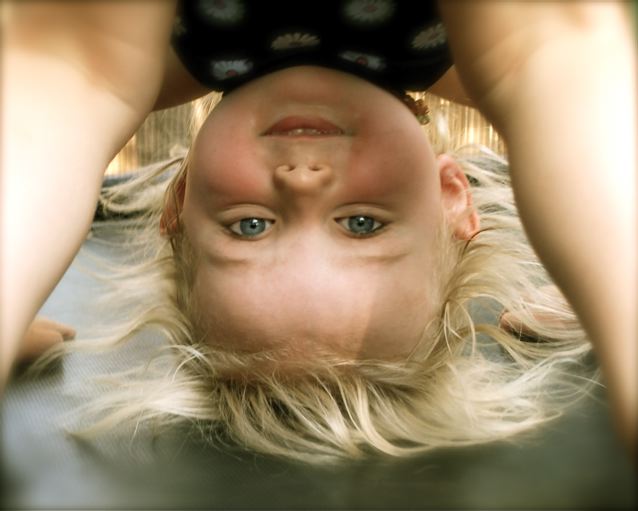 If you've never tried yoga with your kids, give it a go. Show them your own favorite pose and tell them why it relaxes / stretches / strengthens your body and mind.
They might just surprise you with how flexible their little bodies are… OR how quiet and still they can be when you give them the task of focusing on the breath.
As always, we love to hear about your experiences. Tell us in the comments below or on Facebook.

Latest posts by Green Child Magazine
(see all)