Winter Activities for Teens and Tweens
This winter activities list can be the parenting guidebook you need to keep your teens busy, connected, content, and off of screens as much as possible this season. There are tons of fun things to do in the winter, even for big kids!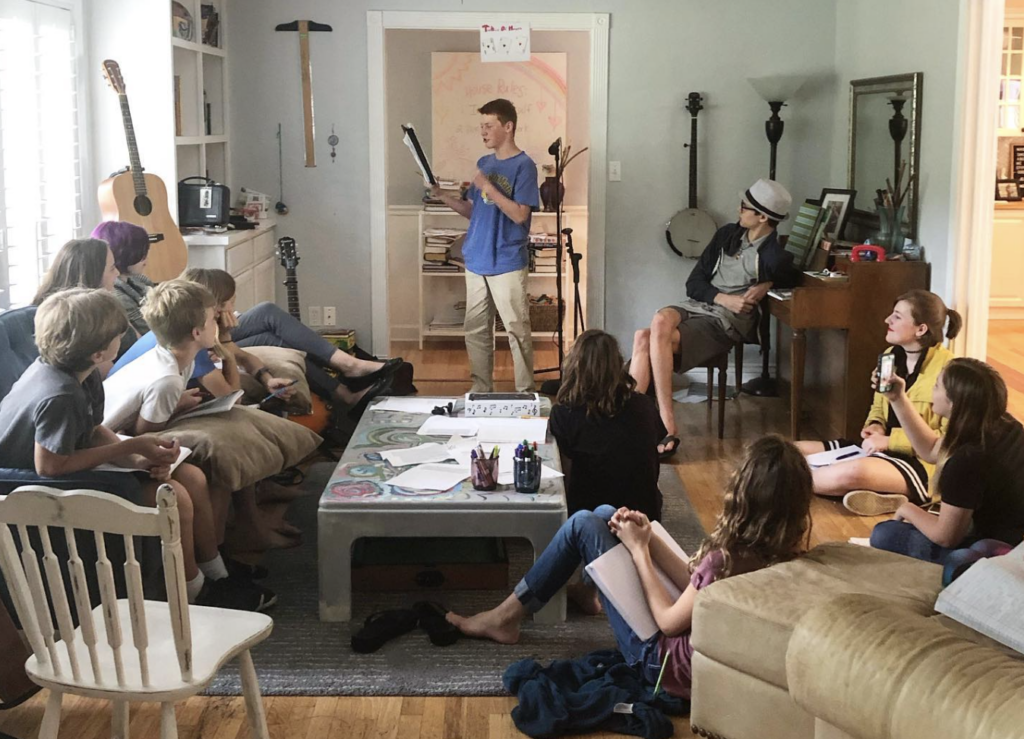 Beat Winter Blues: Teen Edition
Teens tend to live pretty busy lifestyles, and while the weather is cold outside it often means teens are inside using technology as a main means of connecting. Prioritizing off-screen connection is a supportive way to help teens cope with winter weather, and can help with seasonal depression symptoms too.
We already know that unplugging from technology can improve mental health, with the added benefits of getting out in nature. Your teen's mental health and wellbeing can also benefit from mindfulness activities, many of these ideas can help cope with winter blues or cabin fever.
Connection, Seratonin, and Vitamin D
It's developmentally normal for teens to feel their social lives are of top importance, and I don't disagree with that. Face-to-face connection is necessary for social learning and can increase oxytocin levels.
Getting outside and exercising are natural ways to increase serotonin, which can help manage symptoms of seasonal affective disorder. Dark days, decreased physical activity, and lack of human connection can contribute to anxiety and depression during the winter.
There may be a link between vitamin D deficiency and depression, and Centura Health states that " Vitamin D is now gaining popularity for its potential aid in preventing seasonal affective disorder."
These are ideas to avoid vitamin D deficiency:
Go outside for at least 10-30 minutes per day, even if it is cold. A little sun even through the clouds is better than none.
Eat vitamin D rich foods, like mushrooms, oily fish, and butter.
Take a vitamin D supplement, and make sure to eat a fatty food with it like cheese or peanut butter.
This winter activities list has some great ideas to naturally increase oxytocin, serotonin, and vitamin D. We are all doing our best as parents. Help your teens get through the short dark days of winter with happy and healthy hearts, and maybe just a little less screen time.
Winter Activities List for Teens and Tweens
With all of this said, as parents, it can be difficult to find reason after reason to encourage older kids to put their phones down. This winter activities list for teens all have themes of connection, getting outside, and supporting a healthy dose of vitamin D.
I find that once my teens get involved in plans with their peers, their stress melts away. They realize how nice it is to connect off screens.
Indoor Winter Activities
While we always recommend a little playing in the rain here at Green Child, it makes sense that some days might be too cold, rainy, snowy, or icy to get outside for long. Fortunately, there are plenty of screen free activities to enjoy indoors.
Get your teen involved in some of these indoor winter activities. It will keep them connected to their peers and loved ones.
Board Game Night
Inviting a group of friends over for a board game night is a great way to have an indoor party where teens have a way to connect! Popular board games amongst my teens are fun party games like Telestrations, Boggle, Bananagrams, and Code Names. If you have more strategy-minded teens, try Ticket to Ride or Catan.
Creative Writing Group
Our editor's son is part of an amazing homeschool co-op. Once a week the teens meet for a Creative Writing session. They work on poetry, plays, and stories with dozens of interesting writing prompts. They play games like "spot the plot hole" and they also dabble in acting, improv, and a variety of art.
Concerts
If your teens are into music, keep your eye out for any concerts playing in your area. It's a great experience for teens and something they'll likely never forget. Look at small local venues too, and watch some new bands with your teen.
Hot Cocoa Bar
Let your teen invite friends over for a hot cocoa bar, and get creative with all of the topping options. Another fun option is to make your hot cocoa bombs with different kinds of chocolate and cocoa mixes.
Waffle Run
Arrange a caravan to pick up some of your teen's friends, and drop them off at the local waffle or pancake house. They tend to be cost-effective, have large tables for groups, and comfort foods your kiddo might be craving.
Bowling
Another great indoor winter activity that doesn't involve a group of adult-sized children in your home is bowling. It gets them moving and gives them time to chat and be silly and as loud as they want! Take a look at your local bowling alley for themed nights, or black light bowling.
Baking Cookies
Baking can be a very relaxing and cozy way to spend a winter evening and is something most teens can do on their own. Cookies smell delicious and are super comforting to eat. Make some with almond flour and some with butter to get some healthy fats too!
This is the best introverted item on this winter activities list but is also fun to share with a friend or two.
Winter Sports and School Activities
Winter sports, theater, winter drum line, and leadership are all really good ways to keep your teen busy after school and connected all winter.
Check the options their school has, there's probably more to offer than you know! Many high schools and middle schools offer after-school clubs to provide a connection with other kids who have similar interests.
Outdoor Winter Activities
Outdoor activities can vary depending on how cold your area gets. The best part about this list is getting outdoors with something to do and connecting with friends.
Many of these cold weather outdoor games are suitable for teens. And something kids of all ages will remember just as much as an epic snowball fight is the coming-back-inside-and-warming-up process that follows.
Bonfire and S'mores
Even if it's cold out, a bonfire to warm you up with friends is always fun! Bundle up, gather some s'more ingredients, and sit around the fire for some good old-fashioned outdoor chill time. This is a perfect time to get out some question cards, I like this one called The Hygge Game.
Holiday Light Walk
Some neighborhoods have extravagant holiday light scenes, and it's really fun to bundle up and walk along the sidewalks looking at them. This outdoor winter activity is best done with friends, hot cocoa, and a navigation plan. Don't forget to bring Little Hotties for warm hands! These are a lifesaver for chilly winter walks.
Mushroom Hunting and Winter Foraging
Winter might seem like a sparse time to look for living plants, but in fact, there is a lot your teen can learn to identify and forage and it's a great reason to get outside this season. Grab some books at your local library with identification photos, then head out on a walk in the woods with a foraging basket to gather conifer needles, mushrooms, rose hips, and more!
Winter Hiking
Have your teen navigate a hike in your local area this winter. Sure, it might be cold and muddy, but this is a great time to connect with them or let them take a simple route with friends. It's always good to bring some Yaktrax in your hiking pack just in case you run into some snow or ice!
Zoo Trip
After they were 9 or 10, I thought my kid's love of the zoo was over, and that season of my life had ended. As it turns out, they love going to the zoo again as teens! It's so fun for them to bring friends, and walk around in the free open air, rain or shine.
Zoo passes make great experience gifts. Many zoos have holiday attractions, and I'm here to tell you that after many years spent in awe and wonder of our zoo's holiday lights in the cold rain, I'm more than happy to drop my teens off to see it with their friends. I'll be waiting for them with hot cocoa after!
Ice Skating and Ice Hockey
In the coldest parts of the country, a favorite winter activity for teens is ice skating and ice hockey. Whether a beginner or experienced on the ice, get a group of teens together to skate for an afternoon.
In warmer regions, there's always the option of indoor skating rinks or man-made outdoor rinks rather than ponds. It's a super fun experience to lace up, and warm up with exercise even though it's cold out!
Things to Do In The Snow
If you live in an area that gets tons of snow and your teens are feeling cooped up inside, here are some ideas for things to do in the snow to keep them active and busy with their friends and neighbors.
Sledding
Sledding can be super simple for teens, and they should be able to do it on their own. They find the best hill in the neighborhood and meet up with some friends. Bring a couple of simple sleds, and have a blast!
There seems to be nostalgia for teens doing things they loved when they were younger. Now they're doing it on their own with friends.
Snowshoeing
Whether you have snow where you're at or have a mountain nearby, snowshoeing is an easy way to get outside. It allows you to trek in areas you otherwise might not be able to. You'll see some beautiful sights, and is just as easy as walking. Teens can pick it up super easily!
Fat Tire Bikes
For more adventurous teens, rent some fat tire bikes or buy fat tires for their bikes. This is a super fun winter activity that active teens will love. It's great for them to be able to ride their bikes in the snow, motivating them to go outside.
Snow Forts
Teens are big and strong enough now to make the snow fort that dreams are made of! Big kids can realize their inner child with complex and perfectly built snow forts. Get two or three teens together and they'll be out there all day.
Snowball Fights
A snowball war is probably the most simple, classic, and nostalgic outdoor winter activity on this list. Bring out their inner child, and get some fresh air and daytime light. A snowball war is a perfect way to spend a winter day with friends.
Pair this activity with a hot cocoa bar, and your house will be the best place for teens to be this winter!