Sensory Activities for Toddlers
Toddlerhood is a unique time in a child's development. They're growing fast in every area, asserting their independence, and making a giant leap in paving pathways in their brain. Sensory activities geared towards toddlers are a great way to keep your child busy and support their developmental growth at the same time.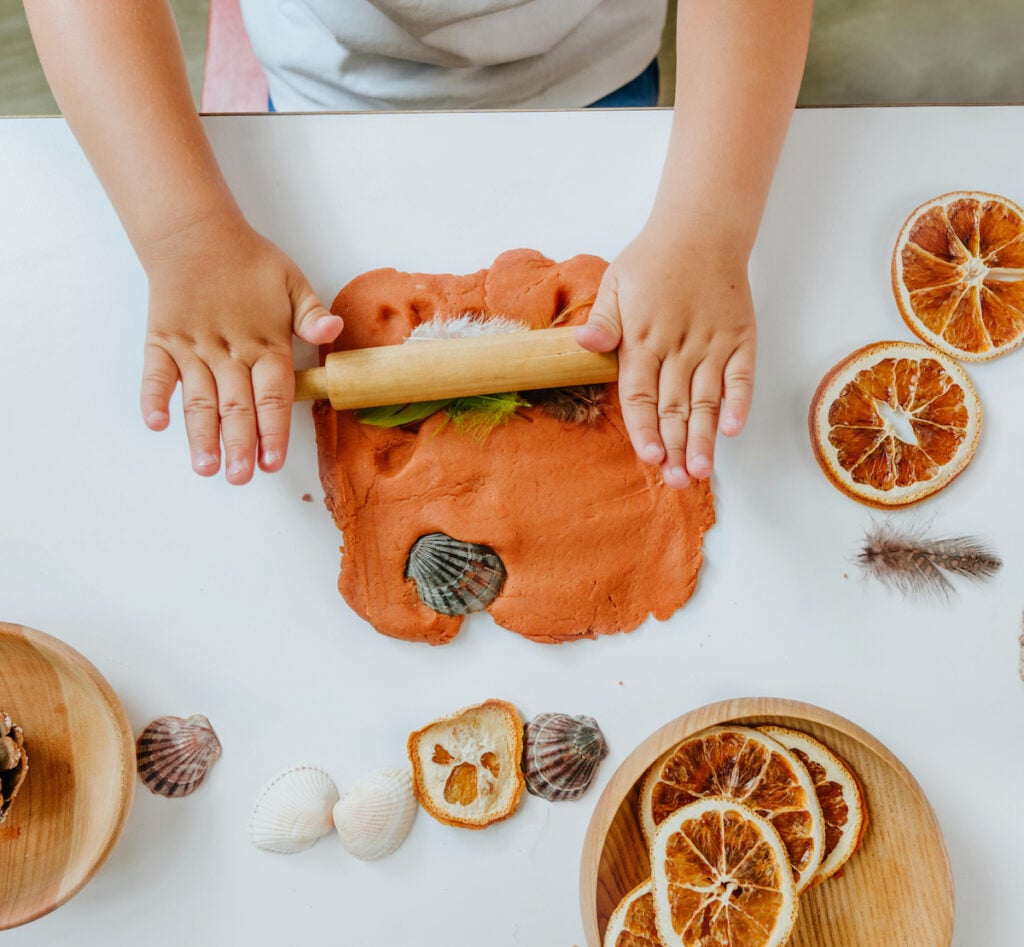 Toddlers seem to lean towards extremes when it comes to feelings, behaviors, actions, and reactions. They are living life to its fullest, often with a side of attitude! Their little hands seem to get into everything, and it can feel like they are always a step ahead of us.
Even though we know toddler meltdowns are normal, this stage can easily feel overwhelming as a parent. It helps to remember that toddlerhood has a developmental purpose. These tiny people have just recently realized they are their own person and not an extension of us, and they have the innate drive to build neurological pathways in their brains.
Building a brain, a nervous system, social skills, language, and motor skills is a serious business. This is the important task toddlers are up to when they dig in the dirt, smell flowers, climb everything in the house, splash water, and test boundaries.
Now that we know this, how can we support our tiny humans who seem to be living their lives at full speed ahead as we chase after them in a panic?
What is Sensory Play?
Sensory play includes activities that engage any of the five senses, with most sensory activities using multiple sensory inputs. Sensory activities for toddlers can help them regulate their nervous systems, and calm themselves. They're also an important part of a growing child's development.
Examples of sensory play activities that are natural for toddlers are:
playing with bark dust at the park
pushing a toy truck through mud
using measuring cups in the bathtub
watching fish swim in a tank
When you consider that vision itself takes up more than 50% of the cortex to process, it makes sense that it would take a lot of stimuli to pave all of those neurological pathways. Vision isn't just eyes seeing at the surface level, like all of the 5 senses it takes large areas of the brain to process the sensory input.
Sensory play is exactly how toddlers build their brains, develop social skills, emotionally regulate, and process the world around them. When your toddler runs away from you, screams so loud the neighbors can hear, licks the furniture, and dips their hand in the flour as you bake together, they are teaching their brains to process sensory input.
Why Sensory Play is Important
Incorporating sensory activities into a toddler's day is a wonderful way to engage them in developmentally appropriate play that supports their nervous systems, reduces toxic stress, helps them learn, and builds their brains.
Most importantly, it keeps them busy!
Benefits of Sensory Activities
There are tons of benefits of sensory play for your toddler, such as:
Helps build social skills
Supports brain development
Can be very calming
Helps develop play skills
Regulates the nervous system
Provides proprioceptive input (body awareness, activates joints and muscles)
Improves the vestibular system (head movement and positional awareness)
Helps develop language skills
Helps develop fine motor skills
Helps develop gross motor skills
11 Sensory Activities for Toddlers
Sensory activities can range from providing different textures, smells, body movements, and visuals to one or more activities.
Doing sensory activities for toddlers at home doesn't have to cost a ton of money or have an involved and complicated strategy. Start with what your toddler likes already and build from there! Incorporate different sensory tools and strategies throughout the day that feel natural for your family.
It's ok to have sensory activities at home that aren't a huge mess. Some call it "messy play" but it really doesn't have to be super messy! Think of it more as a contained mess, with lessons about boundaries.
You can set up a sensory table if you have space, but it's not essential. Many of these sensory games and activities are contained in little bins, a sensory bin, tub, or pan, and can be done outside. Some don't require any mess at all.
Definitely start with materials that you already have, whether it's pasta that's been sitting in the pantry, unused dried beans, cotton balls, ice cube trays, etc… use what is easily available.
1. Make a Sensory Bin
Sensory bins are a great way to put a variety of sensory toys into one easy-to-store bin. It can hold a combination of kinetic sand, rice, toys, cars, clay, and even water. Have a few different themed bins to keep your toddler engaged if this is a sensory activity they like!
The other great thing about sensory bins is that they can be enjoyed by toddlers but can be easily altered for an older child's interests as well.
Sensory Bin Ideas
Use kinetic sand or play dough as a base floor and fill the bin with dinosaurs, cars, or whatever small toys your child is interested in.
Go for a walk and forage leaves, pine cones, flowers, and rocks to make a nature sensory bin. Add water and sand to make small rivers and falls.
A larger bin filled with water is great when other toys are added. Kitchen items like funnels, measuring cups, and colanders are fun and easily available for water play. Use other items like sponges, squeezy squirt toys, or baby shampoo for some bubbles. Feel free to add a few drops of food coloring to the water too!
Use rice, beans, dry pasta, cotton balls, pom poms, feathers, or other household items to mix things up!
2. Messy Play Time
Messy play is super fun and engaging and a great way to incorporate sensory activities for toddlers. These can be contained in a bin, a large tray, a baking sheet, or done on an easy-to-clean kitchen floor. Have fun and remember that toddlers are washable!
Messy Play Ideas
Make a messy play tray with a large baking sheet or tray. Add rice with food coloring to make any type of scene, dried pasta or beans with tweezers and small cups for sorting, or different colors of kinetic sand with cookie cutters.
Set up a mud play station outside. It can be as basic or elaborate as you like, and the benefits of mud play are plentiful.
Finger painting is such a wonderful way for toddlers to get into the moment and experience art on their own terms. Most finger paints are non-toxic and washable these days making for a safe and easy experience for all. Use a large butcher paper on the floor or outside, and make sure to let them squeeze the paint out themselves. Go big if it's nice out and let them get their feet involved too!
Slime is an easy-to-make super sensory toy that feels messy but really doesn't make any mess. Slime is perfect for bringing anywhere in a tin to keep little hands busy. This fluffy slime recipe looks really cool!
Cooked pasta is a budget friendly way for toddlers to squish and design to their heart's desire. Put it in a large baking pan, or in a bin to avoid mess. Use food coloring to make different colors of pasta for them to create, mix, sort, or just squish!
Shaving cream is a super lovely texture for toddlers to experience. It's squishy, slimy, and some of it even has a smell. Feel free to up-level this experience with food coloring. Shaving cream can be used on paper, on a tray or cookie sheet, or if you are feeling super adventurous take it outside on a slip and slide for whole-body sensory fun!
Put salt on a pan with an edge, and let your toddler write letters, draw pictures, and explore with their fingers and hands.
3. Outdoor Sensory Activities
Never underestimate the power of the outdoors to calm and balance your children and yourself. Outside time provides so many natural sensory activities for toddlers that you don't even have to plan them.
Outdoor Sensory Activities
Take a nature walk or outdoor scavenger hunt and collect seasonal items for a nature table, like pine cones, sticks, moss, leaves, and rocks. Each one has a different feel and weight to it, make sure your tot has pockets or a basket to carry their items, feel them with their hands, and look them over.
Playgrounds provide a wonderful opportunity for gross motor sensory play. Climbing up a slide is good proprioceptive input and swinging is good vestibular input. Let them dig in the bark, play in the sandbox, jump on the bridge, and fill their lungs with air.
If it's rainy, don't skip outdoor sensory activities! Check out this fun list of ideas to play in the rain.
4. Sensory Art
If your kiddo likes art activities, bring sensory art into the mix for a multi-sensory experience that will help them calm, regulate, and focus.
Sensory Art Ideas
Use scented markers to add a sensory layer to coloring or drawing.
Make clay sculptures and let them dry, then use them in a sensory bin!
Try outdoor mindfulness art ideas like using their found nature objects to make stamps, pine cones or flowers.
Make your own nature-based paints and paint brushes.
Paint rocks of different sizes and weights and find places on your next walk in the woods to hide them.
5. Sensory Bottles and Glitter Jars
Sensory bottles can have a variety of ingredients, some have water, oil, and beads, while some incorporate glitter and glue, and some have sand in them. They are a great way to calm your child down, it can help them self-regulate as well.
There are some great ratios and mix-in ideas for making your own sensory bottles here, and a tutorial for making glitter jars here.
Sensory Bottles and Glitter Jar Ideas
Use a color theme with food color, items, and glitter that will spark your toddler's interest.
Use Mod Podge to make an outside label for each bottle or jar with your child's name, favorite animal, or day of the week.
Sneak in a few random items like star-shaped beads for your child to do a visual finding game as they shake and the items float.
6. Play Dough for Fine Motor Skills
Play dough is a wonderful sensory tool, it can keep kids busy for hours and there is so much creativity that can happen with it! It is great for proprioceptive input, fine motor skills, color identification, and downright fun.
Play Dough Sensory Ideas
Make your own play dough (or cloud dough from 2 parts cornstarch and 1 part conditioner) and add a couple of drops of essential oils for scent, and play around with different color combinations!
Make a scene in a tub to go with one of your sensory bins, and add cars or other small toys to the mix.
Use cookie cutters to create different shapes.
Let them squish it through their toes or pinch it into fake monster-looking fingernails.
7. Blanket Burrito
If your toddler is going overboard with toddlering and they need a reset (or, maybe you do?), a great way to reset their system is to make a "blanket burrito." As a mom, this quick reset helped me get through some wild days!
How to Make a Blanket Burrito
Take any blanket, for me it was usually a throw blanket from the couch. Lay it flat on the ground and tell your tot "It's time to make a burrito!"
Play pretend for what you are putting in the burrito, and the last item is them! Have them lay on the blanket, and roll them up. Yep, you heard me. Literally, roll them! Roll them halfway, unroll them a little, and keep going.
This provides a wonderful squeeze like a body hug that gives such wonderful proprioceptive and vestibular input at the same time, is a quick activity that only takes a few minutes, and often gives them the sensory input they need for calming and resetting.
8. Ice Ice Baby
Ice is a perfectly intense and easy-to-clean-up tool to use in your toddler's sensory activity plan. Plus, there are so many ways to use it!
Ice Sensory Ideas
Add food coloring for a fun sorting activity, and use them in a bin with a scoop. Watch the colors melt together!
Freeze small items or fresh herbs in the ice, so they can discover them as they play with the slippery ice cubes and it melts.
Use ice in a bin, add it to a sensory bin, and use it on a water table. Ice is great for pool time in the summer too!
9. Fresh Herbs
If you have an herb garden or other access to fresh herbs, they can make great sensory activities for toddlers. They each have a different feel, smell, and taste, get creative as you use them! Plus it's an excellent way to get your child involved in gardening.
Herbs Sensory Ideas
There is nothing like the smell of fresh herbs! Put some on a tray after you harvest, and let your toddler explore their differences.
Each herb has a different wonderful texture, providing different touch sensations. Crinkle them, rip them up, and use child-safe scissors to cut them. Each herb will have a different difficulty level of tearing or cutting too.
Make sure you use herbs that can be eaten fresh, and let your tot do a taste test. The tongue is a sensory pathway for textures too!
Add the herbs to water to create a sensory recipe and see how their texture, smell, or taste changes.
10. Sensory Music
Music is not only calming, emotionally processing, healing, and connecting, but it's also a great sensory activity to either use on its own or paired together with your child's favorite sensory activities.
Sensory Music Ideas
There are some great songs out there for kids that can get them moving, shaking, and even making unusual sounds! I really like the song Body Sounds by Priscilla Ahn.
Aside from listening to music, making music gives wonderful sensory feedback as well. During sensory activity time, get out some bongo drums, a ukulele, or whatever instruments you have on hand and let them go to town!
11. Sensory Bags
Sensory bags are super easy to make and can be themed to whatever your child is interested in. You can use a plastic bag you already have on hand or something safer and more eco-friendly like Stasher bags.
Make them with different liquids, items, squishes, and glitters. Find a tutorial on how to make and ideas for what to put in sensory bags here.
Sensory Bag Ideas
Hair gel
Cooked pasta
Water
Pumpkin seeds
Beads
Grapes to squish
Oil
Have Fun with Your Toddler!
Toddlers are naturally drawn to sensory experiences that pave pathways in their brain whether it comes in the form of climbing up a slide, dumping cheerios out to play, or watching a bouncy ball. Some of it may be confusing or frustrating for adults to manage, but it all has a purpose.
Making sensory play part of your toddler's routine can make for better-balanced children and adults. It is always important to meet your child at their developmental stage. These sensory tools are a perfect way to do that with your toddler, so have fun with it!