10 Calming Crystals to Recharge Your Soul and Soothe Your Baby
Life with a new baby can be anything but simple. Between having to navigate this uncharted territory while simultaneously recovering from whatever birthing journey it took you to get here—it's just a lot. New parenthood can be disorienting. So it's natural to look to anything that might help you center yourself and soothe your baby.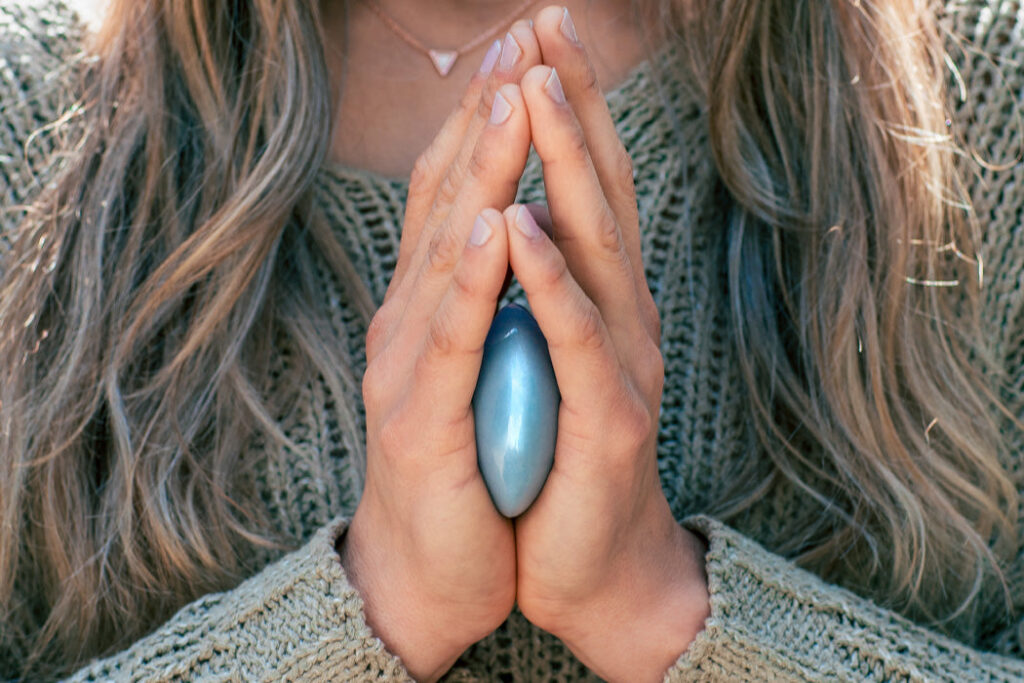 Experts say that, "Crystals act as a power hold for healing as they allow positive, fruitful energy to flow into the body and do away with the negative, toxic energy. Like other forms of alternative therapy, crystals work by channelizing your energy levels, thereby, focus on healing your body from the inside." (source)
Postpartum and the time of your baby's infancy can be filled with amazing moments, but stressful moments are bound to take place too. Placing soothing crystals in areas that you plan to use for rest, may — at the very least — help remind you of the need for that internal balance and peace.
Here are 10 calming crystals that we think are up to the job.
10 Calming Crystals for a Restful Space
Whether you are sharing a sleep space with your baby or looking to zen-up their nursery, here are the top ten calming crystals that can help evoke a healing and relaxing environment for both new parent and baby.
This post contains affiliate links.
1. Amethyst
Considered a natural tranquilizer, Amethyst is a popular crystal that comes in a variety of soothing purple colors. The violet variety of quartz is a powerful and protective stone that is said to help manage fears and anger, and can help calm anxious feelings.
2. Angelite
A healer of the physical body, Angelite is a beautiful muted blue stone that has a calming and soothing energy that is also believed to help improve spiritual awareness.
3. Black Tourmaline
This calming crystal can be used to clear your aura, remove blockages and break up negative energy when held over the body's seven chakras. Known also for its protective qualities, black tourmaline makes a striking addition to an entry hall table and helps keep unwanted energy out.
4. Celestite
A good crystal for encouraging mindfulness, Celestite is another beautiful blue-colored calming crystal that is typically used as a visual reminder to remain present and mindful throughout the day and during meditation practices.
5. Citrine
Citrine is not only a beloved calming crystal known for its gorgeous golden color, but it is also considered to be a powerful cleanser with restorative energy—perfect for those early days postpartum.
6. Lepidolite
Lepidolite is a "stone of transition" and it helps to gently induce change. The pretty purply-pink stone can bring deep emotional healing and can help to soothe and reduce stress and depression.
7. Moonstone
Of pearly and opalescent color, Moonstone is a crystal that helps inspire inner growth and strength. It can soothe emotional instability and stress, and stabilizes the emotions throughout new beginnings.
8. Rhodonite
This calming crystal is thought to reduce and suppress anxiety. It can also diffuse feelings of panic. Rhodonite comes in a variety of marble-like pinks and is referred to as "the stone of compassion".
9. Rose Quartz
Best known as the crystal that helps inspire unconditional love from others, the popular stone can also help evoke self-love. Self-love is something that any new parent can benefit from at this sensitive time.
10. Tigers Eye
A great crystal to help ward off negative energy, Tigers Eye is also good for growing confidence and strength and is a root chakra stone that can help you stay grounded, build a safe and strong foundation, and can help you find motivation.
Where to Place Your Crystals
Crystals add good Feng Shui to your home. When it comes to finding the perfect place for your calming crystals, remember most importantly that you should always keep them out of your baby's and other's children's reach. If you can, keep them near windows or plants so they can absorb natural healing energy. And a selenite can help recharge your stones and infuse them with high vibrational energy.
Crystals can easily become a hobby. You can add to your collection of ethically mined crystals with Energy Muse's 365 subscription box. Their quarterly crystal subscription box is filled with natural stones and other crystal-infused energy tools – up to $100 worth of product for only $49.95 per box.
No matter what it takes to keep calm and stay present during this special time postpartum, be sure to do it—even if others don't always see the value. This is time you won't get back, and you should feel as calm and protected in this little bubble for as long as you can.