Holiday Snack Boards: Healthy & Festive Party Tray Inspiration
Bring plenty of cheer to your holiday gatherings with a festive charcuterie. These creative holiday snack boards are sure to brighten your spirits and inspire some healthy grazing during the extra time at home.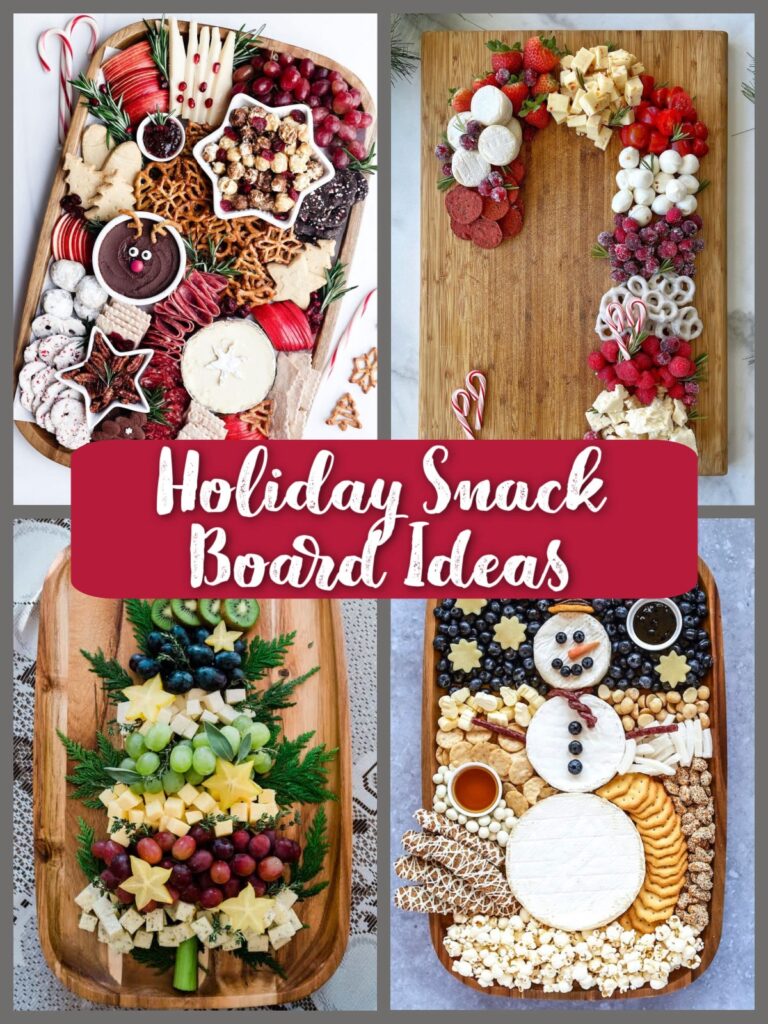 Some of these ideas involve more sugar and carbs than we tend to eat in our own homes. So, feel free to use them as inspiration – and then tailor to your family's preferences or food allergies. Or you can declare, "Hey, it's Christmas! We're having the snowman charcuterie board!"
The holidays are an ideal time to practice the 80/20 rule. Barring food allergies or health issues, it's good to let your guard down and truly enjoy a guilt-free treat once in a while.
Healthy Holiday Board Ideas
These holiday snack boards are perfect for everything from a quiet family movie night to big holiday gatherings.
Healthy Holiday Crudité Wreath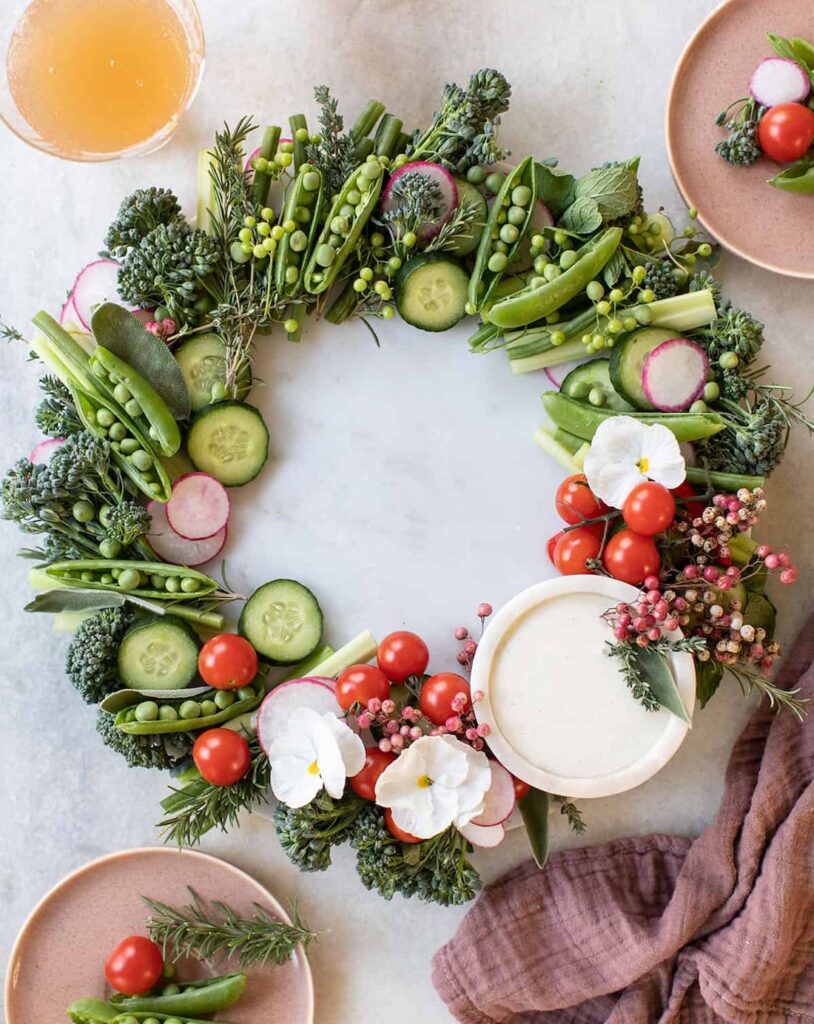 Sugar and Charm's gorgeous crudité wreath makes a light and healthy appetizer for your holiday party. Having this vegetable-heavy option is a great way to balance out some of the more sugary snacks below.
To make this festive holiday appetizer, you'll need plenty of fresh vegetables, a large round serving platter or board, and a small bowl for the dip. Here's more on how to assemble it.
Snowman Charcuterie Board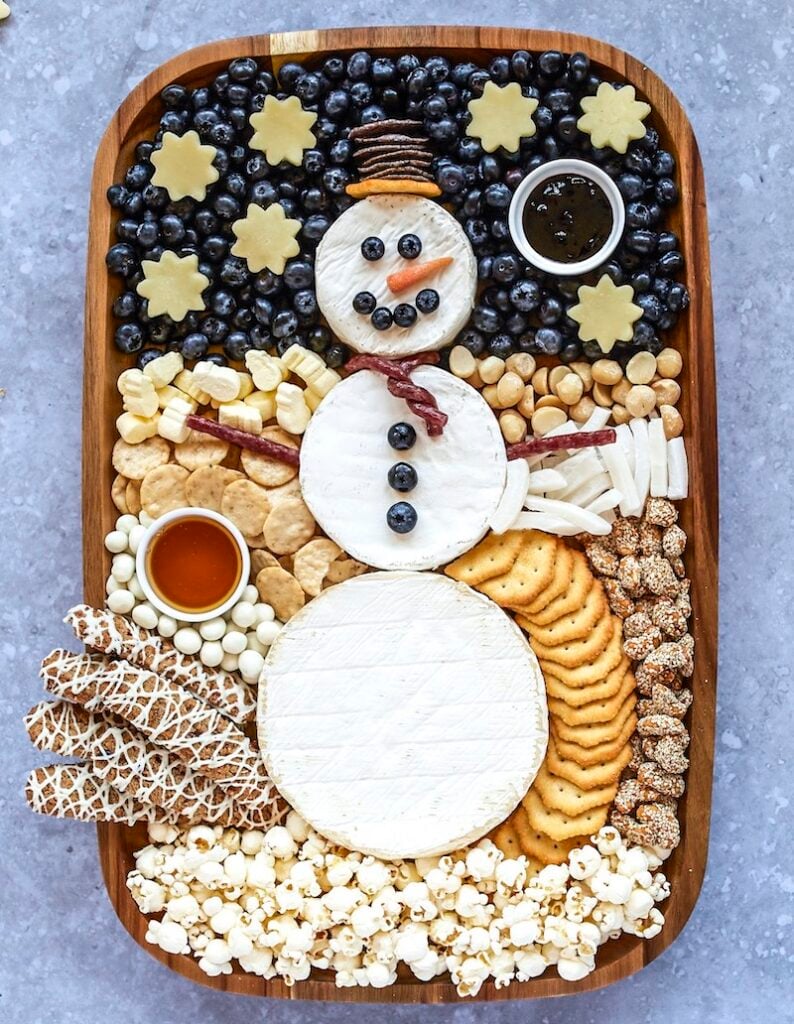 Do you wanna build a snowman? This board of creamy dreamy cheeses from Maegan Brown of The Bakermama makes a great after-snowman-building snack. Or have it while your family watches Frosty the Snowman.
You can find details on building this one at Bakermama's link above or in her gorgeous book filled with all year round and holiday snack boards: Beautiful Boards: 50 Amazing Snack Boards for Any Occasion.
Christmas Tree Cheese Board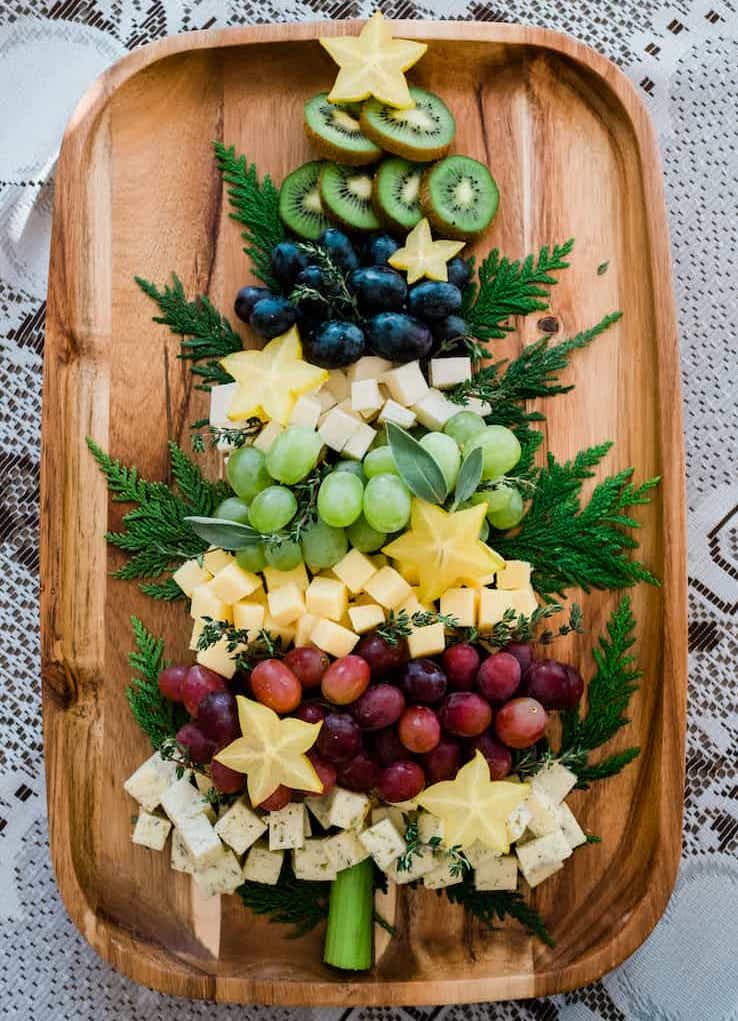 Our absolute favorite (and easiest to build) snack platter this year is a Cheese and Fruit Christmas Tree snack board from Yvette Marquez of Muy Bueno Cookbook.
I'm not the greatest at arranging a holiday party platter. It takes a level of patience and precision that I've never had. But I can definitely make varying "branches" with piles of grapes and cheese!
How cute is the way she uses star fruit? She shares a helpful video with assembly instructions for this spectacular holiday snack tray. She also has a gorgeous cheese board with grilled pineapple and other fruits.
Candy Cane Wishes and Mistletoe Kisses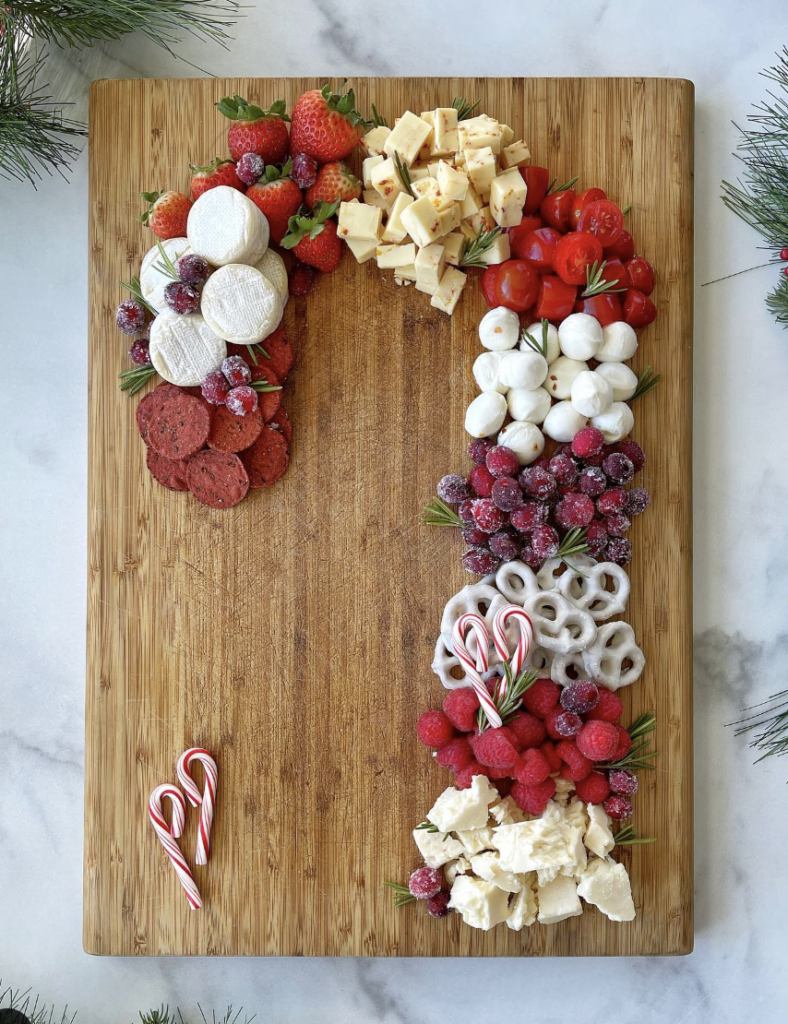 We'd never thought of coating cranberries in sugar before this, but YUM! This candy cane board idea from Berry and the Boards uses foods you don't always see on a charcuterie board. Beet chips and roasted red tomatoes to name a few!
You can use a variety of red and white foods to create your own candy cane themed board. It's ok if the reds don't match! Nature makes all different shades, and they still work beautifully.
Festive Christmas Snack Board
With chocolate hummus, pecans, salami, yummy cheeses, and caramel popcorn, this holiday board is a delicious mix of healthy and sweet treats. Find more details at Wholesome Family Kitchen on Instagram.
Pomegranates (in season this time of year) are used in this one and the one below. They're loaded with antioxidants and nutrients that build healthy blood cells and blood sugar. Also how cute is the little Rudolph in the chocolate hummus?
Winter Themed Snack Board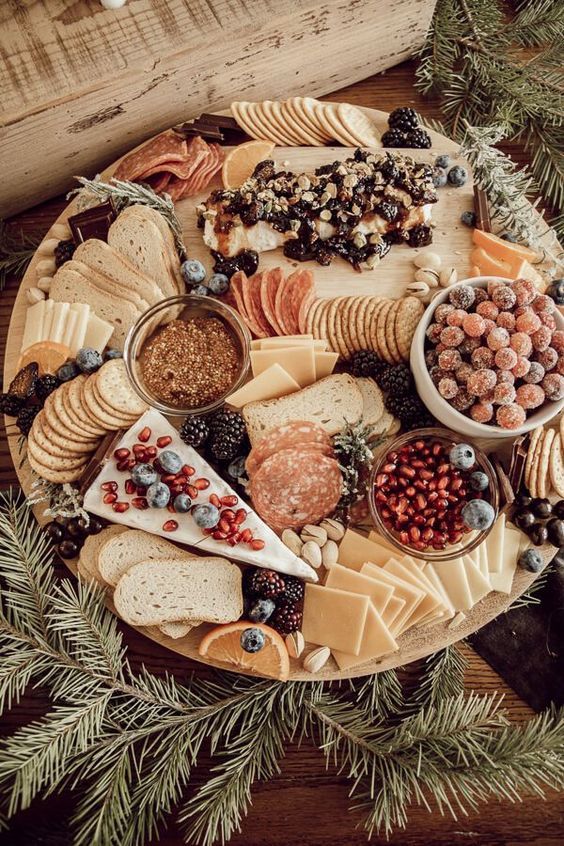 This winter themed board from Twelve on Main is another gorgeous option that inspires us to use foods that are currently in season.
We're also big fans of the earth tones, richly colored fruits, and rustic meats and cheeses. The main items are substantial and filling, while the few sweets are fiber-rich and healthy.
Hanukkah Latke Snack Tray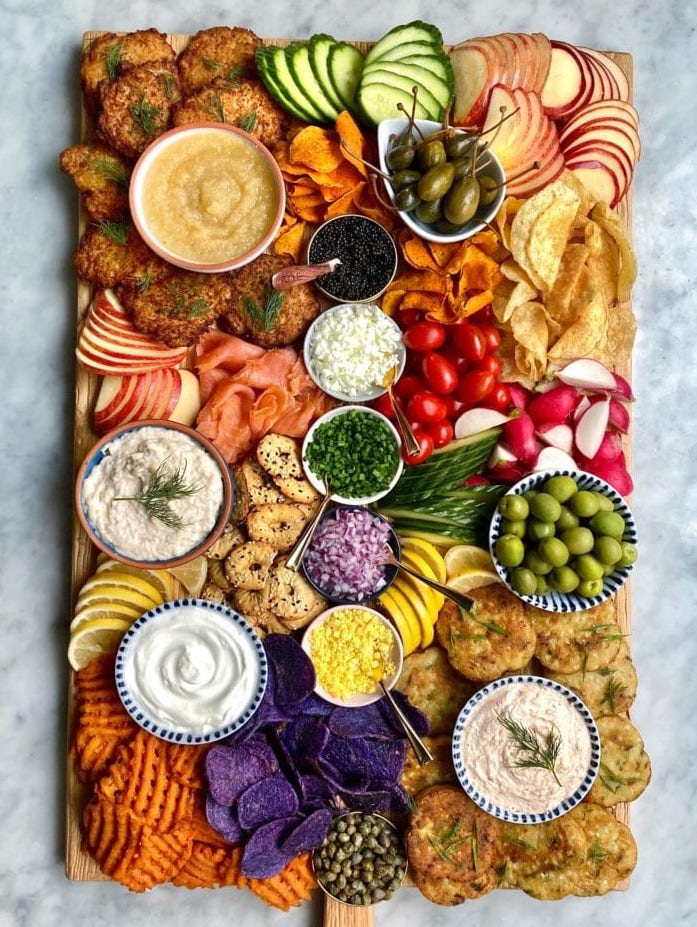 Ain't Too Proud to Meg's hearty Latke-themed Charcuterie Snack Tray includes plenty of scalable substance for any size gathering.
Take a look at her website for a labeled image of all the foods, plus where she cuts corners (hello, Trader Joe's Frozen Latkes!) and what you won't want to scrimp on.
Dessert Holiday Party Platters
Warning – these boards contain sugar! So make sure they are for dessert instead of snacking. Preferably one of these comes after a filling meal with plenty of protein and healthy fats.
Cookie Decorating Board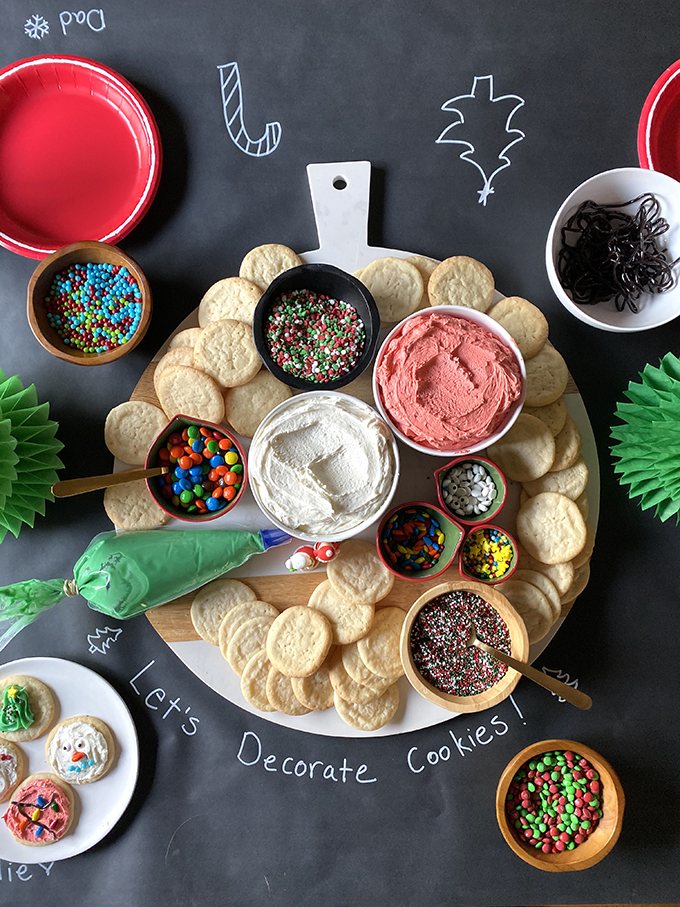 After they've filled up on some of the more veggie or fiber heavy boards, let your little ones decorate their own cookies with this creative cookie making board from Number 2 Pencil.
While you may not be able to host a cookie decorating party this year, it can still be a memorable way to decorate those cookies for Old St. Nick.
Rudolph Brownie Dessert Board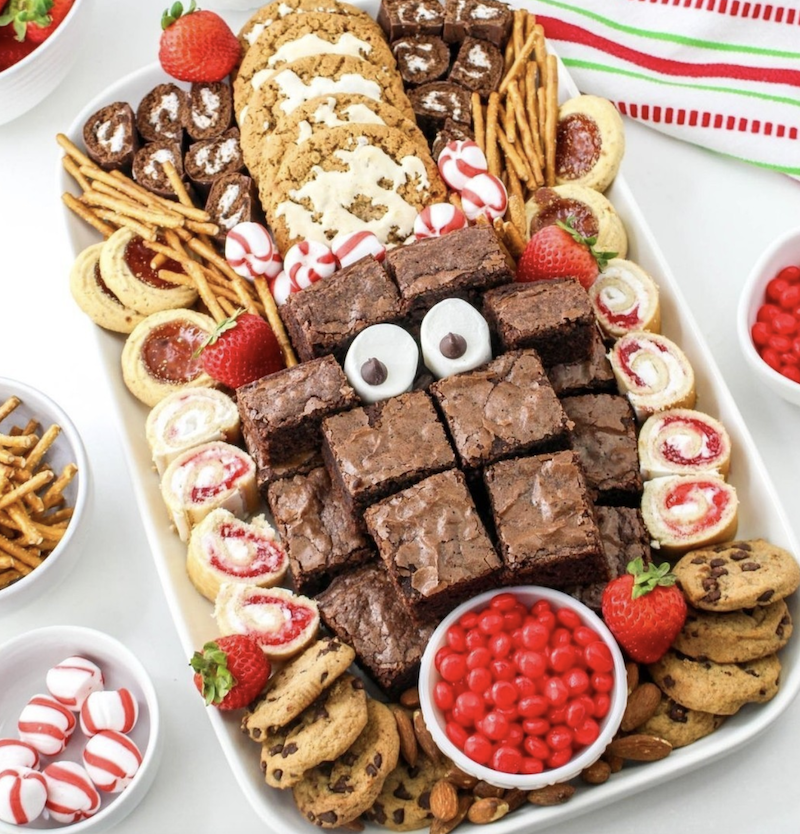 What better use of Christmas brownies than to make a reindeer dessert? This one is loaded with sweet treats, and you can find all of the details at Cook This Again, Mom.
For dessert boards like this one, any item you can make from scratch will be healthier.
Hot Cocoa Holiday Snack Board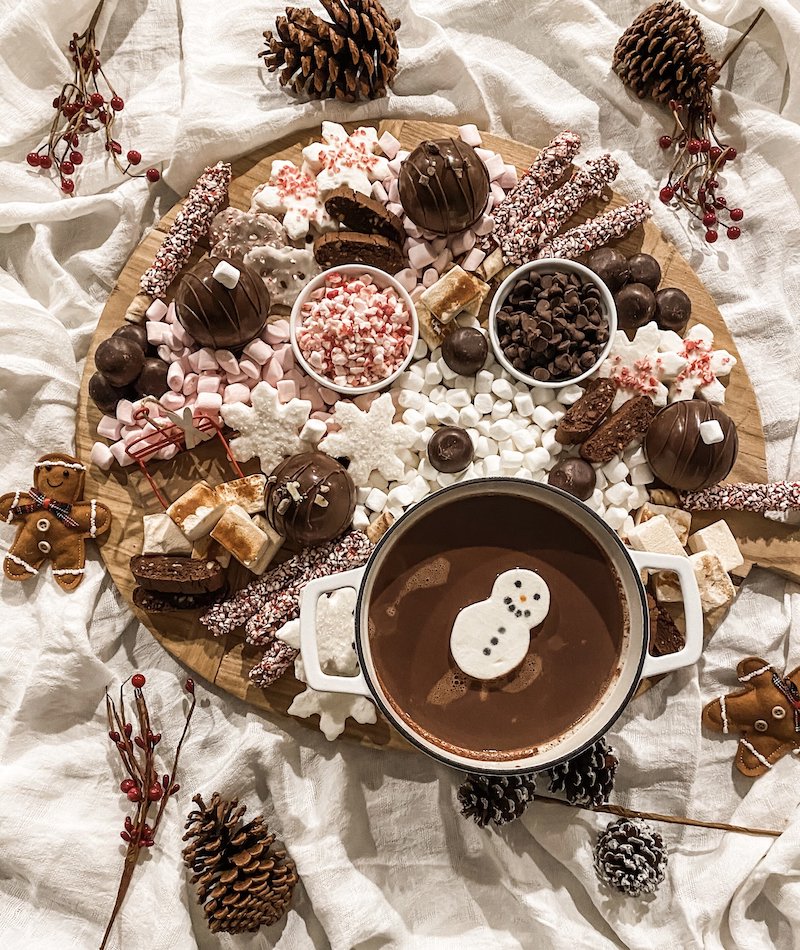 Another sweets-focused board, but if there's ever a time to enjoy something as festive as this homemade hot cocoa board from Easy Livin, it's a cold December evening. Try scaling down these ideas to make mini tray for each child.
If you're looking for year round party board inspiration, check out Shelly Westerhausen's beautiful book Platters and Boards: Beautiful, Casual Spreads for Every Occasion.
And be sure to the kids in the kitchen with you. Little ones are capable of helping to make holiday snack and charcuterie boards. Especially if it's just for your own family, set aside your perfectionist tendencies and let them have fun!
Here are some other great ways of getting kids involved during the holidays:
Creative & Eco-Friendly Ways to Wrap Gifts