DIY Eco-Friendly Gift Wrapping Fun
What do you get when you ask kids to wrap gifts with recycled papers, fabric, and craft items they found lying around?
We got an afternoon of DIY eco-friendly gift wrapping fun… and a pile of off-the-chart festive, creatively wrapped gifts!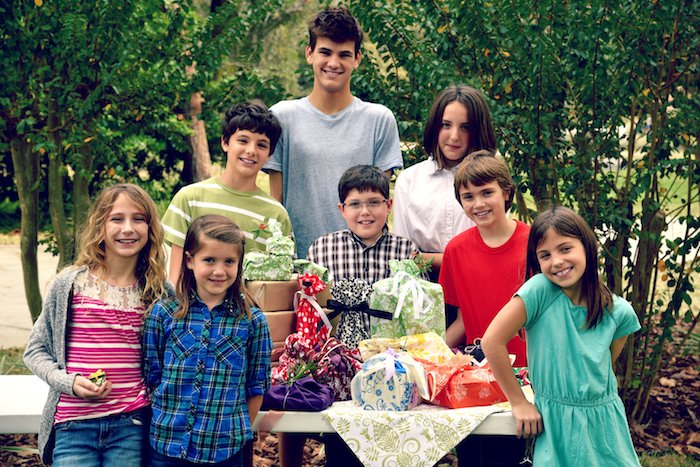 And personally – I got to share my obsession with Furoshiki (the Japanese art of scarf or fabric wrapping) and fabric gift bags. The Green Child team keeps a Pinterest board filled with ideas for stylish gift wrapping with upcycled items or things you already have on hand, and while they may not be Instagram-worthy works of art, I'm always dreaming up fun themes for gift giving.
So it was probably more fun for me than it was for the kids when Tara, our homeschool creative writing workshop leader, agreed to let us turn her yard into a gift wrapping station.
And even though it doesn't look like the holidays with kids in shorts and all the fresh greenery embellishments, we took these photos in November here in Florida.
Related: How to Wrap Gifts Sustainably
How to Get Started with DIY Eco-Friendly Gift Wrapping
It was fun to watch the kids help each other wrap gifts Furoshiki style. They'd laugh at their first few attempts, and then celebrate or congratulate each other when they got it right. A couple of kids kept running off to find the perfect sprig of holly or wildflowers to add a little flair.
Here's a peek at how they wrapped their gifts.
Furoshiki: Wrap

ping w

ith Fabric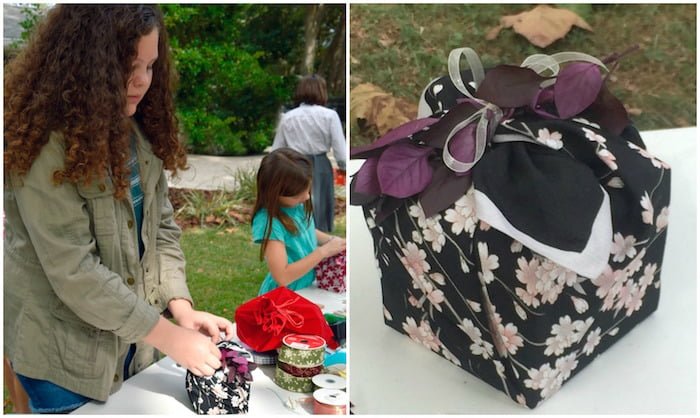 Emily loved the blossoms on this gorgeous Japanese Sakura scarf. She added a sprig from the royal purple smoke tree in our butterfly garden and a thin organza ribbon. Natural elements are not only festive and beautiful – they're free! And they make the perfect excuse to take your kids on a nature walk to see what you can find.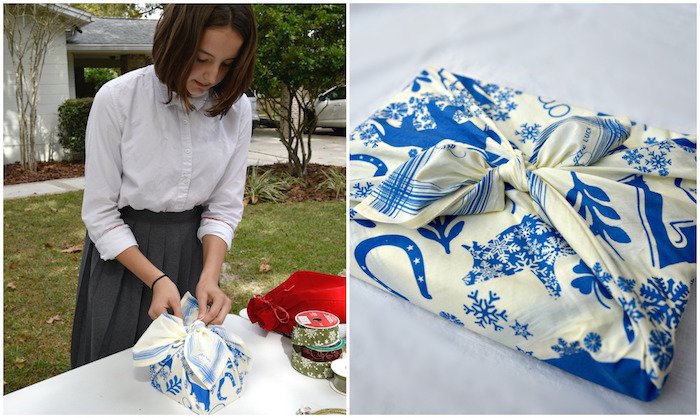 A gorgeous gift wrapped by Alivia in a fabric wrapping scarf called Give Luck. This one the teacher didn't want to let go of, so we used it a few weeks later to wrap her birthday gift.
Fabric Gift Bags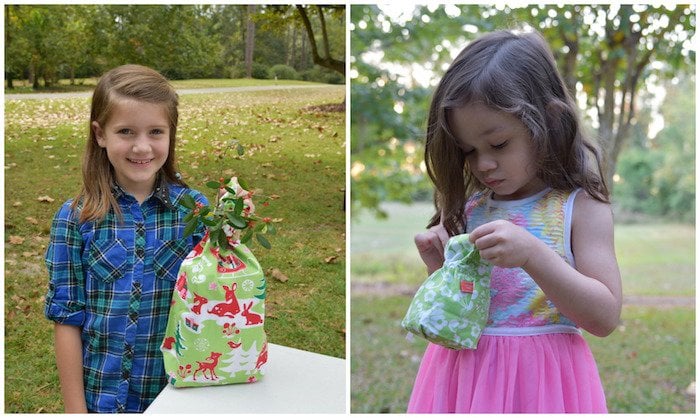 Another fun way to use fabric is a reusable fabric gift bag. Whether you buy them or make them yourself, your recipient will undoubtedly tell you how cool or adorable they are. And the best part is they can be given over and over again – lasting much longer than a paper gift bag.
Related: How to Be a More Thoughtful Gift Giver
They're also super simple for little kids to give an eco-friendly and festive gift. Ava added a big bunch of holly to hers, and even our toddler friend, Priya, quickly figured out how to fill this tiny gift bag with acorns and close it up.
Wrapping Gifts in Newspaper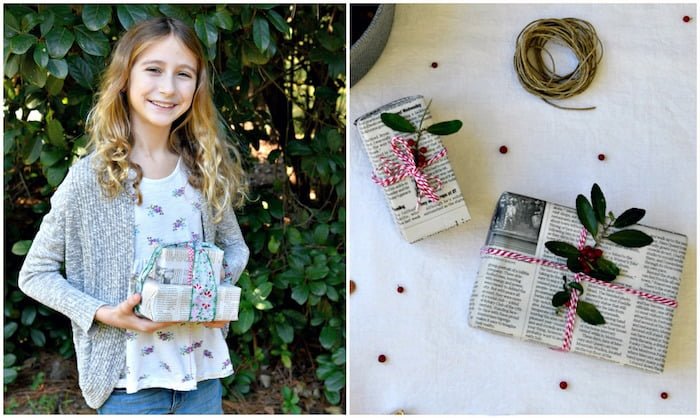 When we try this with the comics, our youngest son never makes it past Garfield. You'll find a wealth of gorgeous newspaper wrapping ideas on our Pinterest board, but don't overwhelm yourself with dreams of perfection. Newspaper has a way of looking cool no matter how you embellish it.
Torie picked baker's twine for the individual gifts. Then she stacked and held them together with a thick, glittery ribbon.
Stamped Paper Gift Wrap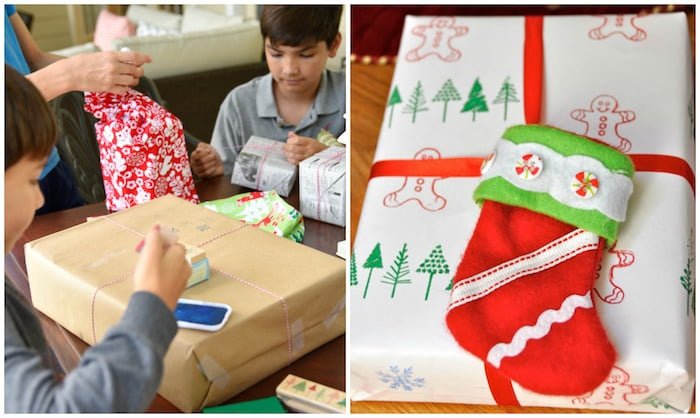 There are so many ways to decorate recycled papers for gift wrapping. You can use your child's artwork, old maps, sheet music, or even the backs of all those colorful announcements that come home in the school backpack. After a move, we had enough packing paper to last through several holidays of gift giving.
We let the kids draw, paint, and stamp away on it. Here Garrett, Wyatt, and Zachary used holiday stamps on kraft paper. In the photo on the right we used the paper inside Pottery Barn photo frames, which was an off-white card stock that made a nice canvas for stamping and wrapping small gifts.
Don't Stress Over Perfection
As with all of life, it helps to give yourself permission to embrace imperfection. In the past, I've done a bit more coordinating of colors. Once I learned Furoshiki, I enjoy trying different fabrics and not getting too concerned about them matching.
It also helps to either get over your aversion to mess-making or set up an area that can accommodate massive creativity without ruining the furniture or floors.  The holidays are a wonderful time to encourage your child's imagination – whether it's through art, baking, decorating, performing, or even DIY eco-friendly gift wrapping.
And even if they come up with something totally wacky, just save that one for the grandparents. You know they'll love it.