The Best Non-Toxic & Eco-Friendly Strollers: 2023 Guide
Natural-minded parents gravitate toward safe and sustainable items. And baby gear is no different. This guide to non-toxic, eco-friendly strollers will help you find the best option for your family.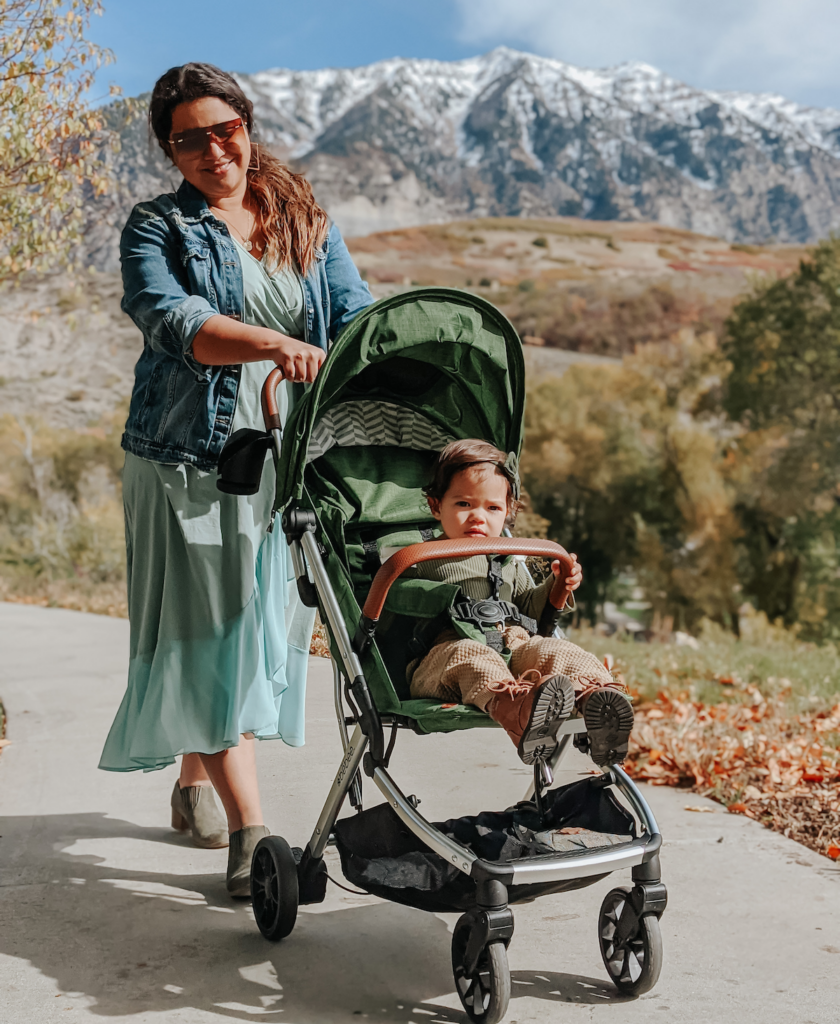 In those early months, we generally felt more comfortable wearing our babies in a carrier than pushing them in a stroller. Infants are most content when they're snuggled up to a parent. And holding them close tends to keep overly friendly strangers at bay. Find our babywearing / carriers guide here.
Of course there are plenty of times a stroller comes in handy – especially when you're trying to manage baby, a sibling, or a diaper bag or shopping bags, etc.
TYPES OF STROLLERS
Good for parents – but not so great for the planet – is the fact that there's a stroller for nearly every outing you take. Here are the different types of strollers available.
All-Purpose Strollers
An all-purpose stroller typically offers a smooth ride with convenient features like a storage basket, cup holders, and the option to recline the seat. Many of these strollers are heavier and can be somewhat bulky. Some brands of all-purpose strollers are modular and feature the ability to change the seat direction or add on another seat or stroller board (for a toddler to stand and ride).
Lightweight Strollers
Also known as travel strollers or umbrella strollers, these are lighter and take less effort to fold and lift onto stairs, public transportation, or in and out of your car. Lightweight strollers are slimmer and easier to navigate in busy areas, making them great for travel. In general, these are more eco-friendly strollers because less materials are used to make them.
Jogging Strollers
Jogging strollers offer suspension systems to help absorb bouncing from uneven surfaces or moving quickly. With three oversized wheels (the front can swivel or stay fixed), a jogger also features hand brakes to stop or slow the stroller on the downhill. They can be heavy and somewhat hard to manage due to the large wheels and suspension systems. Most experts recommend against running with your baby in a jogging stroller until they're at least 6 months old.
Double Strollers
If you have twins or siblings born close together, you'll likely need a double stroller. They generally come in two options: side-by-side doubles, or in-line single-file seats. There are also convertible strollers that start with one seat and have the ability to add another for a second child. The team at Babylist recommends that if you're having twins and want to use a double stroller from birth, you'll want to look for a stroller that allows for two infant car seats at one time.
Travel Systems
A travel system includes the stroller and a car seat that attaches to it. You can use a travel system from the very start, and they grow with your baby in that once the car seat is no longer needed, they can sit in a regular stroller seat. The other benefit is that you're less likely to wake baby in the move from the car to the stroller. Because you're buying both items together, sometimes this option is more economical.
ARE THERE ORGANIC BABY STROLLERS?
Certified organic fabrics are hard to find in strollers because most are made from synthetic materials. In the early months, you'll likely use your baby's car seat adapted to a stroller, so be sure to choose a non-toxic, flame retardant free car seat.
You can also choose organic fabrics for infant inserts, blankets, layette, or anything else that will come into contact with baby.
As more PFAS free strollers become available, we will add them to this list.
THE BEST ECO-FRIENDLY STROLLERS OF 2023
Many parents go through more than one stroller for each child. If you add up a full-size stroller, an umbrella stroller, and a jogger – even if they last through a sibling or get passed along – that's still a LOT of eventual landfill waste.
That's why it's extremely worthwhile to choose a sustainably made stroller like these.
Bēbee Lightweight Stroller from Bombi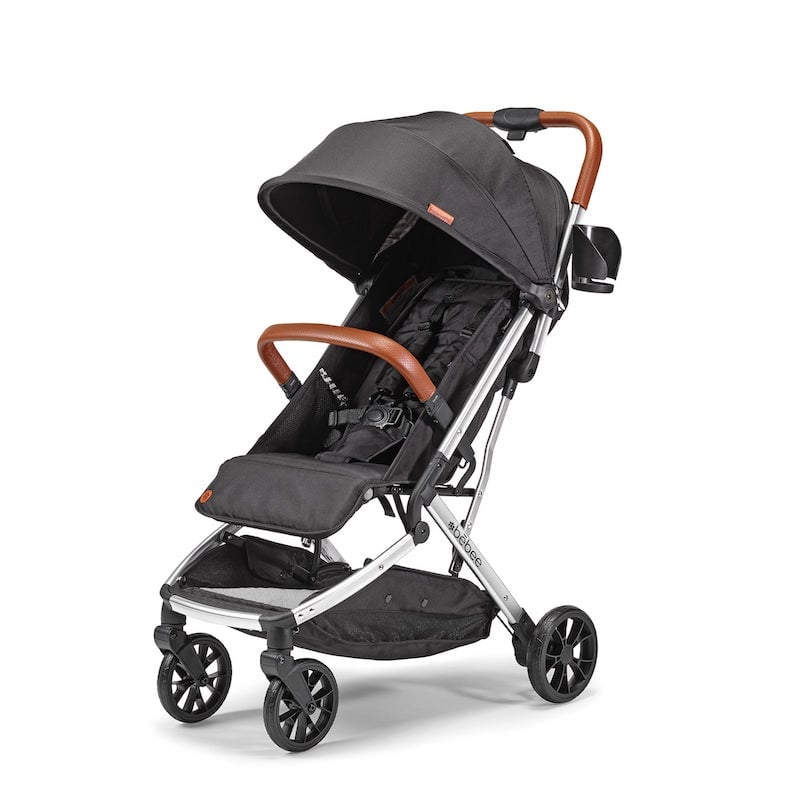 At just $199, the Bēbee combines full size features with lightweight convenience at a super affordable price. It features a lightning fast 1-hand self-standing fold, oversized canopy that blocks UV-A & UV-B rays, and a handy large basket underneath. This sustainable stroller weighs just 16 pounds and holds up to 50 pounds. Their car seat adapter easily turns this streamlined stroller into a travel system.
Bombi's fabric is is also free from flame retardants and water resistant coatings. It's also made from at least 50% recycled plastic bottles. Each stroller helps to recycle more than 56 plastic bottles. In 2021 Bombi saved 4,500+ single use plastics in their packaging.
This stroller also gives back to 1% for the Planet and Bombi donates a percentage of all sales to the Rozalia Project and The National Forest Foundation so your stroller helps plant trees! Trying out this amazing eco-friendly stroller is risk free because Bombi offers free shipping and free returns.
Indie All-Terrain Stroller from Bumbleride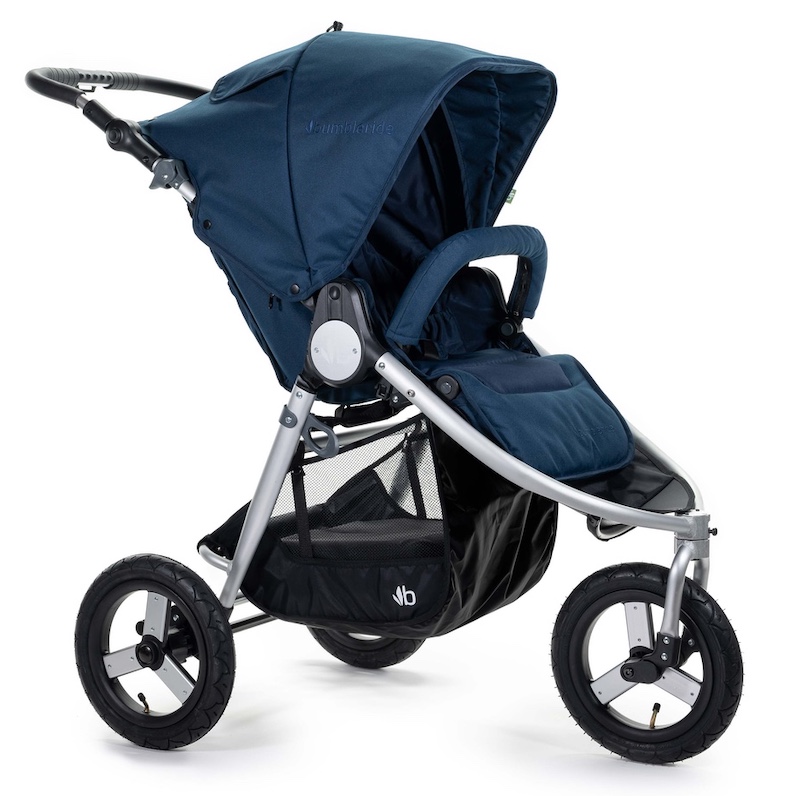 The Indie (and Indie twin) is a versatile and compact stroller with a large sunshade and easily adjustable features. A large basket and pockets create ample storage room. When it's time to fold and store, the handlebar trigger release makes it easy and seamless. Bumbleride's durable fabrics are made from 100% recycled PET.
All Bumbleride strollers are free from chemical flame retardants, polyurethane foam, PFC, PVC, phthalates, and BPA. They're also OEKO-Tex 100 certified making this a great non-toxic stroller choice.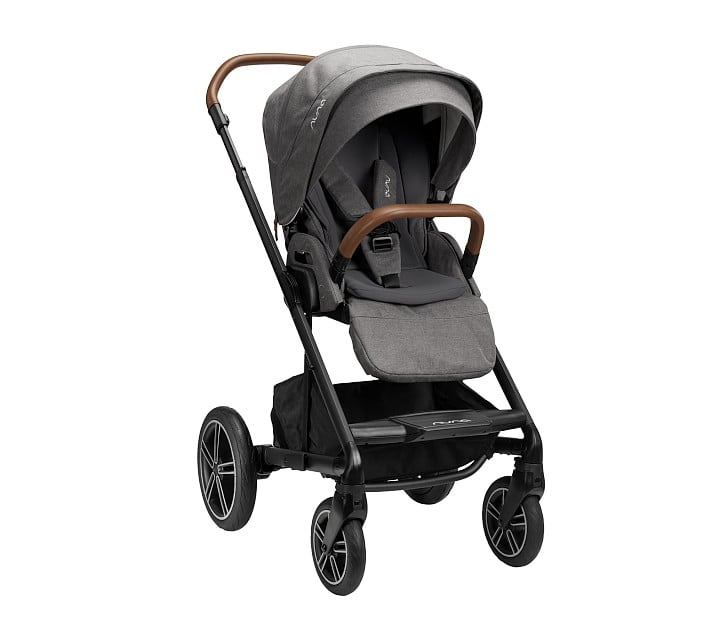 The MIXX Next stroller frame works four ways, and it can accommodate baby from birth until 50 pounds. Its full recline can hold an infant without any accessories (a bassinet is also available).
With their MagneTech Secure Snap magnetic buckle, you won't have to struggle snapping in a fussy or sleepy baby.
All Nuna eco-friendly strollers are 100% free of flame retardants and pass U.S. Consumer Product Safety Commission standards for heavy metal testing. The company also company uses solar energy, product recycling programs, and sustainable water treatment processes.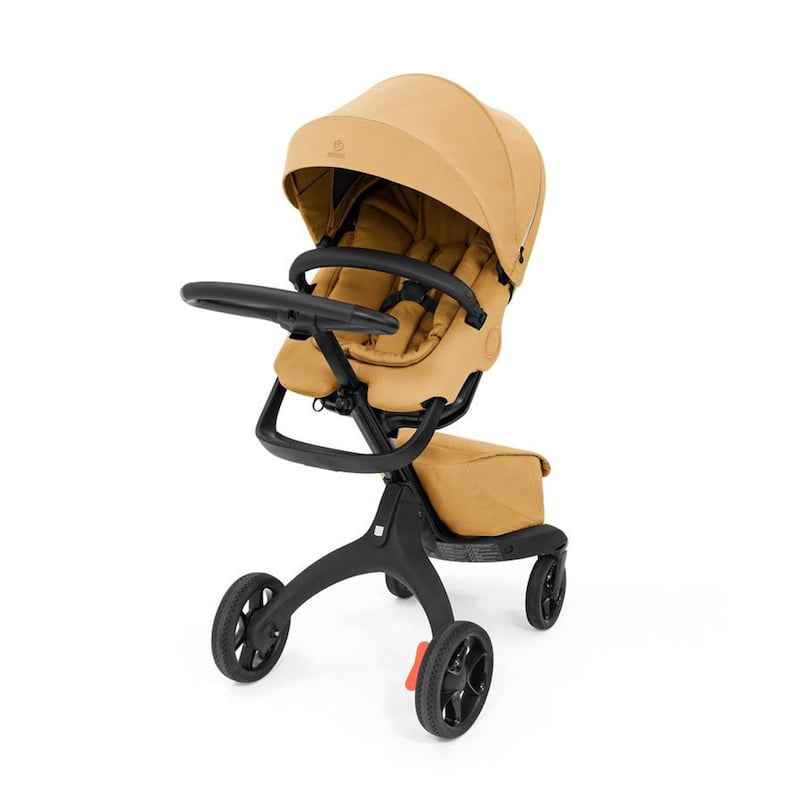 Stokke's Xplory is a high end stroller that's PFAS-free. It offers a high seat to keep your baby close and provide comfort and connection. The plush, protective, and water-repellant seat has three positions: active, rest, and sleep so that your little one stays safe and snug when on the go.
Tested to be
OEKO-TEX® Standard 100
Non-Toxic Dyes + Inks
Lead Safe
No Added Formaldehyde
BPA + BPS Free
No PFAS
No Flame Retardants
No Known Harmful Phthalates
PVC Free
Vista V2 NOA Stroller from UPPABaby
The Vista NOA features super useful suspension and offers nice maneuverability. The rubber tires and locking wheels help you cover almost any surface with ease. The handy adjustable reclining seat sits forward or backward, and the storage bin features pockets to help keep your other baby gear organized.
All UPPAbaby strollers are free of flame retardants, BPA, phthalates, PVC, and Teflon. The NOA is the only product so far that's also free from PFAS.
This everyday single stroller with a 15-inch seat back grows from a single to a double (front to back) with an expandable tandem add-on set. This expansion capability means your family can grow without buying a double stroller. The Tour+ weighs only 11 pounds and can easily fold and fit into a backpack.
Zoe strollers are free from chemical flame retardants, polyurethane foam, and phthalates.
Fox 3 Complete Full Size Stroller from Bugaboo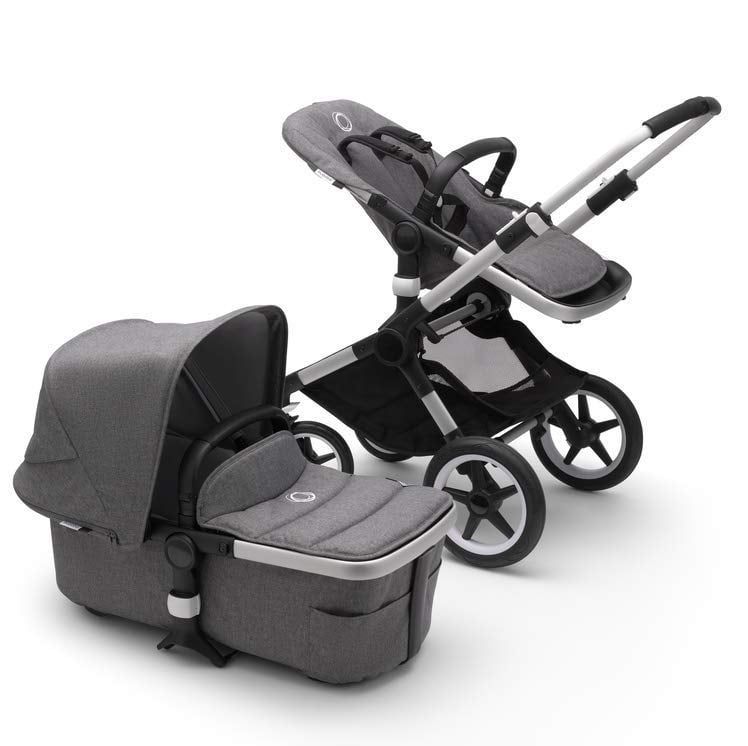 If you have several friends or family members looking to go in on a big gift, this is a great one. The Fox 3 from Bugaboo's advanced suspension system makes this stroller extremely versatile on any terrain. It's also light enough for easy lifting and it folds down in seconds.
From birth to 48 pounds, it is car seat compatible and includes a bassinet for newborns. You can also choose for baby to face you or outward. Many parents report the suspension is great for a jog that doesn't jostle baby awake.
Designed with longevity in mind, this stroller really holds up. Made from high-quality aluminum and plastic with machine washable polyester (recycled PET) that's OEKO-Tex certified free of 100 different toxic chemicals, including flame retardants.
Be sure to register your new non-toxic stroller with the manufacturer so you'll be aware of a safety issue or recall.
WHAT TO DO WITH YOUR OLD STROLLER
If you plan to have another child, store the stroller with your other large baby gear. If you won't need it again, you can sell or donate it. Passing along gently used items can help make any baby gear item eco-friendly. You can sell all of your gently used baby items on eBay, Marketplace, or through local parenting groups.
You can also use GoodBuy Gear's trade in program. Keep perfectly good gear in circulation longer by passing it along to another family. You'll earn cash toward your child's next milestone and reduce your carbon footprint by up to 82%.
We hope this guide to eco-friendly strollers leads your new family to plenty of exciting adventures!