When it comes to choosing eco-friendly gifts for the men in your life, we are constantly paying attention for gifts that go beyond the conventional dad stereotypes.
We hope to provide a good balance of gifts that are extremely and a few splurges. The best advice when it comes to gift giving is to find something you know they'll USE.
Here's our selection of green gifts for him that fall into one or more of the following categories: eco-friendly, non-toxic, ethically made, experience gifts, or high quality and long lasting so they won't break and end up in a landfill anytime soon.
ECO-FRIENDLY GIFTS FOR HIM
This post includes affiliate links, which means at no additional cost to you, we will earn a commission if you purchase through these links. We share referral links products that we use personally or are from companies we trust. See our full disclosure.

Super useful, handmade mahogany, maple, and hemp oil tray keeps his small items organized without scratching a table or dresser.


From reducing inflammation and recovering quickly from a workout to great skin and preventing hair loss, the benefits of red light therapy for men are pretty compelling. This portable device is easy and rechargeable.


One of the most practical, reusable gifts you can give, this sturdy YETI mug holds 14 oz. and keeps drinks hot or cold for hours.

You can personalize this eco-friendly grooming kit just for him. The products are all natural and come in a zero-waste gift box.


While there are several variations of glass coffee brewers, the dads on our team are huge fans of Blue Bottle Coffee. You'll also find extremely affordable pour-over brewers at Amazon.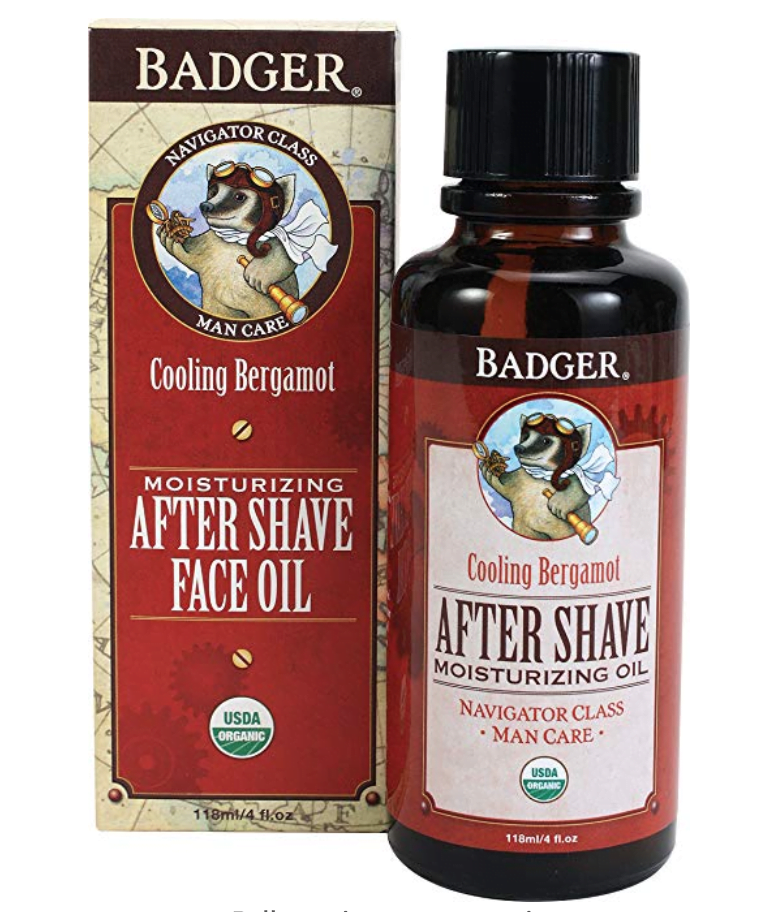 When it comes to easy green gifts for him, Badger products are outstanding, and this glass bottle of after shave oil is no exception. With the uplifting aroma of citrus and skin soothing Rosehip, he won't have to worry about irritation.

Whether he's making friends with the neighbors or filling an anthropological need to sit in front of a crackling flame, this fire pit is a great gift for him – and the whole family.


Life is better all year round when you get great sleep (without inhaling toxins for 8 hours). Happsy's organic pillows and mattresses are some of the highest-quality and most affordable organic bedding options you'll find.


Sulfites can alter the taste of wine and can cause allergic symptoms for some people (wheezing, tingling, swelling, nausea, headaches, itchiness). Ullo's purifier removes sulfites and sediment and easily aerates your wine.

Plastic-free and waste-free, a reusable stainless steel water bottle encourages him to stay hydrated and reduce his footprint.

This specialty coffee company donates 5% of all profits to initiatives that support improving the lives and future for domestic at-risk youth.

Whatever sport he plays, NoSweat liners wick and absorb sweat to keep sweat out of his eyes and keep hats clean. Available in versions for hat, helmets, visors, and even hard hats
EXPERIENCE GIFTS FOR MEN
Experience gifts are especially popular with men. Think about what he enjoys most and see how you can surprise him with that or one of the following ideas.
Sports – Get him tickets to watch his favorite team or help him get further toward his goal of visiting all the major league ball parks. What about golf lessons or a trip to a PGA event?
Outdoor activities – Whitewater rafting, fly fishing, skiing, rock climbing… whether extreme sports or extremely relaxing, there's probably an activity he will love.
Hire a helper – Moms aren't the only ones with full schedules. No matter what he needs help with, there's a personal assistant, errand runner, organizing specialist, etc. available to help.
Music – Will his favorite band be near you soon? Consider getting tickets and a night out or a weekend away if the concert is out of town. Has he always wanted to learn to play an instrument? Get him a gift certificate for lessons.
Daredevil for a day – Skydiving, a race car experience, or pilot for a day are some exciting options for your thrill seeking man. (You might consider a few carbon credits to offset this gift.)
Latest posts by Green Child Magazine
(see all)