Customizable Free Cute Printable Planner for 2023
The 2023 version of our cute printable calendar and planner is here to help simplify your life!
As busy moms, we love this as a great tool to always keep the most important tasks visible. These free printable planner pages can be used to create your own planner. Or add them your home organization binder to make it more useful.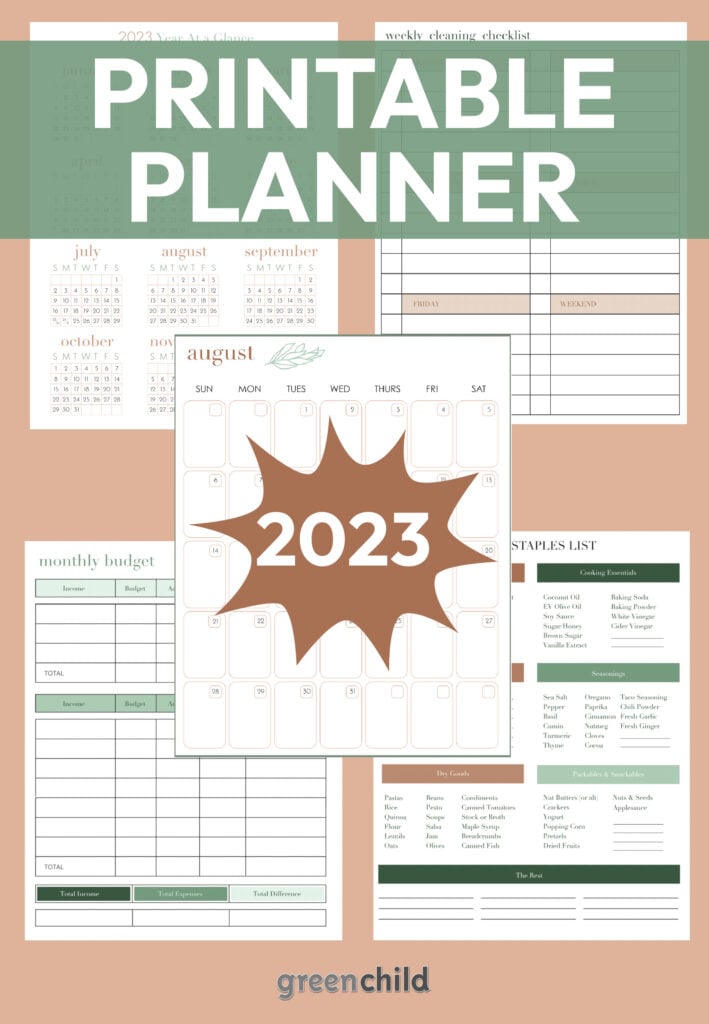 As time seems to be moving at warp speed lately, we're all about simplifying and streamlining. Monthly and weekly planner inserts plus so much more will help keep you organized and ready to tackle anything that comes your way.
With simple layouts and minimalist designs, you'll feel organized and ready to tackle goal setting and keeping up with your top priorities.
While we do appreciate an online calendar or digital planners for syncing with the family, there's something about having a tactile reminder system. Handwriting to-do lists works in our brains better than the nebulous feeling of the all your notes, birthdays, to-do's, and appointments hanging around in the cloud.
We've offered this free printable planner for the past TEN years as a gift to our readers. This year's design feels warm, fresh, and like the new start we're all hoping 2023 will be!
How to Print This Cute Customizable Planner
Of course, we recommend recycled paper for printing the planner. And the beauty of this free printable planner format is that you can print only the pages you need and keep them in a binder you can use year after year. These cute planner templates are a great way to get organized for the new year!
Over the past few years, this customizable tool – which started with our Weekly Meal Planner Printable and matching Pantry Staples List – has grown into 83+ pages has become a standby for our readers.
This 2023 free printable planner contains the basics (plus a bit extra)
2023 Year at a Glance Calendar
Monthly Planners & Monthly Printable Calendars – with enough space to write down important events
Weekly To-Do List Pages
Weekly Activity Sheet
Notes Pages
Notes Sheets – for use on your desk, counter, or for pinning to the fridge
Journal Pages – print as many as you need for journal entries, blog post ideas, or creativity blasts
Journal Topics – weekly sheets to help you track your ideas or to use for bullet journals
Inspirational Graphics & Quotes – to bring empowerment and good vibes to your daily routine. These can stay in a group or place them sporadically throughout this cute printable planner for routine exposure to inspiration.
Blank Monthly Calendars – no dates, in case you like to start your planner at nontraditional times of the year
2024 Year at a Glance Calendar – to give you a jump start on your planning for next year!
Plus a whole section of Home Organization Sheets & Quick-Reference Pages:
For your childcare provider
For the babysitter
Birthdays
Contacts
Monthly budget
Holiday budget
Home maintenance history
House paint colors
Vehicle maintenance
Medical history
Spring cleaning checklist
Cleaning & chore chart and checklists – blank so you can fill in
Finally, we know how daunting (and sometimes pointless) grocery shopping and meal planning can be without an action plan.
We expanded on our weekly meal planning sheets by creating this Meal Planning & Pantry Organization set that includes:
Weekly Meal Planners – choose Sunday or Monday Start-Week
Weekly Lunch Planners
Pantry Staples
Helpful Kitchen Conversions
Shopping List Sheets – half-page, meant for using outside of the binder
Labels for Pantry Storage / Mason jars
Recipe Sheet – 2 per page
And brand new recipe cards – because we miss those old fashioned ones our grandmas used to have!
You can easily print this cute daily planner at home, or through a service for high quality printing. We recommend using:
To thank you for being a reader, we're happy to offer you our printable personal planner, absolutely free.
Get our free printable planner via the sign up form below!
After confirming, you'll receive an email with download links. This also subscribes you to Green Child's newsletter (you'll hear from us twice a month.)