These free planner printables can be used to create your own planner or added to your existing home organization binder to make it more useful for you. Monthly and weekly planner inserts plus so much more will help keep you organized and ready to tackle anything that comes your way.
We've offered this free printable planner for the past TEN years as a gift to our readers. This year's design feels bright, fresh, and like the new start we're all hoping 2023 will be!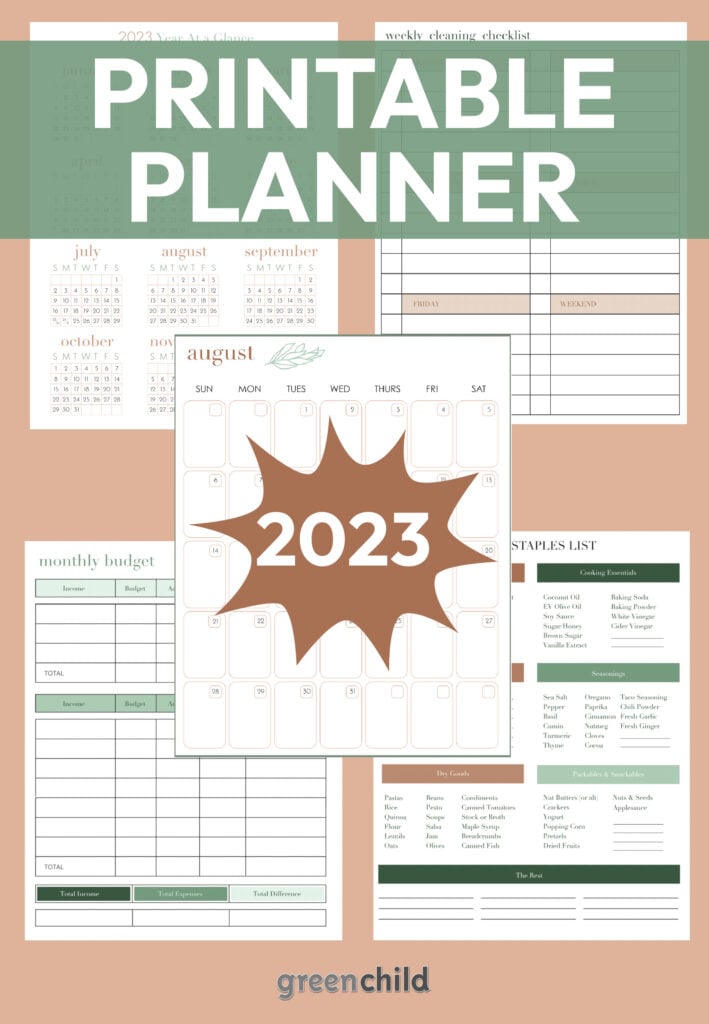 As time seems to be moving at warp speed lately, we're all about simplifying and streamlining!
And try as we may to rely solely on our smart phone calendars, there's just something about a paper planner that helps keep life running smoothly.
While you won't find much printing going on here at Green Child – we're fully digital – you will find that we make an exception when it comes to staying organized.
Of course, we recommend recycled paper for printing the planner. And the beauty of this free printable planner format is that you can print only the pages you need and keep them in a binder you can use year after year.
Over the past few years, this customizable tool – which started with our Weekly Meal Planner Printable and matching Pantry Staples List – has grown into 83+ pages has become a standby for our readers.
This 2023 free printable planner contains the basics (plus a bit extra)
2023 Year at a Glance Calendar
Monthly Calendars (with just enough space to write down important events)
Weekly To-Do Pages
Weekly Activity Sheet
Notes Pages
Notes Sheets (for using on your desk, counter, or for pinning to the fridge)
Journal Pages (print as many as you need)
Journal Topics (Weekly sheets to help you track your ideas)
Journal Topics (2 weeks per page)
Inspirational Graphics & Quotes (additional quotes have been added to the end of the planner for this year)
Blank Monthly Calendars (with no dates, so you can keep this file for future use)
2024 Year at a Glance Calendar (to give you a jump start on your planning for next year!)
Plus a whole section of Home Organization Sheets & Quick-Reference Pages:
For the sitter
For your childcare provider
Birthdays
Contacts
Monthly budget
Holiday budget
Home maintenance history
House paint colors
Vehicle maintenance
Medical history
Spring cleaning checklist
Cleaning & chore checklists (blank – fill in)
Finally, we know how daunting grocery shopping and meal planning can be without an action plan.
We expanded on our weekly meal planning sheets by creating this Meal Planning & Pantry Organization set that includes:
Weekly Meal Planners (Choose Sunday or Monday Start-Week)
Weekly Lunch Planners
Pantry Staples
Helpful Kitchen Conversions
Shopping List Sheets (half-page, meant for using outside of the binder)
Labels for Pantry Storage / Mason jars
Recipe Sheet (2 per page)
And brand new recipe cards – because we miss those old fashioned ones our grandmas used to have!
This planner can be easily printed at home, or through a service for high quality printing. We recommend using:
To thank you for being a reader, we're happy to offer you our printable personal planner, absolutely free. That's 82 pages of mix & match goodness.
Get our free printable planner via the sign up form below!
After confirming, you'll receive an email with download links. This also subscribes you to Green Child's newsletter (you'll hear from us twice a month.)
Latest posts by Green Child Magazine
(see all)