Meal Planning 101: How to succeed with meal prep & planning
The Beginner's Guide to Meal Planning. We're sharing the best ways to set your family up for success when it comes to planning meals in advance.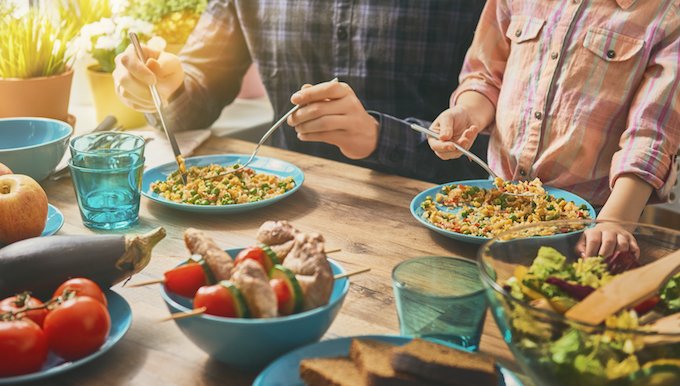 Since the dawn of the modern family, the question, "What's for dinner?" has delighted or disheartened many a parent. No matter how great you are at simplifying your family's schedule, the fact remains: Everyone needs to eat.
Meal planning is the best way to create healthy, nutritious meals at home for your family even when the schedule seems to be spinning out of control. Sure, those drive-thru windows are fine on occasion, but in the long run, they're not a sustainable option for keeping anyone's body healthy.
You probably know the feeling of stocking up on fresh fruits and veggies for the week… and then having to throw some of them out at the end of the week because you forgot to eat them.
In our busy lives, it can be so easy to buy food with good intentions but get so caught up in the busy, fast-paced nature of the life that we forget to actually eat them. Not only are we missing out on their nutrition and losing money, we're also being wasteful.
If you've had an aversion to meal planning, you're not alone. But once you commit and really see it through, you may find that you actually enjoy finding new recipes, USING those cookbooks, and intentionally spending time in your kitchen preparing food for and with your family.
There's no right or wrong way to do it.  That's why you'll find this list of tips to be simple. Because let's face it – complicated gets thrown out the window the first day someone's piano lesson gets moved and ruins the best laid plans.
With simplicity in mind, here are 6 easy steps to meal planning success:
Determine your family's food style
Get the family involved…what does everyone like to eat, what is everyone's schedule like and can family members help with preparation, cooking or clean up? Do you want to plan each meal of the day out?
Or do themes fit your family? Monday is Mexican night, Wednesday is Italian, and Friday is always homemade pizza with popcorn later for movie night.
Create two lists
List #1 – Meals you usually prepare. These are the standby recipes or meals you can count on to make everyone happy, or at least fed.
List #2 – Meals you would like to prepare. We all have those recipes tucked away just waiting to be tried. Bring them out and see how they fit into your meal planning. One word of caution, try only one new recipe per week.
Consider all the short cuts
Ask yourself three questions:
Can you combine fresh (vegetables) and convenience (jarred pasta sauce) to make a fast healthy meal?
Will using frozen (vegetables) or canned (beans) foods make the meal easier to prepare?
Do you need simpler meals/recipes?
Create your meal plan
Decide what meals you will prepare on which nights. Consider the time it takes to make the meal, the nutrient value of the meal and your family schedule. Schedule some time on the weekend to make a few meals ahead of time for those super busy nights. Find our free printable meal planner here!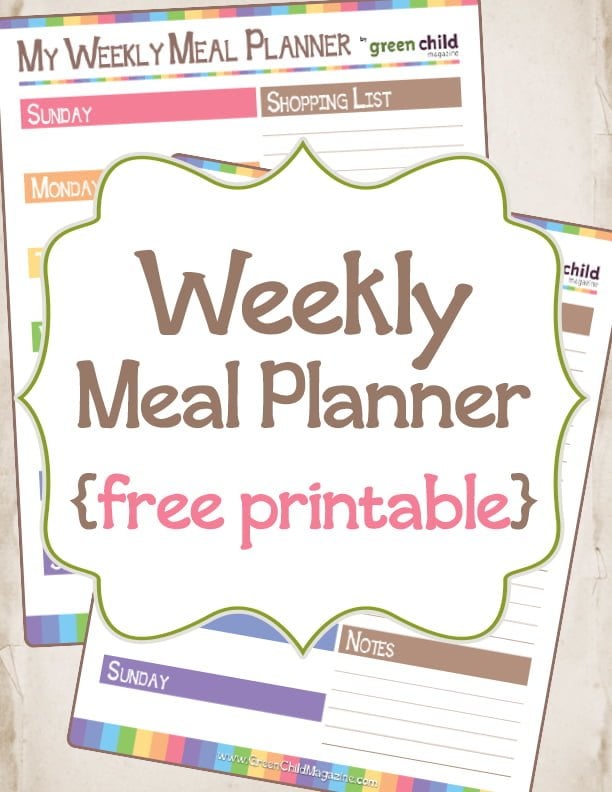 Make a grocery list from your plan
Include everything you need for meal preparation. Use the notes section on your phone, an app, or good old fashioned pen and back of a junk mail envelope. Our meal planning printable offers a shopping list you can keep inside a protective sheet and reuse.
When you get home from the grocery store or farmer's market, don't just throw all the food into the fridge or pantry. For your fresh produce, make sure to clean all of it by thoroughly washing it and drying it. Chop some of it (carrots, cucumbers, and celery) up on the spot.
Store your ingredients in clear glass containers and leave them where you can see them in the fridge. Being able to visually see your fresh ingredients and produce whenever you open the fridge means you are more likely to use and eat them!
More than that, if the ingredients have already been prepped, that's one less step for you to do in the middle of a crazy week.
Post your meal plan where you will follow it
Hang your plan on the fridge or in a spot you can't miss. Give the plan a try, see how it works and then tweak it as necessary until you find the perfect fit.
Family meal planning can be a lot of fun when the whole family is on board. Get the kids involved, and let them have a choice on the meals you serve. Let them help you in the kitchen and then enjoy the meal you have prepared together.