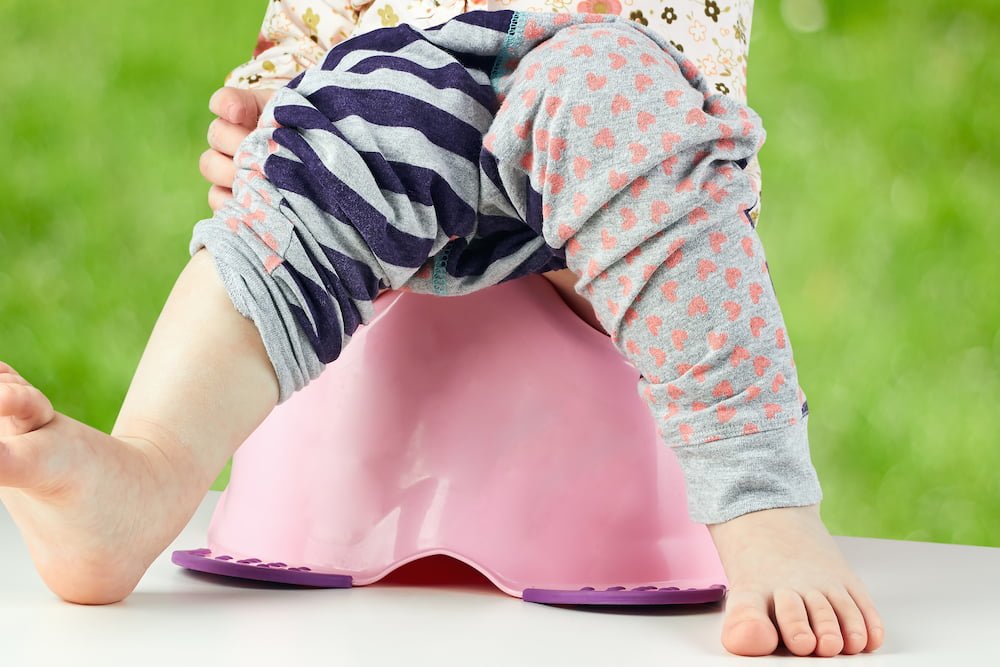 Let's get straight to the point. Potty training is nothing to stress over.
If you've practiced attachment parenting, you know how successful and worthwhile it is to watch your child's cues for readiness in every area of development. Toilet training is no different.
"From baby's viewpoint, toileting is his initiation into 'bigness' – a rite of passage from toddlerhood into preschooler-hood. This explains why the desire to stay little makes some procrastinators resist," according to Dr. Sears' guide, The Baby Book.
Toilet Training is a Complex Skill
Before you rush baby to the potty at the first squat, consider what's involved in learning toileting skills. First, baby has to be aware of the pressure sensations of his bowel and bladder. Then he must make the connection between these sensations and what's happening inside his body. Next he learns to respond to these urges by running to the potty, where he must know how to remove his clothes, how to situate himself comfortably on this new kind of seat and how to hold his urges until all systems are go. With all these steps, it's no wonder many babies are still in diapers well into the third year.
Bowel training usually precedes bladder training, mainly because the doughnut muscles surrounding the bowel are not as impatient as those around the bladder. When a baby senses the urge to defecate, he has more time to respond before soiling his diapers. A solid substance is easier to control than liquid. When the bladder is full, the urge to go is sudden, strong, and hard to control.
The usual sequence of gaining bowel and bladder control is: (1) nighttime bowel control; (2) daytime bowel control; (3) daytime bladder control; (4) nighttime bladder control.
From Potty Training to Bathroom Independence

Know When | The first step as a parent is learning when to begin potty training. Ask your child if he wants to learn something new. "Do you want to learn to go potty like a big boy?" Gauge his response. Be understanding and supportive. Your child will let you know when it's time. (You could try this between 18-24 months – but every child is different.) Making positive associations with the toilet early on will certainly help.
Show Off | Show your child how you sit on the toilet to go "potty" and let her sit on the potty seat when she needs to go. Kids are natural mimics, and this helps pique her natural curiosity.
Be Patient | Plan on this taking time – and commit this time to you and your child. When you are potty training don't take your phone or create other distractions into the bathroom. Keep objects away from the toilet that could fall in and don't wear loose clothing that can make it hard to navigate around your child.
Teach Technique | Show your child proper wiping techniques – like wiping front to back. For girls, explain she should wipe until she feels dry after "number 1."And tell her to wipe until it comes out clean after "number two." If there's anything in the toilet, always end with a victorious flush.
Check In | Checking your child's wiping does not mean you doing the work. You might say, "Let's check to make sure that you're done." For older and more skilled kids, you might ask, "Can you check?" As children get more confident and comfortable, you can give them more privacy to do this on their own.
Wash Up | Whether or not they actually "go", always finish your potty routine with a good hand washing. 20 seconds is a good scrubbing time. And rinse the germs right down the sink with warm water. Bye Bye! Be sure to explain why it's important to wash their hands after every time they use the potty – or bad germs could get on anything they touch.
Celebrate | Remember, praise will encourage more cooperation than nagging or threats. Learning this kind of control can be scary for your little one. Panic only causes more accidents. Encouraging words and little rewards for every successful step in the right direction will work wonders. And on the first day they manage to stay dry all day – make that a special celebration lunch, day with mom or day, or another experience your child will enjoy.
Keep in mind, accidents will happen. When one occurs in clothing, in bed at night, or your child doesn't quite make it to the toilet in time ask your child what he or she thinks happened. Ask them to help come up with ways to avoid that next time.
Children might be scared or forgot they weren't wearing a diaper. Don't lose your cool. Just try to solve the problem together. Praise each little successful step and you'll reach the coveted potty training goal sooner. Together.

Latest posts by Green Child Magazine
(see all)