Pisces Names for Little One Born Under the Water Sign
If your due date is between February 18th and March 20th, it looks like you'll be a parent to a Pisces baby! Symbolized by two fish swimming in opposite directions, this water sign is the last constellation of the Zodiac. Pisces are known to be smart, creative, deeply intuitive and sensitive in nature.
You'll surely never tire of loving your little fish from birth to adulthood, as Pisces are caring individuals who love to dream big dreams. If you're looking to lean in to the Zodiac for a little name inspiration, check out these ideas for names for Pisces babies.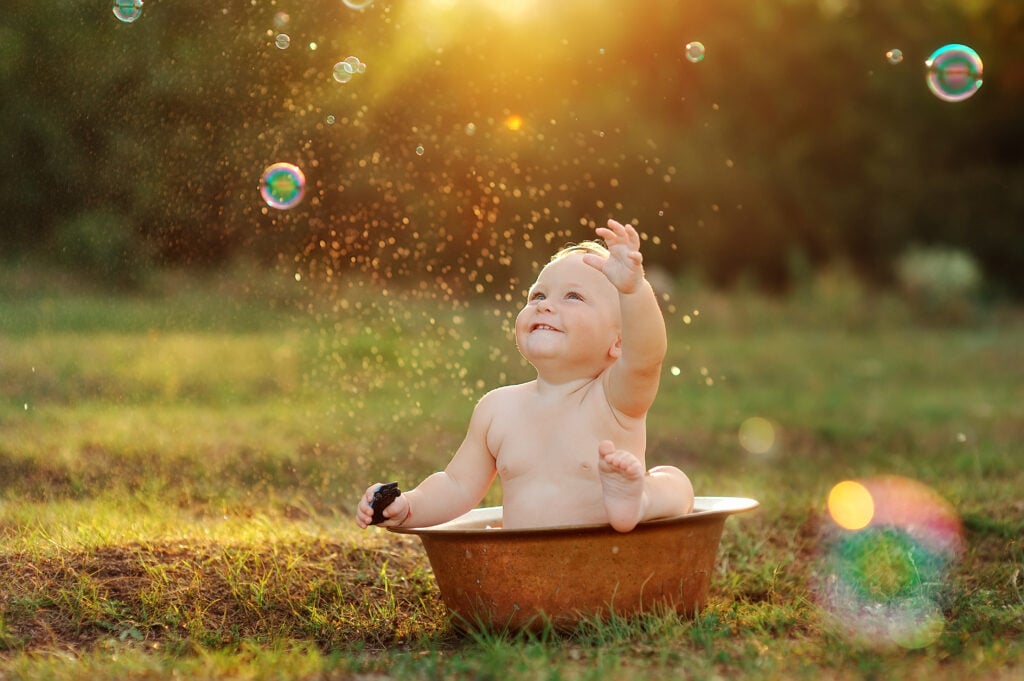 Dreamy Pisces Names for Your Water Baby
Aisling
Aisling means "dream or vision" and Pisces's are known for their split of attention between fantasy and reality, contributing to their day dreamer-like approach to life.
Callan
Pisces are water signs through and through. Along with Cancers and Scorpios, Pisces are known for being sensitive and sentimental. Callan is a Scandinavian name for "flowing water".
Delta
Delta Piscium is one of the stars in the Pisces constellation. We think this moniker is a super cool five-letter gender-neutral name choice. Delta is of Greek origin meaning "born fourth".
George
Our first president, George Washington, was a Pisces! And that is just one reason why we love the name George as a Pisces name choice. George has been used as both a boys and girls name and is of Greek origin.
Kadin
Kadin as a name means "a kind friend; a companion". And just as any friend as a Pisces knows, this sign of the Zodiac is infinitely caring and loyal.
Kai
As you know, Pisces' element is water and Kai means "from the sea" in Hawaiian. The name is also tied to many other water meanings across various other cultures.
Love the idea of a sea-inspired moniker? Check out our list of Tropical Baby Names!
Lily
The Pisces sign's flower is the Water Lily. Lily not only makes for a cute and pretty Pisces name, but it is also a Botanical Baby Name choice too. Lilies are associated with rebirth and motherhood. 
Mariella
When it comes to names for Pisces babies, Mariella may just be our favorite. Meaning "star of the sea", Mariella combines both astrological cosmic nods with the sign's element of water.
Neptune
Neptune is Pisces' ruling planet and could make a a great unconventional name choice for a baby of this water sign. The blueish planet, was named after the Roman god of the sea.
Ria
Meaning small river, this short and sweet three-letter baby name is another great Pisces name that embraces its water element and the dream-like nature of the sign.
Ruth
Ruth Bader Ginsburg was also a Pisces, and a powerful person to look to as your baby's namesake. Ruth is of Hebrew origin and means "friend".
Yume
Yume is a name with Japanese origins and comes from the word "yum" which means "dream" and "vision", making it a great baby boy name for a Pisces dreamer.
First and Middle Pisces Name Ideas
Mariella Lily: This Pisces name combination couldn't be prettier.
Aisling Ria: Dream big little river!
Yume Kai: Another dreamy combo if we do say so ourselves.
George Callan: We love how this first and middle name combo mixes up classic and unique monikers.
Want to see how your signs stacks up with your little ones? Check out how a birth chart can help you parent better and understand your baby.
And check out our list of Aquarius names if your baby is due toward the beginning of Pisces season and Aries names if you think they may arrive later than expected!