It's Never Too Early to Start Baby Proofing
Most people think baby proofing isn't necessary until a baby is mobile. But, surprisingly, newborns can be just as likely as older babies to be injured from falls, burns, choking parts, and other unanticipated accidents.
As attached parents, your baby tends to be in arms most of the time… or at least within sight. And you may choose to nest without a nursery. But, when you need a shower or 5 minutes to yourself, it's nice having the peace of mind knowing baby is safe and sound.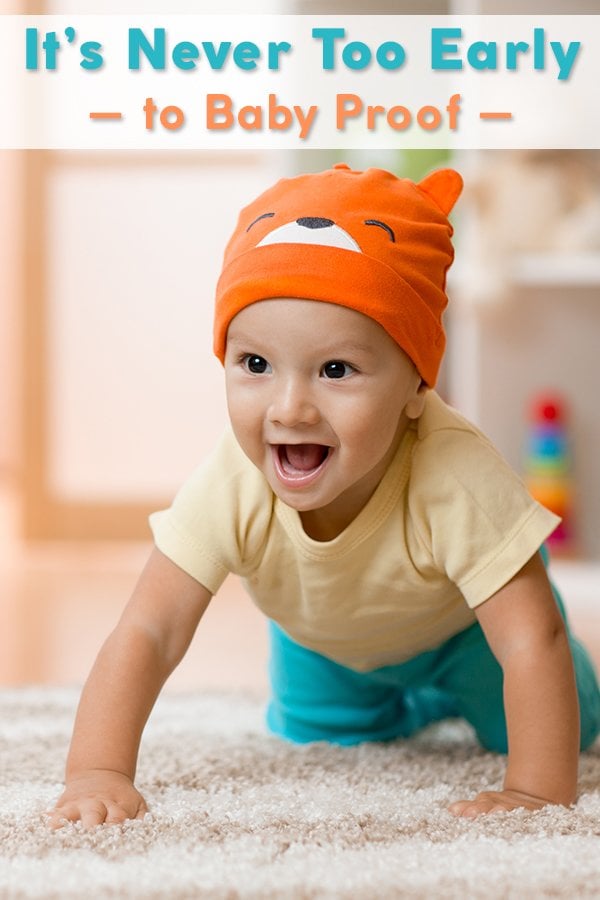 Keeping a baby's developmental stages in mind will help you realize the importance of making your little one's space safe.
Sleep Soundly with Crib Safety
If your baby will sleep in a crib, choosing a safe, nontoxic new crib and organic fiber mattress is the best way to baby proof the bed (and that the crib meets current safety regulations.) If you plan to use a second-hand crib, be sure to check for product recalls first.
When making your crib selection, check the following:
Crib slats should not be more than 2 3/8 inches apart; this will prevent the baby from slipping out or getting caught between the slats.
Drop side cribs allow one or two sides of a crib to be lowered for easier access to baby. However, these cribs can pose a strangulation hazard and should be avoided. If you already own a drop side crib, make sure all bolts and screws are in place, and that the drop side mechanism functions correctly.
The crib should have smooth surfaces and no peeling paint.
The mattress should fit the crib perfectly; you should be able to slide just one finger between the crib and the edge of the mattress.
Keep pillows, blankets, and soft toys out of your little one's sleep space.
If space allows, place the crib away from the changing table to prevent any unwanted reaching of toiletry items.
Any toys or decor suspended over the crib should not have strings longer than 7 inches.
Baby Proof Bath Time
Whether you bathe baby in a baby tub, the kitchen sink, or your bathroom tub, there are some ways to baby proof for maximum safety.
If you'll be buying a baby tub, choose one that is free from BPA, phthalates, and PVC like the Boon Naked Collapsible Baby Tub.
Fill tub or sink with 2-3 inches of water – just enough to cover baby's legs.
Bathe baby in warm – not hot -water (96 to 100 degrees Fahrenheit).
Never, ever leave baby alone in the tub.
Place a nonslip mat near baby's bathing area.
Consider a tub faucet cover to prevent baby from hitting her head on the hard spout.
Toy Safety for Fun Playtime
Nearly all soft plastic toys are made with PVC – especially infant items like teething rings, squeeze toys, and bath toys. You can learn more about whether there's such a thing as safe plastic toys. Meanwhile, it's best to avoid anything that gives you pause.
Choose toys that are much larger than your child's mouth to prevent choking.
Look for age-appropriate toys, since those for older babies and children may have small choking parts.
Give them a once-over to check that seams are reinforced and loose buttons, beads, and other small items are secured properly.
And, of course, toys with sharp edges and peeling paint aren't a safe choice for your baby.
Make Sure the Rest of the House is Safe
Try getting on your hands and knees for a "baby's eye view" of her surroundings. There are often things adults may miss seeing that your crawling baby will quickly and curiously try to explore. We recommend Rhoost safety products.
Cover all unused electrical outlets with safety protectors.
Hide electrical cords behind furniture or use a hide-a-cord device.
Make sure lamps, blow dryers, heaters, and other appliances are kept out baby's reach.
Install door stops and hinge guards to protect baby's fingers.
Roll up, cut off, or tie up dangling cords from blinds and shades to prevent strangulation or use these baby proof cord winders.
Secure furniture (bookcases, dressers) to the walls.
Anchor flat-screen TVs with safety straps.
Keep heavy items that could tip over on lower furniture, pushed back away from baby's reach.
Install a toilet seat lock to prevent mashing fingers or potential drowning.
Install a child safety lock on a front loading dryer to keep toddlers from getting stuck inside the airtight drum.
Keep medication, vitamins, and cosmetics away from your baby's reach.
If possible, avoid pressure-mounted safety gates and purchase ones that need to be installed with screws or doorjambs. Install gates at the nursery entrance and at the head and foot of staircases.