Jen Aprea on Being a Mom and Entrepreneur
Mom to two beautiful kids, and co-founder of Spray Pal, Jen Aprea is a former elementary school teacher turned entrepreneur so she could be more present at home and work around her kids' schedules.
Born and raised in Southern California, her family recently made the decision to move to Tennessee where they're enjoying the changes in the seasons and being closer to nature. But they do miss the beach and In-N-Out like something fierce.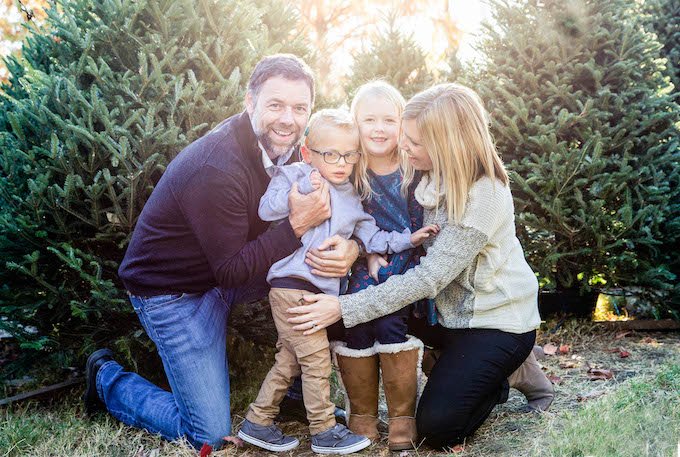 Favorite food: Sushi
Favorite vacation spot: Europe
Favorite way to practice self-care: Walking outside
Words to live by: My grandpa to this day sends me an email every night with words of wisdom, and my favorite which he uses often is: This too shall pass.
We always say every cloth diapering family needs a Spray Pal. For readers who may not be familiar, tell us more about it and what inspired you to start your business.
Thank you! We actually invented the Spray Pal shield to solve a problem for our own family. We were cloth diapering our oldest and when she started eating solids, we bought a diaper sprayer. The only problem was we had insanely high water pressure, so the first time we used it we made a rather unfortunate and disastrous mess.
My husband was about ready to give up on cloth diapers altogether, but I convinced him that there had to be a way. He is very handy and has often been called MacGyver by our friends, so we put our heads together and came up with this shield where we could clip the diaper in, spray the poop off at full pressure without splatter getting everywhere, then squeeze out the excess water with the doors of the shield and fold it flat to store. It worked PERFECTLY for us, and I told a couple of cloth diapering friends about it. They encouraged us to get a patent and bring it to market, so we did. And that's how the Spray Pal was born!
What's your most important or relevant bit of parenting advice?
Trust your gut. Having my youngest spend his first 7 months in the NICU taught me that even the doctors are winging it sometimes, and you know your baby best. Don't feel badly for questioning medical advice and doing your own research. Knowledge is power.
Do you have advice for someone looking to live his or her passion and on being a mom and entrepreneur? 
Well, here's what worked for us. We took things slow and didn't invest more than we could afford. As we earned money, we reinvested it back into our business. We never went into debt and we took our time growing organically.
Also, don't wait for perfection. If you have a great idea, get it out there! You can make tweaks along the way, but if you wait until you have it perfect you'll never get it out there.
What's the biggest life lesson you've learned from parenting?
Probably just that there is no definition for the perfect person, parent, business owner, etc. You write the rules for your own life and you determine how good you are at something.
Don't let anyone else define you. In my 20s I always assumed I'd be a teacher and a mom for the rest of my life. Never in a million years did I think we would start a business and move to Tennessee. You just never know where life will take you if you let it.