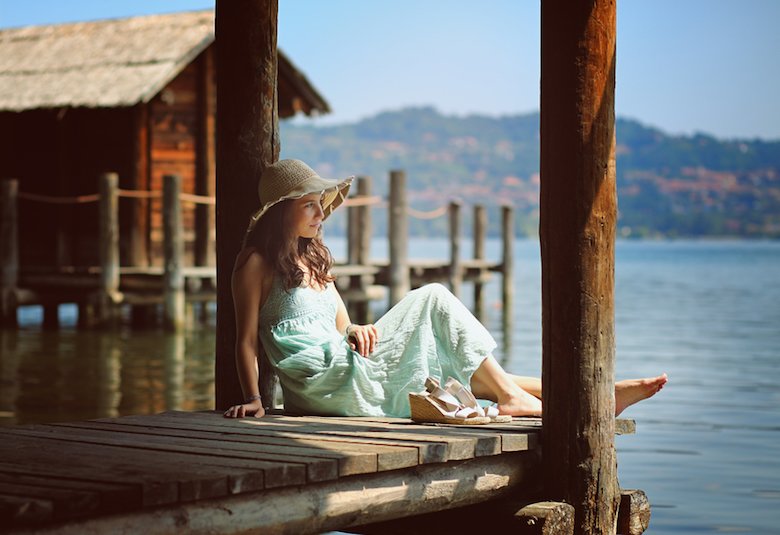 We live in a world of comparison.
We comparison shop, we compare notes, we compare, we compare "apples to oranges", and we compare graduation and dropout rates of educational institutions. We do all of this in an effort to determine worth and ensure we're making the best possible decisions for ourselves, our children, our families.
While this serves an important need in those endeavors it has quietly and insidiously caused massive levels of discontent in the world. Why? Because we've taken an exercise meant for valuating objects and entities and applied it to ourselves.
"Comparison is the death of joy." ~ Mark Twain
Today, thanks in large part to social media, we defer our self-worth to how many likes, profile views, re-tweets, or shares we receive. Our status updates have become less about what we're up to and more about us trying to achieve more status, literally. We post perfectly posed pictures to show the world we've got it together all the while denying the truth of what life is really like and what life is really for. And when we engage in any endeavor that is rooted in self-denial, we create a vacuum of self-loathing and emptiness. As Brené Brown puts it, we "hustle for our self-worth." And while this hustle is noble in its effort, it's nothing more than a modern-day shell game because self-worth is an inside job.
Here are three exercises that will not only build self-worth you can bank on but will likely set your soul on fire as well.
Write Your Personal Manifesto
If we're going to build self-worth, we need to get in touch with what we are passionate about, creating an intimacy with ourselves we may have lost or forgotten. When we know what fires us up, we can then engage in the kind of activities that are actually meaningful to us and confidently let go of everything we do for show. And a personal manifesto is just the ticket to get us there. A manifesto should be bold, passionate, personal, and in your face. This is your no holds barred opportunity to put a stake in the ground. There are four steps for creating a personal manifesto:
State What You Believe | Write ten statements that complete the sentence "I believe . . ."
State What You Want | Write three statements that describe how you want to change the world by completing the sentence "I want . . ."
State What You Know to Be True | Write five wisdom statements that complete the sentence "I know this to be true . . ."
Refine and Organize | Refine each statement until it evokes that inner fist pump – the unshakable urge to get up and get to it – and then arrange the statements in any order you want. Once you have it, put it somewhere you see often.
Define Your Core Values
If your personal manifesto is the wind in your sails, then your core values act as the rudder. They determine how you'll navigate and make decisions as you pursue your passion. Again, knowing what is non-negotiable and important to you will do wonders in keeping you out of the self-defeating hustle for self-worth. There is no better feeling than coming home at the end of the day knowing you showed up and remained true to yourself.
After reading your personal manifesto three times, reflect on these questions:
When I read my personal manifesto, what do I notice as a common thread?
What is important to me?
What is nonnegotiable in how I live my life at my most abundant and happiest?
Create a draft list of values (examples: adventurous, generous, accountable, etc…), choosing ten to begin with. Then, narrow the list to five core values and define what each word means to you.
For example:
Courageous: To embrace what makes me unique, stand up for my beliefs, and speak up about issues important to me, regardless of judgment.
Practice Gratitude Daily
The benefits of gratitude have been creeping up more and more in the awareness of our social conscious. Research has shown that a daily practice of gratitude can reduce stress, enhance self-esteem, increase mental strength, and improve psychological health – just to name a few.
Why?
Because it lifts us out of the brain's negative biases toward self-criticism and worry, and anchors it in positivity and abundance. Keeping a gratitude journal or specifically sharing a moment that had a positive impact on you or another are great ways to incorporate gratitude in your daily practice.
In an age of instant gratification where everything is at our disposal 24/7, it's no wonder we've come to view self-worth as yet another commodity we can pull down from the internet or purchase at will. Unfortunately, or fortunately, we cannot. Acquiring self-worth is a long-term investment whose only acceptable currency are the seeds we plant within ourselves.
When we take the time and daily effort to do connect, cultivate, and nurture ourselves, the rewards are great. We become open and able to experience happiness that persists over time and a sense of peace that can only come from living a satisfying and fulfilling life.
Latest posts by Halley Bock
(see all)