In order to Mother well, we have to fill the Mother Well. This is the name that I give that place within that allows us to keep giving, to keep mothering.
Often, this place has nothing to do with parenting, in the sense of how we mother others and our children.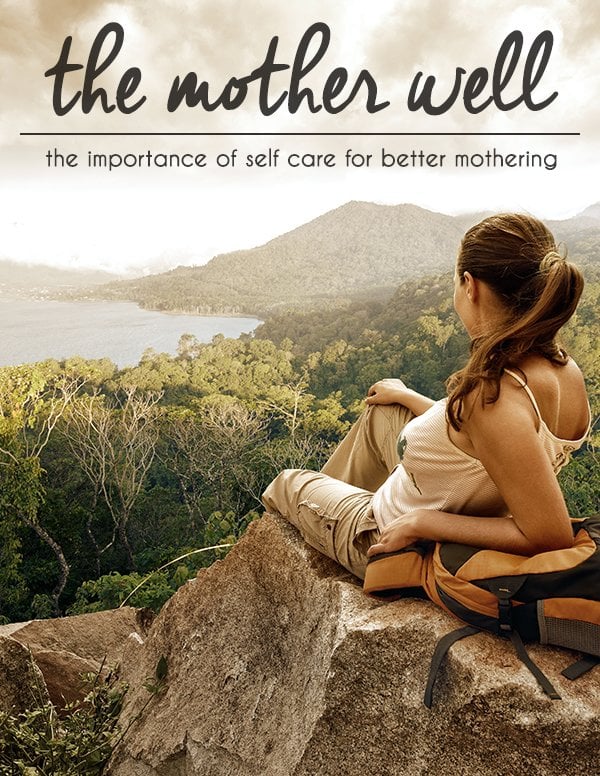 Rather, it is the space within where we mother ourselves and where we feel connected to the Great Mother.
This place is sacred, private, timeless and so uniquely our own.
A Step Further Than Self Care
Every woman is different in how she wants to be nourished, how she wants to be cared for, how she wants to be mothered. You could call it self care, but that term has been used so much, most of us don't truly understand what it means. But we do know how it feels to be mothered. And whether we had a good example, or less than adequate example, during our own childhood… I think we all have an idea of how we long to be mothered.
When we take time to fill the Mother Well, we all choose a little something different and relevant to our own authentic nature.
For me, this form of self-care means time alone. Introverted by nature, I often crave moments to myself to sit in stillness because this is how I feel connected to something greater than the tasks at hand; something divine, something infinite, something that fuels my ability to keep on giving.
Filling Your Own Well
Thus, I fill my own Mother Well with time alone, in nature or at home. I'll journal or sing or cook or walk in the woods or meditate. I'll allow more time to listen to the subtle cues, to the birds singing in the trees, or to that inner voice that so often gets muffled by the noise of everyday life. This is how I re-charge. This is how I re-new. This is how I fill the well.
Girlfriends, fellow moms, and female patients of mine often explain they have the exact opposite experience. Usually these individuals are more extroverted in nature; they re-fuel by going out, by relating, by verbally processing and by externalizing. Without their social time, they start to feel a buildup of emotion within, like a tidal wave of bottled feelings that have no avenue of expression. They are relieved when that wave of thoughts, feelings and experiences gets an outlet. This is how they re-establish balance.
Follow Your Intuition
What I would suggest to women who are learning how to fill their own Mother Well is to first identify whether they experience themselves as more of an introvert or an extrovert. This is not to suggest we are dichotomous and only allowed one way of being, but it is to acknowledge that each of us tends more towards one or the other the majority of the time.
One of the best ways to identify your tendency is to ask yourself which leaves you feeling more depleted: time alone or time out socializing with others? When you walk away from either experience, you will know you have filled your own well based upon the feelings you experience after the intentional time you spent.
There are certainly times when extroverted types need more time alone to center, and when introverted types need to get out and engage with others. Always allow yourself flexibility to swing both ways on the pendulum. The greater point is to know that only you can identify your needs at any given moment, and to understand how important is is to tend to those needs in order to keep mothering well.
The result?
More of you. More of your authenticity. More of your light. More of your joy. More of your tireless ability to give of yourself. More of your unique stamp of mothering.
When you are able to give to yourself, you fill the Mother Well. As a result, You Mother Well. It's simple, really, but not always easy…
Yet, I can think of no single more important thing, as a mother, that I could teach to my own children. The gift of time to honor one's own individual needs fuels us to do the work we love. And to show up more fully for that work.
So take time to fill the well. Then share more of you.
The world is waiting…

Melanie Everett, ND is a licensed Naturopathic Physician and Yoga Teacher and the lucky mother of three healthy, hearty children. She loves working with mothers in her clinical practice to help them find a sustainable means for emphasizing self care within their busy family lives. She and her Acupuncturist partner own and operate their joint medical practice, Sacred Root Acupuncture & Naturopathic Medicine, in downtown Edmonds, WA.

Latest posts by Melanie Green (see all)