Do you remember the inspiration behind Oprah Winfrey's "Christmas Kindness South Africa" in 2002?
She was 12 years old, and her mother told them they didn't have enough money for Christmas. In Oprah's words, "Just when I started to accept there would not be a Christmas, three nuns showed up at our house with gifts for all of us. There was a turkey, a fruit basket, some games, and for me they brought a doll."
"I remember feeling that I mattered to those nuns, whom I had never met. And what it meant that they had remembered me."
"I wasn't forgotten. Somebody had thought enough of me to bring me a gift."
The story is beautiful in itself. But the fact that so many years later, she was inspired to pass that joy along to 50,000 school children and orphans in South Africa… it reminds us how we never know the effects one small act of giving can have!
It's easy to get caught up in the chaos of the holidays. We're busy with gifts to buy, trips to plan, and parties to attend. When the consumerism, feeling of overwhelm, and the downright violence of Black Friday shoppers set in… the best remedy is a peaceful, meaningful holiday.
Stop and ask yourself what an authentic holiday means to you.
Why Give Back?
▪ It's Needed – Even in the U.S., you don't have to look far these days to see someone who could use a hand up (as in hand to help up, not a hand-out). But worldwide, well over half of the population is without electricity or running water. Makes the Black Friday fight over a $2 waffle machine seem pretty pointless, doesn't it?
▪ It's Good Karma – When you give with an open heart, you'll always end up with more to give. Giving creates the flow of good things coming right back to you. And it just feels good.
▪ It Sets a Good Example – If you're a parent, one of the most rewarding things you'll ever do with your child is let them choose a cause to donate time or money to. Kids are naturally caring and generous, but you have to encourage it to keep them that way.
How To Give Back
Growing up, our parents made Christmas giving a priority – choosing a family in need to buy gifts for or volunteering to help deliver holiday meals. Our grandmother gave all year round – donating dolls to charity, quilts to church raffles… everything from attending fund raising events to sending us down the street on Sunday with a plate of food for an elderly friend. I have a feeling we'll never even know the extent of her giving, but she always said, "You can't out-give God."
The Gift of Your Time
Giving doesn't always mean money. There are plenty of ways to make a difference by volunteering your time. Getting involved will reward you in ways that writing a check and dropping it in the mailbox just can't do. Let your children choose how they'd like to donate their time.
▪ Plan a good deed of the day or week
▪ Volunteer at your local animal shelter
▪ Sing Christmas carols or visit lonely patients at a hospital or nursing home
▪ Shovel snow from someone's sidewalk
Give Anonymously
Set aside some money to bless others in need, and when the time comes, do it as anonymously as possible. This might be something like leaving double the tip for an excellent server… or buying Christmas dinner groceries for a family in need. Our boys love taking dollars and change to put in the donation boxes outside the cat and dog rooms at our local Humane Society.
Gifts That Give Back
If you love shopping, you're in luck. There are more than enough ways to give gifts that really matter.
You can give presents…
Malls, churches, and many office buildings have Angel Trees or organizations like the Operation Christmas Child or the Salvation Army that collect gifts for kids, elderly, or families who need help during the holidays.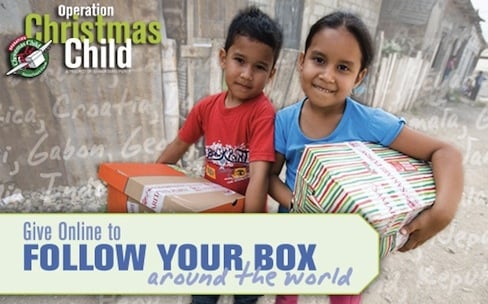 You can choose your recipient by name, gender, or age and let your children help pick out the gifts for your special Christmas "angel." Other organizations offer ways to donate gently used toys and books. If you go this route, make sure the items are clean and in good condition. Make sure these kids get the message: You Matter.
…Or you can give in lieu of presents
Most likely, your gift list includes more than one "person who has everything." Rather than another gift certificate, find out what cause they truly care about and donate to it in their name.
Companies like TisBest are making it easier to give charitable gifts. You make the donation, and your recipient chooses which charity receives the money. Our friend Beth Terry, author of Plastic Free, researched how eco-friendly charitable gifts really are and how much goes to the charity.
Other popular and easy to give charity gifts are…

Amity is the executive editor and publisher here at Green Child, a role that blends her journalism degree, background in Corporate Marketing, and her passion for attachment parenting and natural living. In her free time, you'll find Amity on a baseball field with her family, volunteering at the Humane Society, or outside enjoying nature.

Latest posts by Amity Hook-Sopko (see all)