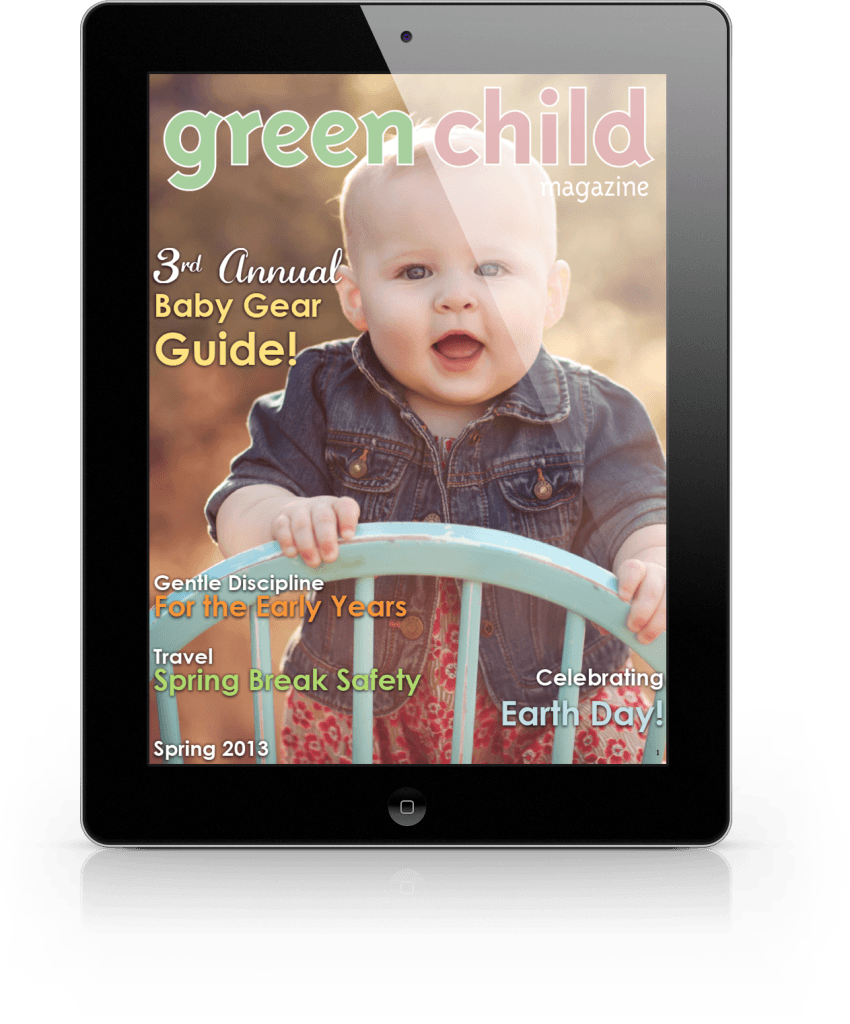 Since 2010, Green Child has published a digital magazine devoted to natural parenting and conscious living. Hailed as "good for a green mama's soul," Green Child has grown into a resource valued by parents who care about bringing simplicity, compassion, social responsibility, and instinctual intelligence back to parenting.
For something most of us feel should come naturally, conscious living is not always intuitive or easy. Sometimes we just need a little guidance!
And that's what we're honored to provide for you here – the natural parenting tools you need, the opportunity to build your community, an expert source for products you can trust, and a place you can feel safe reaching out for support – all in a no-judgment zone.
Whether you're just starting out along the path to more natural living, or you're as "green" as Mother Nature herself… this community is stronger because you are a part of it.
Don't miss a thing! Grab your free subscription here and then read on to learn more about our team.
Executive Editor & Publisher:

Amity Hook-Sopko
Amity joined the Green Child team as a contributor in early 2011. Just a few issues later, when she was asked to take over the editor role, she immediately agreed. Since then GC has been the perfect blend of her Journalism degree, background in Corporate Marketing, and her passion for attachment parenting and natural living.
"For years, I've been fascinated by the Triple Bottom Line concept – People, Planet, Profits. Working with our brilliant team and our advertising partners gives us the opportunity to promote the fair treatment of workers, conscious green decision-making, and making a difference in the lives of families every day."
In her free time, you'll either find Amity on a baseball field with her husband and two sons, volunteering at the Humane Society, or just outside enjoying nature.

Creative Director & Co-Publisher:

Amanda Hearn
Amanda is best known as the voice behind the Eco-Friendly Family blog, where she's been writing since 2009, about topics like parenting, cloth diapers, non-toxic feminine care, chemical safety & healthy living. Her three children inspire her passion to be involved in the movement towards intuitive living, and all that it encompasses.
Amanda has had a love for the digital medium since her first computer, an undisclosed amount of years ago, but it wasn't until the gift of motherhood that she discovered her passion for sustainable and healthy living. When the opportunity to be a part of Green Child Magazine came along, coupling her love for design and her passion for green living, she knew it was the right fit – and the rest is history!

Advertising Director: Susie Lyons

Susie joins us with 33 years of experience in the legal field, along with a passion for herbalism, and holistic health. She develops relationships with our advertising partners helping to connect our readers with some of the best brands in the business. "After a lengthy career in law, I am thrilled to join Green Child Magazine and have the opportunity to work directly with so many amazing people working to make a real difference."
When she's not building advertising partnerships, Susie is pursuing her herbalist certification, blogs about plant medicine and natural health, and is active in her local animal rescue community.

Staff Writer & Editorial Assistant:

Megan McCoy Dellecese



As a mother, educator, librarian, and writer, Megan McCoy Dellecese loves sharing her skills with the Green Child Magazine audience in a variety of ways. She enjoys every facet of educating readers, be it by reviewing books and apps to contributing articles to editing the final product. "My favorite aspect of GCM is its genuine relatability, providing thoroughly researched, achievable green life ideas in a supportive space for parents of all walks of life."
Megan has blogged about parenthood, simplified/green living, and much more at Meg, Acting Out since 2010, and has recently began freelance writing. In her free time, she enjoys spending quality time with her wacky family, reading, attempting yoga, watching classic movies, and participating in community theater (where she also happened to meet her husband).

Need more? Contact us!