Fresh Arugula Pesto Pasta (Gluten-Free + Vegan)
This fresh arugula pesto pasta is gluten-free, vegan, and so delicious.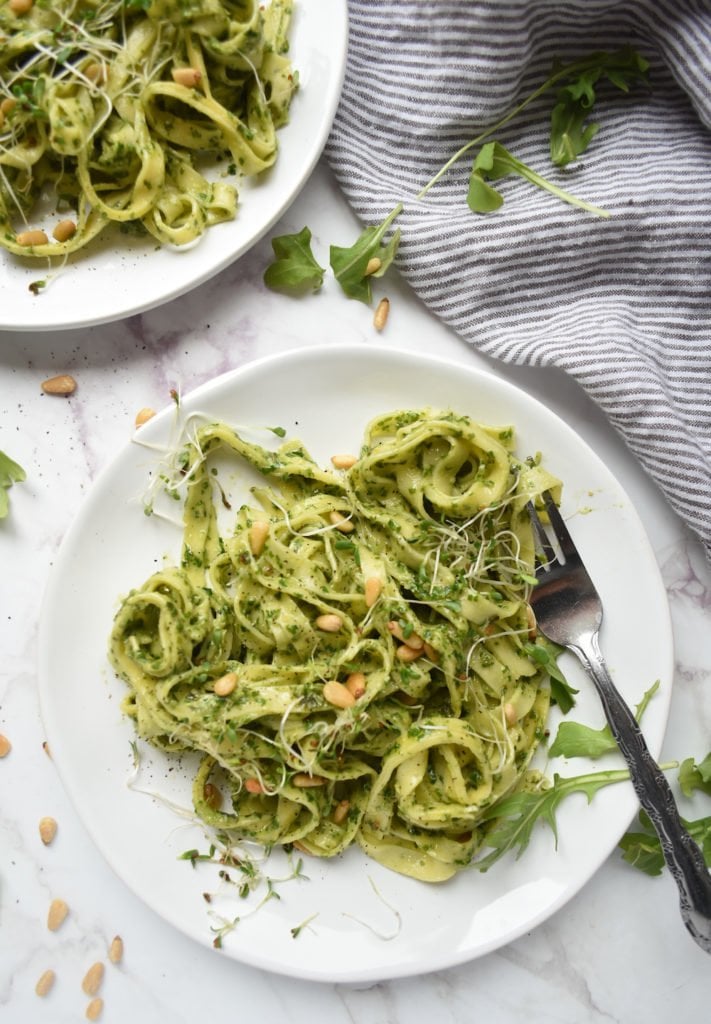 We try to keep a nice balance of healthy and easy in our dinner plans. Even when I had both boys on a different sports field every night, I used this meal planner to make sure we had most of our dinners at home.
When other families asked us to go out for Mexican after a game, I'd get some crazy looks for saying that we'd already had salmon and broccoli at home.
That doesn't mean we never had fast food or a takeout burrito on those busy nights. But I really try to keep that 80/20 balance. And this meal, whether you make it with gluten-free or regular pasta, manages to satisfy that carb craving while also offering healthy greens.
The rich flavor of arugula and the crunch of roasted pine nuts make this one of the most amazing nutritious comfort foods around. Adding sprouts makes it a superfood meal.
If the pesto part of this arugula pesto pasta recipe makes you nervous, it's far easier than you think. If you can toss ingredients in a food processor and press a button, you can make pesto.
The Health Benefits of Arugula
Arugula is one of our favorite flavorful bases for a salad. We also love it as a pizza topping (see our Arugula Mushroom pizza recipe). Some of the benefits of eating arugula include supporting heart and eye health, helping to prevent cancer, better digestion, and can help with weight loss.
In Traditional Chinese Medicine, an important aspect of nutritional therapy — which is often seen as essential for treating common pathologies based on qi deficiency or blood deficiency — is eating fresh vegetables, especially green and cruciferous veggies. Cruciferous vegetables are viewed as important for liver function and digestion. They are said to help to nourish the spleen and stomach, aiding in absorption of nutrients, and to support the liver in removing waste from the body.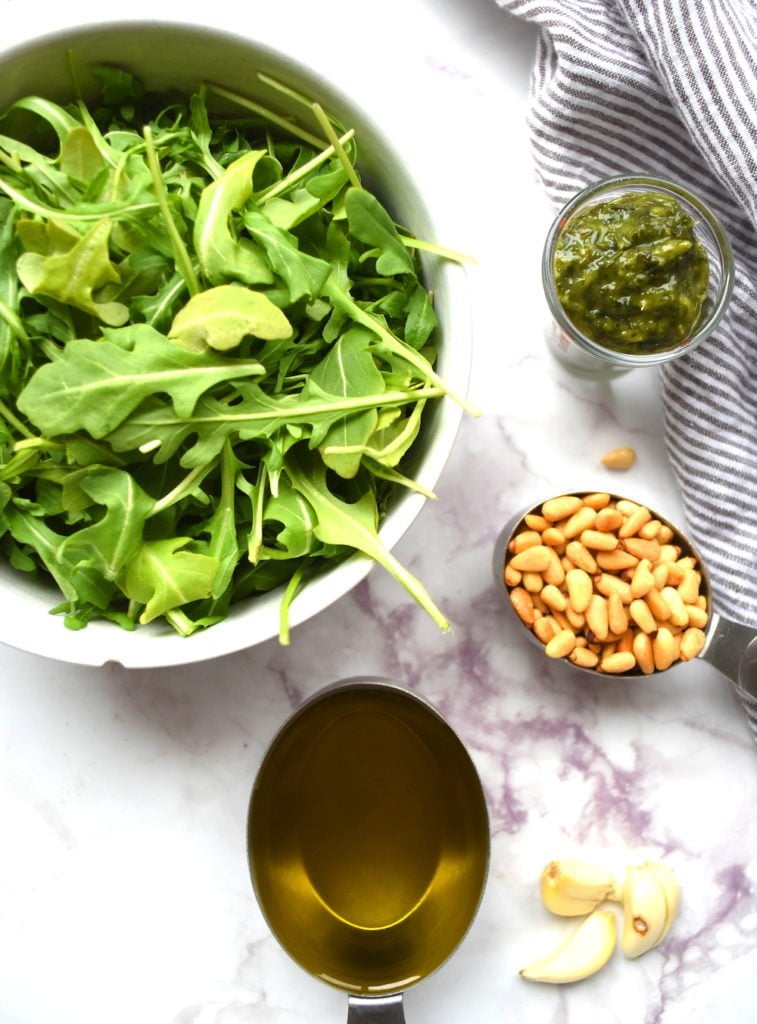 Sourcing the arugula, basil, and sprouts from your local farmers market – or growing your own – are the best ways to make sure they're fresh and rich in nutrients.
Make This Arugula Pesto Pasta with Gluten-Free Fettuccini
Thankfully, you don't have to look far these days to find really good gluten-free pastas. Ever since we discovered Jovial's Einkorn flour for baking, we fell in love with their gluten-free pastas, too.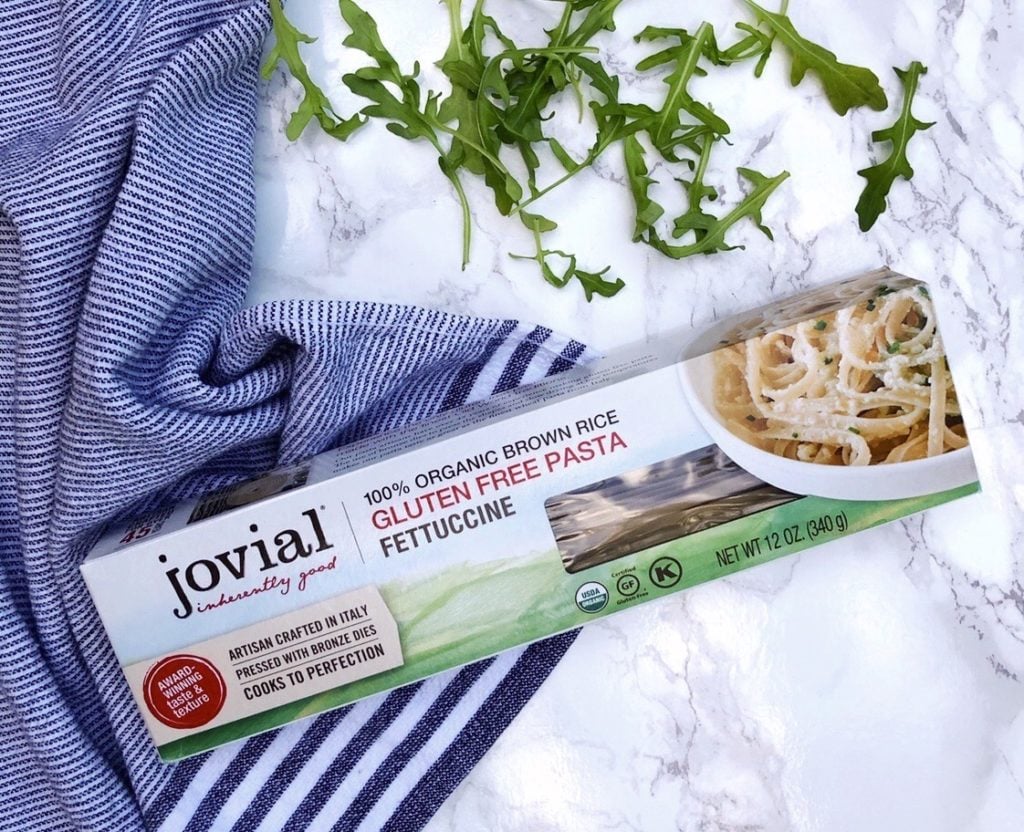 For this arugula pesto pasta recipe, we recommend fettuccini or linguine, but any choice of pasta will do.
We love making a double batch of pesto to have for salad dressing or toast toppings. Just pour the extra into a jar, add a bit of olive oil to the top of the pesto, and store it in the fridge for up to one week. Alternatively, you can store jars of pesto in the freezer for about 9 months.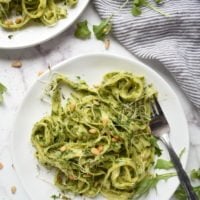 Ingredients
5

oz

organic arugula

washed & packed fairly tightly

1/2

cup

mild olive oil

3

cloves

organic garlic

peeled

2

tbsp

basil paste

or 2 tablespoons fresh chopped basil

1/4

cup

roasted pine nuts

1

tsp

salt

or to taste

1

tsp

pepper

or to taste

16

oz

gluten-free linguine or fettuccini

(or pasta of your choice)

1

handful

organic sprouts

(optional)
Instructions
Cook the pasta according to package instructions, meanwhile…

Pulse the garlic in a food processor, just until minced and sticking to the sides.

Add the pine nuts, basil, salt & pepper. Process until the ingredients stick to the sides.

Use the feed tube of the food processor to add the arugula and olive oil in turns, about ¼ at a time, pulsing in between. Add enough olive oil to gain the consistency you prefer and to allow the arugula to move freely in the processor.

Taste the pesto and add additional salt & pepper, as desired.

Toss the finished pesto with the fresh pasta. If desired, top with toasted pine nuts and sprouts of your choice.
Notes
To roast pine nuts: place them in a single layer on a cookie sheet and roast them in the oven at 350 degrees for about 10 minutes, or until brown. Keep an eye on them, they can burn quickly.
Pesto stores beautifully in jars. Make a double batch, pour the extra into a jar, add a bit of olive oil to the very top of the pesto, and store it in the fridge for up to one week. Alternatively, you can store jars of pesto in the freezer for about 9 months.