5 Super Practical DIY Uses for Castile Soap
Castile soap is an increasingly useful and versatile item to have around – especially if you're trying to avoid harmful chemicals. There are so many DIY uses for Castile soap, from body care to green cleaning, laundry, and even pet care.
If you're like many of our readers, you're already on board with Castile as a soap or body wash for your family. If you're not as familiar yet, here's what Dr. Rachel Nazarian, a dermatologist with the Schweiger Dermatology Group in Manhattan has to say, "Cleansers don't need to be harsh to effectively clean." In terms of ingredients, she says to "avoid parabens, fragrance, alcohol, and formaldehyde," because they can irritate skin – especially in babies and children.
IS CASTILE SOAP NATURAL?
Castile soap is made from a vegetable-oil base instead of animal fats. The name comes from a type of soap that originated in the Castile region of Spain. It cleans (and gently foams) naturally, so it's effective for removing dirt and germs. And it's made with vegetable oils, so it doesn't dry out skin.
One of our favorite brands is Earth Mama Organics Castile soap. Their Castile soap is gentle and effective, and it doesn't require preservatives, emulsifiers, or surfactant chemicals like detergent-based soaps. It also contains no artificial fragrance, triclosan, phthalates, parabens, sulfates, or known endocrine disruptors.
It comes in a foaming pump, which makes it go a long way.
5 FANTASTIC CASTILE SOAP DIYs
So, now that you know why it's great to keep this versatile soap in your shower or the kids' tub, here are some other great DIY uses for Castile soap.
DIY Household Scrub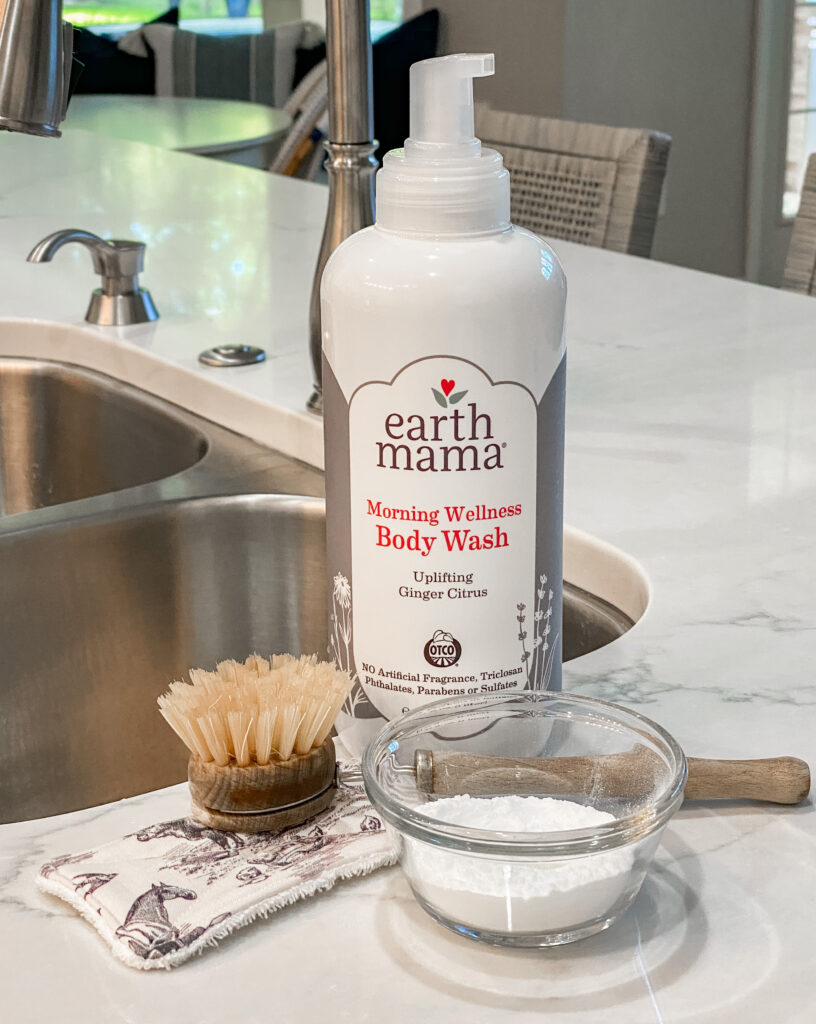 In the quest to go green and keep a safe and minimalist cleaning cupboard, baking soda, vinegar, and Castile soap will go a long way. This DIY household scrub is super effective for cleaning your kitchen and bathrooms. It works better than most store-bought powdered cleansers, and it's more affordable.
Here's all you need:
Make a dent in the baking soda with your finger and add the Castile soap. Use a wet sponge to mix it up, add to your sink, tub, shower, etc. and gently scrub until it's sparkling clean!
DIY Baby Wipes
Conventional baby wipes contain more than a few red-flag ingredients. Even "sensitive" baby wipes contain chemicals like propylene glycol, potassium tocopheryl acetate, laureth phosphate, and malic acid. This DIY version will set your mind at ease.
Cut receiving blankets or fabric (you can sew them but it's not necessary)
Mix 1 cup distilled or boiled water with 1 Tablespoon of Castile soap and 1 Tablespoon of Calendula baby oil
Place wipes in an air tight container
Pour solution over to fully saturate wipes
Seal the container (it should last 2-3 weeks)
Ready to make these with Earth Mama's Castile soap? Get 20% off any regular priced product at Earth Mama Organics using promo code GCLove20.
Makeup Brush Cleaner
Even those of us who wear very little makeup need a reminder to clean our brushes. If you're in a hurry, just pour some warm water into a small bowl and add 1/2 teaspoon of Castile soap. Swirl your brushes in it, rinse, and let dry.
If you own high end, natural material brushes, it's worth going the extra step and adding these conditioning ingredients to your makeup brush cleaner.
Pour everything except the water into an 8 ounce glass or jar and swirl to combine. Then add water and swirl again.
Pour the mixture into a small bowl. One by one, swirl brushes in the mixture (trying to avoid the line where the bristles meet the handle). If the mixture gets too cloudy or filmy, change it between brushes. Rinse the brush under running water (bristles angled down). Gently squeeze the bristles and lay flat on a clean towel to dry.
Fruit & Veggie Wash
You're probably washing your veggies, berries, and fruits extra carefully right now, so you'll be happy to know that Castile soap is a safe and effective way to rinse away pesticide residue and germs.
Fill a 32 oz spray bottle with water (be sure to add water first to keep it from foaming like crazy!)
Add 1 teaspoon of Organic Castile soap – we recommend unscented for food
Spritz fruits or veggies, gently scrub, and rinse
Foot Scrub
DIY foot scrub is such an easy way to pamper yourself. Plus it works really well for dry heels. Combine these ingredients and keep in your bathroom for the ultimate 3-minute spa treatment!
1 cup of sugar
1 Tablespoon of Castile soap
2 Tablespoons of coconut oil
4 drops of peppermint essential oil
Make this mixture in a glass cube storage container, add a ribbon, and you've got an easy holiday gift that everyone will love!
Honorable Mention DIY Uses for Castile Soap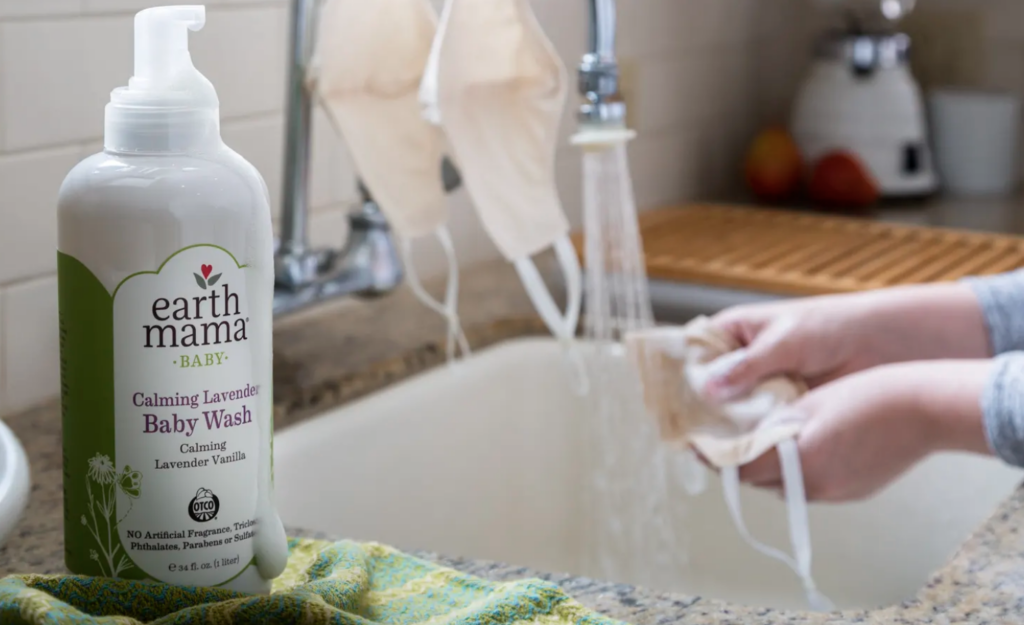 Mask wash – rinse face masks with hot water and Castile soap. Add a drop of tea tree oil for extra disinfecting.
Shaving cream – use the foaming pump to get the perfect shave.
Foaming hand wash – with Earth Mama Organics foaming pump, you don't have to do any mixing.
Baby wash – one of the safest and most gentle options for little ones.
Dog shampoo – just lather a little bit up in your dog's wet coat and rinse off.
Laundry booster – freshen up and get a little extra cleaning power by adding 2 Tablespoons of Castile soap to a washer load.
Natural mopping solution – Add 1/2 cup of Castile soap to 3 gallons of hot water to safely and effectively clean floors.
If you'd love to try Earth Mama's Castile soap or any of their amazing products for mama and baby, get 20% off any regular priced product at Earth Mama Organics using promo code GCLove20.
This article is part of a collaboration with our advertising / affiliate partner, Earth Mama Organics. All thoughts and opinions shared are strictly our own. Thank you for supporting the brands that make it possible for Green Child to share free natural parenting and healthy living content.