When it comes to celebrating Earth Day with kids, showing is far more impactful than telling. Plan to spend this Earth Day outside, with activities that will stimulate your child's mind, body, and soul through nature.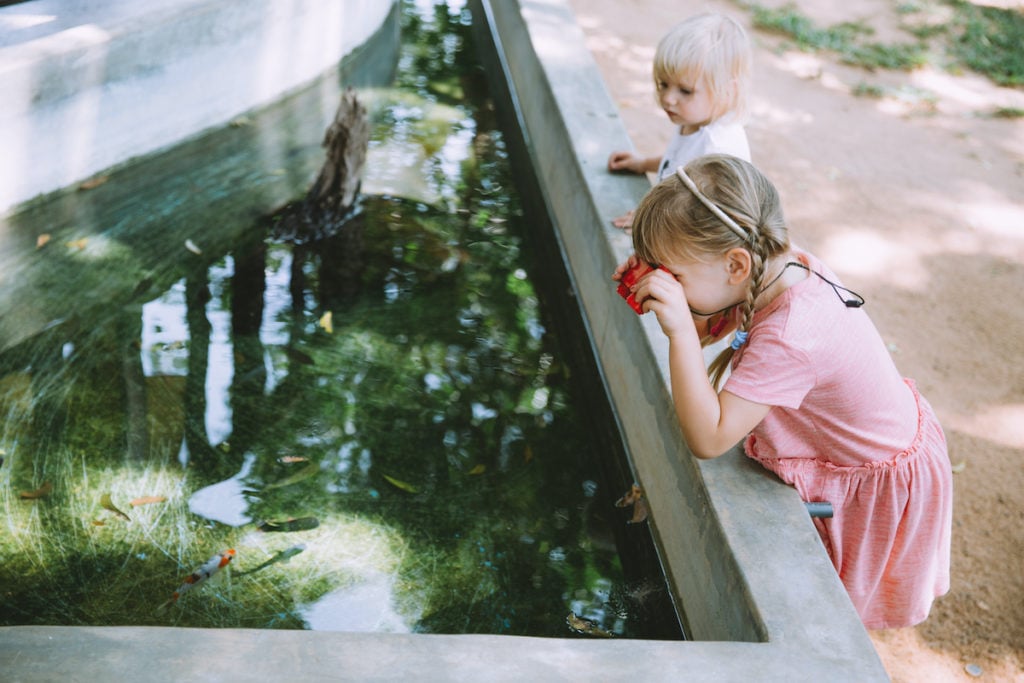 In today's high-tech world, many kids are learning more about nature from computer screens than from experiencing it with all of their senses.
Think about it. You can read about apples. You can learn all 7,000+ varieties of apples. And you can even draw a picture of an apple. But is there anything like standing amid branches of dozens of apples, reaching up to the perfectly ripe one, giving a soft tug, hearing it snap gently from the branch, and taking that first crisp, juicy bite?
In the first scenario, you know about apples. In the second, you know apples.
By helping our children appreciate the smell of fresh air, sound of wind rustling through trees, or the sight of a breathtaking mountain vista… we are contributing to their knowing of nature. And we're helping to foster the desire to conserve and preserve.
10 Ideas for Celebrating Earth Day Outside with Kids
Getting out and enjoying nature is one of the best things we can do for our physical and mental wellbeing.
1. Watch the sunrise on Earth Day
Set the alarm a bit earlier and step outside as a family to witness the sunrise. Ask everyone to enjoy a moment of silence and reflection in honor of Mother Nature. Listen for the sounds of birds chirping on a spring morning, and notice if trees or shrubs are budding or blooming.
2. Plant a garden with your kids
Visit the nursery and let your kids help plan this year's vegetable garden. Keep in mind the best vegetables to grow with kids and the 10 easiest vegetables to grow from seeds. Pick up your organic seeds and compost and let the planting begin! Be sure to teach your kids about composting and discuss the global impact of organic farming.
3. Document a nature journey
No matter where you live, you can hop on your bikes and head to a nearby greenbelt area. Kids love to explore trails, and many cities have greenbelt areas that feel miles away from the city noise. Listen to the birds and trickling streams, and consider how your everyday actions impact the green spaces closest to your home.
Get out of the city and photograph the changing landscape. Notice the air quality from urban to rural to forested areas. Discuss the flora and fauna that covers the landscape, and the importance of protecting them. Encourage your children to take pictures of specific things that need preserving and talk about ways to take action.
4. Do experiments & make crafts outside
Messy play is soothing and educational. And there's no better place to be curious and messy than the great outdoors.
Use red cabbage, berries, carrots, etc. to have a tie-dying party with old clothing and blankets.
Make wildflower seed bombs.
Use old clothes cut into strips to make beautiful braided rugs.
Make a rain cloud to learn about weather patterns.
Recreate the earth's layers with modeling clay.
Make a tornado in a jar.
5. Plan a camping trip
Roughing it is one of the best ways to fall in love with nature. Depending on where you live, spring temperatures may be too cold for a night under the stars. So start planning a summer camping trip. Be sure to practice Leave No Trace camping or visit a nearby Forest Service office to learn about camping responsibly.
6. Volunteer
What green or nature cause does your family care about most? Volunteer at the nearest animal shelter. Go pick up trash at your local park or beach. You might even find enough discarded items to create plastic mosaic art. Plant trees or go out and toss those seed bombs. Ask around in your community for ways to donate your time for environmental causes on Earth Day.
7. Plan a nature scavenger hunt
Give your kids a list of items they must find in a park: pinecone, feather, something a deer could eat, a piece of trash, etc. Once they have collected everything, talk about how each item represents the importance of preserving green spaces. Here are 5 nature scavenger hunt ideas to get you started.
8. Green your home and yard
Vow to turn off the technology and spend time working for the earth. Remember, we're spending this Earth Day outside, so think of things you can do to around your own yard like set up rain barrels or create a compost bin. Place DIY organic bird feeders around your yard to encourage a healthy local bird population. Plant wildflowers to encourage pollinators like bees and butterflies to visit your yard. Swap old outdoor lightbulbs for more energy efficient options.
9. Visit an animal sanctuary
Much different from a zoo, a wild animal sanctuary provides an environmentally responsible and educational way to see wildlife up close in their natural habitats. In some cities, these sanctuaries were created as safe spaces for animals displaced by urban sprawl. It's a great way for your child to spend Earth Day outside learning the significance of protecting native plants and animals.
10. Organize a group outing to an outdoor museum
According to the National Park Service, the U.S. is home to nearly 400 national parks, and the service is present in almost every county across the country, meaning a vibrant park is within driving distance, offering opportunities to bird-watch and learn about wildlife.
We'd love to know… how are you celebrating Earth Day outside this year?
Latest posts by Ashley Allman
(see all)