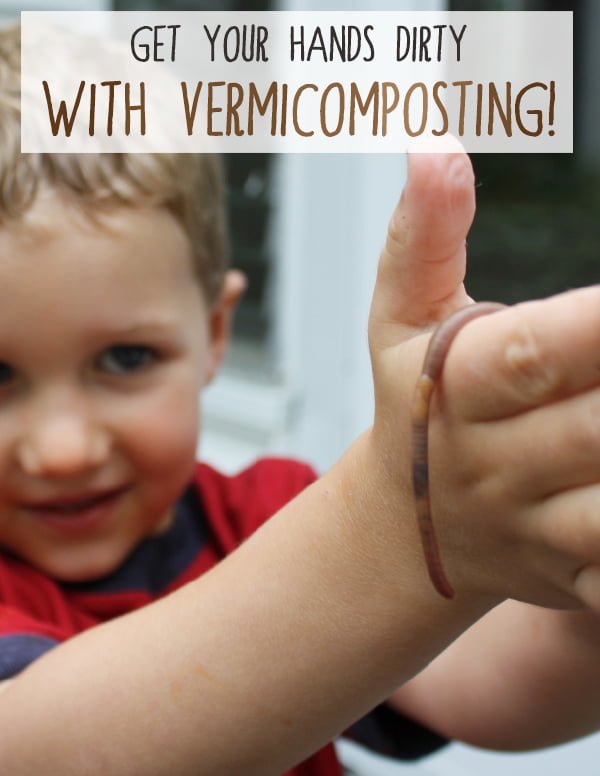 Vermicomposting is an indoor, year-round method of composting that can be easily set up in a plastic or wooden container.
Food waste such as fruits and vegetables are placed into the bin along with worms and shredded paper. As the worms eat and digest the food and paper in the bin, they will begin to produce vermicompost that can then be spread in your garden.
Red Wigglers are a great species of worm to use for vermicompost bins because they not only live in the upper portion of top soil, they also consume a lot of organic material and reproduce many worms in a short amount of time, creating worm castings (worm excrement) along the way!
Building your own vermicomposting bin is a fun, easy activity for the entire family, especially when you follow these step-by-step directions.
Using one of the 10-gallon bins and drill a row of holes along the top edge of the bin and about 10 holes in the bottom using the 3/16 drill bit.
Drill five-10 holes in one of the lids.
Take the second bin and put several rocks, a brick or empty aluminum cans inside.
Take the bin with holes in it and place on top of the rocks in the second bin. The rocks will prop the inside bin up and allow any extra moisture to drain and collect at the bottom.
Put the soil, shredded paper and a few food scraps in the bin and arrange in a pile in the center.
Examples of food scraps include: banana peels, apple cores, vegetable scraps, egg shells and coffee grounds (paper filter too!).
Food Scraps to NOT ADD: citrus such as oranges and lemons, meat, milk, fats/oil, baked items, and junk food.
Spray the shredded paper well with water to soften it and to provide moisture for the worms.
Cover any food with shredded paper! This is very important to prevent fruit flies or a pervasive smell of food.

Take the worms (do not use Night Crawlers!) and put them in the bin. Soon after the worms are added to the bin they will start disappearing into the paper and center pile. Leave the lid off until all the worms disappear into the center pile.
Spray with water until all the paper is moist, not wet.
Check the bin every few days and add paper and water slowly as needed and add food sparingly. Food scraps can be added every few weeks.
Your worms are off to a great start, but please remember the following to make sure they stay healthy and happy. A worm will eat its own body weight in food each day, so it's important to make sure you are not adding food too rapidly. You should also keep in mind that worms' skin is very sensitive, so it's best not to use hand sanitizer before handling the worms.
Happy vermicomposting!
By Blair Owens Hecker | Image by Fran Linden

Amity is the executive editor here at Green Child. She feels it's the perfect blend of her journalism degree, background in corporate marketing, and her passion for attachment parenting and natural living. In her free time, you'll find Amity on a baseball field with her family, paddleboarding on the gorgeous Florida springs, volunteering at the Humane Society, or outside enjoying nature.

Latest posts by Amity Hook-Sopko (see all)