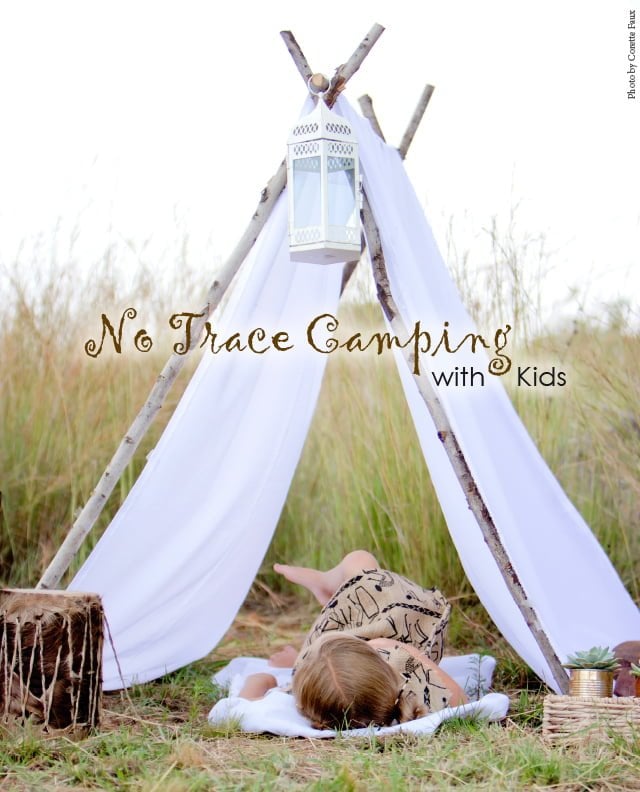 The smell of crisp, clean air, the sound of rain hitting the leaves above the tent or laughter around the late night campfire; these are a few of my favorite things.
I was 6 months old on my first camping trip, and from that point on I spent my summers sleeping under the stars. If being an environmentalist is my end point, camping certainly was the starting point.
I developed a strong connection with nature that led me to want to protect it so that when I had kids of my own, it would be there for them to enjoy. Now as a parent, I'm passing that love of nature on to our son. We take him on long nature walks and let him explore at his own pace.
When it comes to a family campout, teach your kids to leave your campground in the same condition or better than what you found it. This is known as No Trace Camping, and while some campgrounds require it, in general, it is a great principle to use anywhere you camp.
No Trace Camping is the most natural way to spend time out in nature.
If the ground cover is grass, never put your tent where the previous campers put theirs. You want to give the grass a chance to recover and repair itself.
Only use certified organic and biodegradable soaps and shampoos. Most campers dump their dishwater out into the bushes. Don't toss out toxic chemicals with it!
Pollution prevention is key when camping as it helps to sustain the beauty you left the daily grind to enjoy. Look for campgrounds that have recycling, composting and cylinder return programs.
Always use the designated fire pit. It is built in a safe location and with the structure to contain the fire and prevent accidents.
Pay attention to firewood rules for the campground. Sometimes you can bring in your own but sometimes you can't due to fears of diseases or insects spreading to species within the park. Never cut down your own firewood inside the park.
Remember to take everything with you. Common items left behind that people think the next camper will use include half empty propane cylinders, clotheslines and bug spray.
Never been camping before?
It's never too late to start, and you don't have to canoe off to a remote campground to connect with nature. There are great campgrounds right in your neighborhood just waiting for you to explore them.
Or join in NWF's Great American Backyard Campout. As you and your family get more comfortable with it you can try new types of camping and new campgrounds.
Get your kids excited about camping with more than late nights filled with s'mores!
Look for campgrounds that promote ecology with nature programs geared for kids. It is a great way to introduce those key environmental concepts to kids in a way that they can relate to.
Plan an eco-scavenger hunt with things commonly found in a campground (i.e.: chipmunk, pinecone, maple key).
Let them bring their bikes so they can explore the park on their own. Making your own adventures is a great way to connect with your environment.
Ditch the stroller and bring a carrier. You will be able to enjoy the park more if you don't have the constraints of a stroller.
Camping should be fun, and it should never feel like "roughing it" unless you choose. Camp in the style that works best for your family and remember to stop and enjoy the smells and sounds that surround you. The simplicity of it all is bound to stay with you and your kids for a lifetime.
The 7 Principles of "Leave No Trace"
Plan Ahead and Prepare
Travel and Camp on Durable Surfaces
Dispose of Waste Properly
Leave What You Find
Minimize Campfire Impacts
Respect Wildlife
Be Considerate of Other Visitors
Latest posts by Jen Eyers-McLaughlin
(see all)