How to Keep Up Your Yoga Practice While Traveling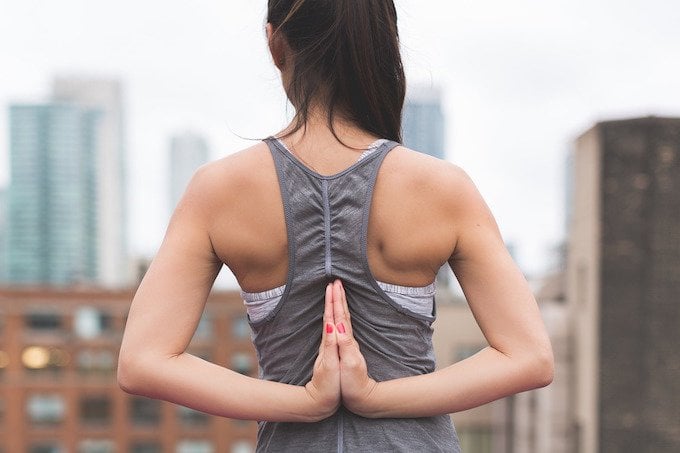 It's easy to establish a regular practice while in familiar surroundings. But, if you've ever tried to keep up with practicing yoga while traveling, you are well aware of difficult it can be.
See Also: The Mental, Emotional, and Physical Benefits of Yoga
Fortunately, it doesn't have to be that way. It is possible to keep up with your practice while on the road… here are some ways to do so.
Pack Wisely
When on the road, there are all sorts of distractions that make it easy to forgo your yoga practice. But, with the right yoga clothing, having nothing to wear doesn't have to be one of them. Many yoga clothes are made with high-tech fibers that allow them to be laundered and dried quickly – even in a hotel sink.
Here's what to pack for yoga while traveling:
1 yoga outfit with a hot yoga pant and stretchy yoga top that can double as comfortable traveling clothing
A travel yoga mat to protect you from dirty surfaces as well as give your feet and hands something to grip
A small towel
Your favorite reusable water bottle
A Little Yoga Is Better Than None
Squeezing in your usual hour-long daily practice into your schedule may be asking too much. How does 20 minutes sound instead?
Committing to an achievable and realistic time to practice every day will help alleviate the guilt of not practicing at all. Plus, a 20-minute session, 3 times a week is enough to keep you grounded, focussed, and blissfully aware while on the road.
Create a Customized (and Simple) Yoga Practice Sequence
Coming up with some go-to yoga moves will make it easier to stick to a practice. Why? You won't have to spend a lot of time searching for classes when you get to your destination. And, this guarantees that you can practice anytime and anywhere.
If you don't have the time or inclination to come up with your own sequence, the internet can help. Simply do a search for online yoga classes and check out the options that fit your criteria the best. So, no matter your level, time constraints, and favorite yoga style, you will find something that fits your needs.
Don't Make Excuses
One of the best things about yoga is that it can be done anywhere and at any time. It doesn't matter if you are in the country, the city, on the beach, on a train, or in an airport lounge.
You can do simple neck stretches, shoulders rolls, and ankle over knee stretches while in transit to your next destination. And, even the smallest rooms allow you enough space to do a couple of standing poses.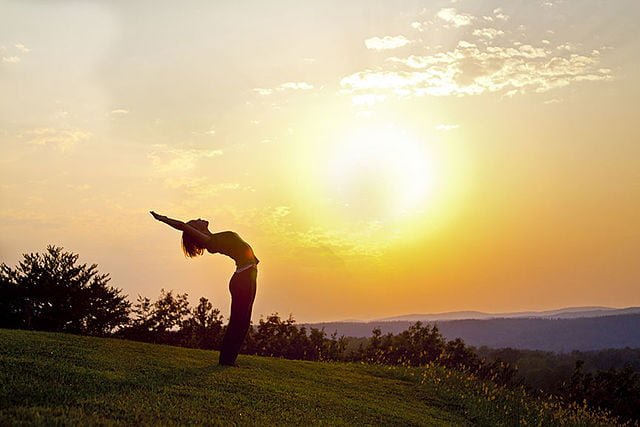 Practice In the Morning
It can be hard to fit yoga into your daily schedule when on the road. Not only are you dealing with jet lag, there are also new people to meet, new places to explore, and a host of other distractions that make it challenging to stick to your regular schedule.
In short, you never really know what's going to happen when you travel. But, this doesn't mean that you can't plan around the inevitable chaos.
Since the majority of your time will be spent on other obligations, make the most out of your mornings instead. That is, practice as soon as you hop out of the bed – even if it's for 10 or 15 minutes.
Turn a Negative Into a Positive
Jet lag is a pain in the you-know-where. But, this doesn't mean that you have to let it stifle your yoga practice.
If you are too tired to do your normal challenging poses, consider trying a couple of gentle yin yoga poses instead. These are especially helpful at night because they will help you release pent-up tension and sleep peacefully.
Try a Few Minutes of Meditation If Yoga While Traveling Is Difficult
For those days where you are simply unable to step foot on a mat, try meditating instead. Doing so will calm your mind and make it easier for you to deal with the chaos surrounding travel. Poses are just one part of the yogic experience and when you take the time to meditate, it can help you deepen your yoga practice. Check out some of our free Guided Meditation Scripts to help you get started if you are new to mindfulness practice.
With planning and commitment, it is possible to take yoga with you on your travels. And, if you are easy on yourself and maintain a flexible attitude, you will soon discover that every facet of your trip is another opportunity to deepen your practice.
Namaste.