Get in the Picture: Making lasting memories for your family
Are you in your family photos? Or are you always the one hiding behind the camera. Sometimes moms (and dads) seem to need to permission to get in the picture.
If that's you – then here's more than permission. Here's an order: Get in the picture! You'll be glad you did – and so will your kids.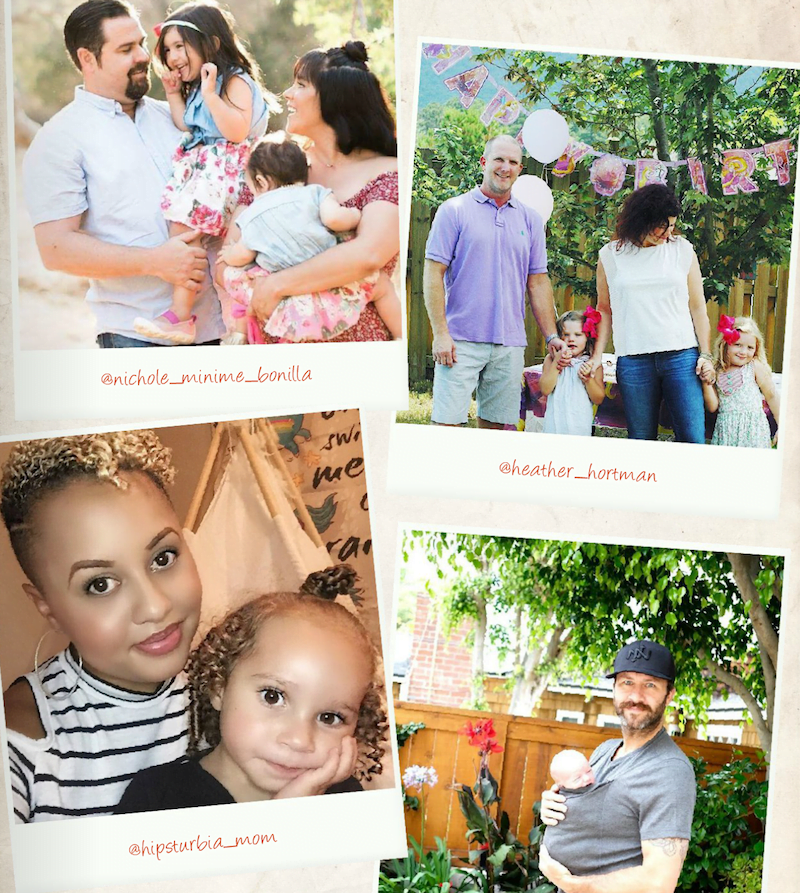 Stop for a moment and think about the number of photos you've taken of your kids versus the photos you have from your childhood. Most of us today are lucky to have a few shoeboxes full of photos and maybe a scrapbook or two our mothers made for us.
Our kids, however, will have thousands of photos that document every aspect of their lives. Between DSLRs and mobile phone cameras, it's easy for today's parents to take photos and videos whenever we want to make a moment last forever. Moments as important as those first steps and as mundane as a silly expression at the dinner table.
These photos you take of your kids will shape the memories of their childhood. The very fact that they will have such a vibrant digital history makes it all the more important for you to get in the pictures.
What's missing from most of the photos you take of your children?
You are.
Why You Should Get in the Picture
Most people reach for their cameras to freeze a moment in time – a moment with their kids they want to remember forever. But those photos will do so much more for your kids: they'll be a source of insight on family life and history, plus a reminder of you when you're no longer here.
Be in the picture to answer questions that you asked about your own childhood after you became a parent. What was the expression on your dad's face when you asked him to read Goodnight Moon for the 100th time? Was your mom's house ever spotless when you were a baby? While you might not be able to remember details from your own childhood, you can document answers to your questions for your kids.
Get in the picture because you are part of your children's memories. You go out of your way to create memories for your kids. You plan, you cook, you carpool. You read books and go swimming and play Go Fish 45 million times. Your kids deserve to remember all these little details that add up to an incredible amount of love.
Be in the picture so that your kids have a realistic view of the world. What does it tell your kids when they are the only subjects of your photos? You don't want them to think that the world revolves around them. They need to learn to share the spotlight.
Get in the picture because you are important. Taking a photo of someone tells them that they are important. And if you are never in photos, that implies that you aren't as important as the people you take pictures of all the time.
Be in the picture because when your kids grow up, they won't be interested in random photos of themselves in isolation. They will treasure photos that show interaction or emotion. It's not the photo of your daughter with messy finger-painting hands. It's the photo of you together with her, and how you had finger paint all over your face as you tried to clean her.
Get in the picture to promote positive body image. When you look at photos from your childhood, do you notice that your mom wasn't wearing lipstick? Not for a minute, right? Remember that your children love you as you are. If you model not being in photos until you look perfect, you are teaching your kids that appearance is the most important consideration.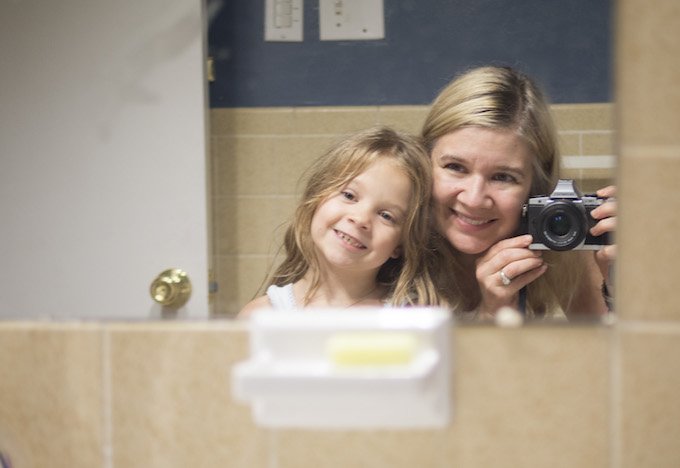 How to Get in the Picture
This is the easy part! With a little creativity, you can be in many of the photos you take of your kids.
Pull out the selfie stick – They get a bad rap, but selfie sticks help you get everyone in the photo – yourself included. Choose one that connects to your phone via Bluetooth. Kids love pushing the shutter button on the selfie sticks – that's a sure way to make them smile.
Let the kids take the photos – You might be surprised about what the kids think is photo worthy in your life.
Use the timer on your camera or phone – This is an amazing technique to show you interacting with your kids or to document what your daily routine is like. Imagine how happy it will make them one day to look back on moments that they don't remember and realize how much time you spent together.
Hand the camera to Dad – Don't worry if he doesn't know how to use it. You'll record a special moment anyway.
Once you get used to putting yourself in your photos, make it a goal to capture the details and photograph the routine of your life – photos shouldn't just be for special occasions and milestones.
What makes you happy every day? Is it snuggles on the sofa first thing in the morning? That's what you need photos of.
What is it that you want your kids to remember beyond the special occasions? Focus on the details that make you and your kids happy every day.
Imagine the gift you will give your children with a well-documented childhood. Give them a story that is complete and authentic, not manicured and controlled.
Give them the gift of memories: memories that show you interacting with them and the life you create for them. It's this interaction with you that will warm their hearts and inspire them for the rest of their lives. And there's no better reason than that to get in the picture.