Green Child Talks with Torie Griffin, Founder of Rising Moon Tribe
When an older friend came over the day she started her period, ten-year-old Torie Griffin decided it was something to celebrate. She began talking with her family about rituals honoring womanhood, and Rising Moon Tribe was born. We're thrilled to talk with Torie in her premiere interview about the company she created, what it's like working with her family, and her goal of encouraging girls to celebrate their cycles.
What is Rising Moon Tribe?
It's a fun company I started that helps girls honor the transition into womanhood. We make awesome period prep kits and host gatherings that celebrate our moon cycles. In my mom's family, all the girls celebrate their cycles. They call cousins and aunts and grandmothers and happily cheer, "I'm a woman now!" I noticed my friends worrying, being embarrassed, thinking it's gross and not celebrating at all. And I wanted to change that.
How did you get the idea?
Well, one of my girlfriends got her period and came over to my house right afterward. A few other friends were there and helped talk her through her first day. It was really sweet and helpful, even for us girls that had not started yet. I was telling my mom about it, and the idea just grew from that conversation.
What is in your kit?
My mom and I have been indigo-shibori-dying recycled fabric by hand, and a friend is sewing it into pretty bags, which I'm stuffing with period supply samples. And we have a bracelet kit that you can make yourself. I wear mine all the time, but it's included so you can wear it during your period to let your family know that you need a little extra love that week.
We also have this awesome book called Reaching for the Moon by Lucy Pearce. I love it. I've read it at least 10 times. And a rose quartz, because it's a symbol of love.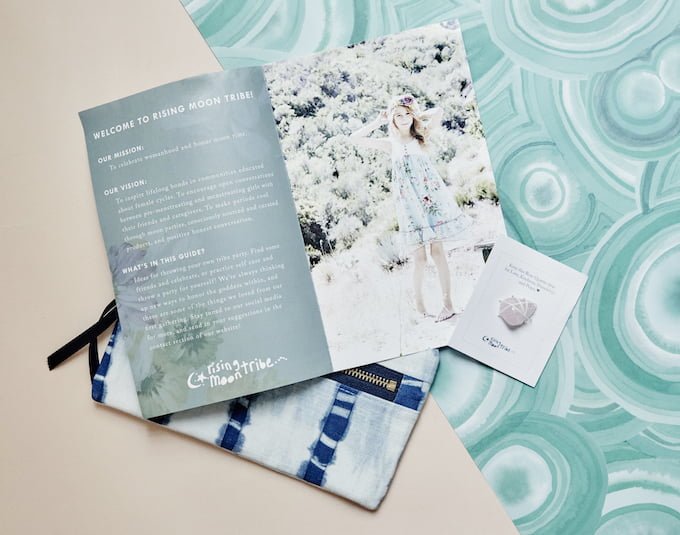 Tell us about your moon circle events. How can mothers and daughters create their own gatherings?
We just spend time honoring our womanhood. At our last party, it was me, my mom, aunt, and some new friends and moon-mothers. We taught everyone how to make flower crowns. We nourished our bodies with delicious smoothie bowls. I played music on my guitar. We made flower mandalas and laughed and talked about what was coming up for us younger girls with puberty and the changes we are about to go through. It was really beautiful and fun. I'm looking forward to hosting the next one for sure.
You're only ten. Do you have help running your business?
Yes. Totally. My parents own a business so my mom has been teaching me a lot of stuff about inventory and taxes and customer service. And my aunt (Jenna Peffley) is a professional photographer, so she's been teaching me the artistic side of things. I designed the logo myself, and I make a lot of our social media posts. We have a lot of phone calls and text conversations. I'm homeschooled, so my parents like when I learn things in a real world kind of way. It's a win-win.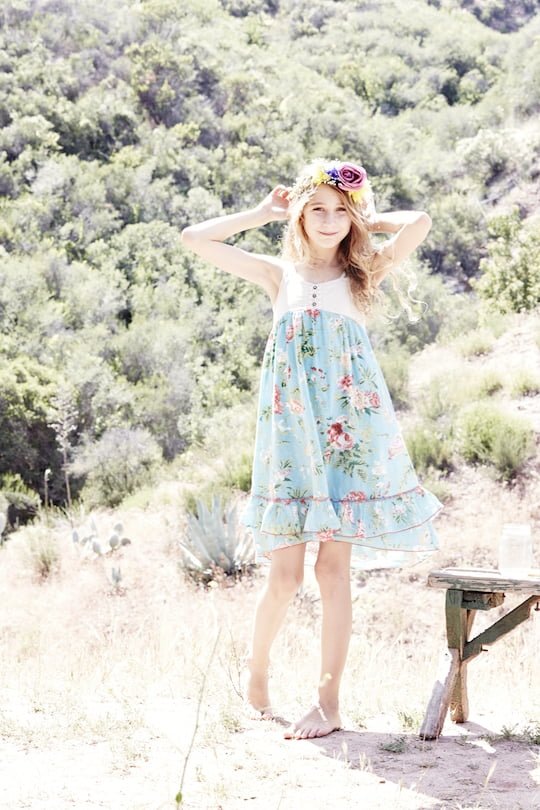 How can people find you?
We share inspiration daily on our Instagram @risingmoontribe. And our website, of course Rising Moon Tribe.
Our Mission: To celebrate womanhood and honor moon time.
Our Vision: To inspire lifelong bonds in communities educated about female cycles. To encourage open conversation between pre-menstruating and menstruating girls with their friends and caregivers. To make periods cool through moon parties, beautiful products, and positive honest conversation.
Images by Jenna Peffley, Instagram:@jennapeffley