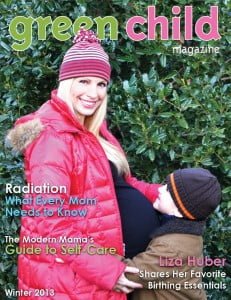 Green Child Magazine's Winter 2013 issue features a special section on a healthy, natural pregnancy, plus an in-depth look at the risks of radiation, along with parenting advice, healthy seasonal recipes, and more eco fun for the whole family.
Amanda may be best known as the voice behind the
Eco-Friendly Family
blog, where she's been writing since 2009, about topics like parenting, cloth diapers, non-toxic menstrual products, chemical safety, & healthy living. She also has a passion for digital design and is delighted to work in an industry that is doing wonderful things for the communities and causes she cares about. Her three children inspire her passion to be involved in the movement towards intuitive living, and all that it encompasses.
Latest posts by Amanda Hearn (see all)