Award-winning blogger, influencer, and mother of three Aaronica Cole talks about the highs and lows of the past year and how she's learning to cope and thrive through it all.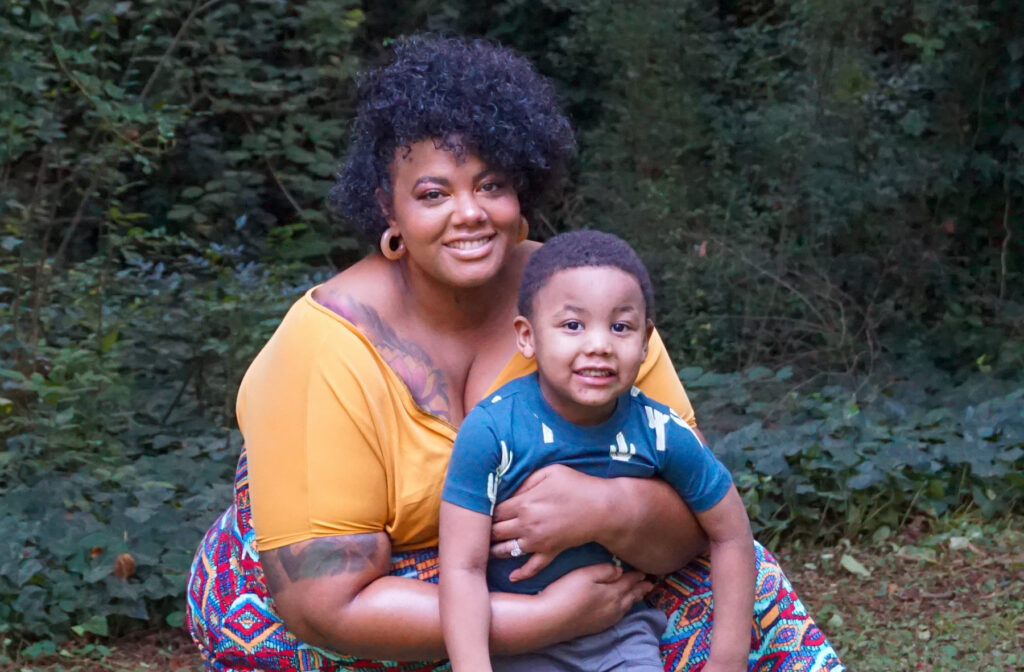 Favorite food:
Pizza! I'm a native New Yorker so definitely pizza.
Ideal way to practice self-care:
Daily. I think self-care has this reputation of being something you do once in a while when you show signs you need it, but it's really an everyday thing. Like taking your vitamins, probiotics, moving your body, getting enough rest… These are all acts of self-care.
If you could trade places with anyone for one day, who would it be?
Don't judge me – Zac Efron. I just loved his documentary on Netflix.
Words to live by:
To the world you might be one person, but to one person you might be the world.
You've said that raising joyful Black children is an act of resistance, and we completely agree. Is there any way to describe what it's like in a time like this?
Aaronica Cole: Hard. Really hard.
It's hard to be conscious and see what's happening in the world and not let it color the natural joy that Black children have. In our society, once they hit a certain age, they go from being these cute babies that everyone gushes over to either threats or angry small adults.
It's like they lose their ability to just be children and make mistakes and learn unless parents are intentional about putting them in spaces that celebrate and affirm this. Because of the impacts of racism and socioeconomic status, this isn't always possible. Teetering the line of being aware of what's happening in the world with wanting better for our children is hard.
In addition to becoming more aware and actively doing anti-racism work, is there anything you wish white mothers were doing to be better allies?
Being anti-racist is an everyday action word. It's messy and it can be really hard, but it's worth it. Black parents need White parents – specifically moms – to do a better job of raising anti-racist children.
Racism will always exist but only because it's perpetuated from generation to generation. We aren't born thinking that because someone's skin color looks different than our own they are better or worse. This is taught to us. It may not be taught directly from a mother but realistically speaking, as moms we're often the governors of what our children consume, experience, and what we allow in our homes.
So this means standing up to moms, dads, spouses, grandparents, aunties, uncles, cousins at every chance you get. This means potentially getting uncomfortable and making friends of different backgrounds (race, religion, sexuality, etc) on purpose so that this becomes a norm for children. This means buying the Black dolls and books that feature a Brown main character so that White children see that people who don't look like them are worthy of being stars in life, too.
And never teach children not to see color or differences. Teach them to celebrate individualism and to stand up for others.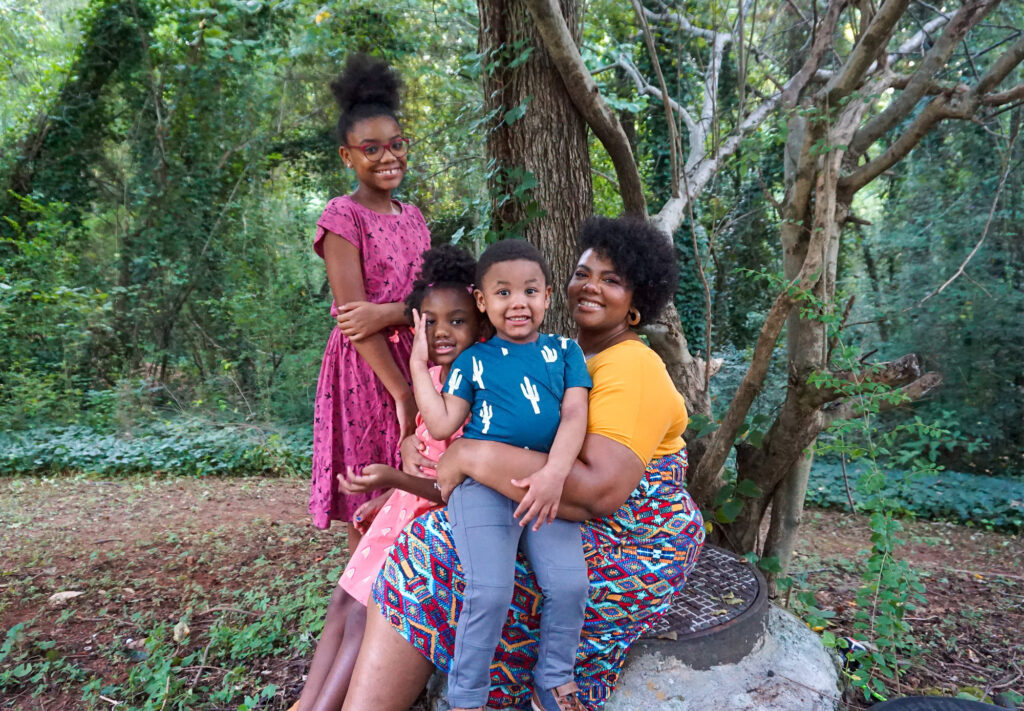 How has quarantine affected you and your family?
Depending on the day, my answer is different! Today is a good day, so we'll go with that answer. Quarantine is tough. I'm a person who loves being alone to recenter. My husband likes being alone, too, to gather his thoughts and emotions.
Having a house filled with three large personalities outside of our own is hard. It's hard emotionally because this isn't the childhood I wanted for my kids, and we've been working hard to build upon the foundation that our parents have given us. It's hard because this was our first year with everyone in school, making friends, and creating relationships, and all of that just got taken away without warning.
There is a lot of sadness that's being masked as anger. I'm overwhelmed with a lot… I want my kids to remember this as a time that brought us together and it's hard having that on your shoulders while developing three brands, pivoting a business in a pandemic, nurturing a marriage, and balancing my own emotions. There have been lots of tears and some breakdowns, but this time has also shown me how solid my marriage is, how much I love my children, and how blessed we are to have our health.
What advice can you give moms who are struggling without support right now?
Whew. This is hard because I think everyone is struggling right now, and it looks different for each of us. The first thing I would do is figure out what support you need. Do you need a couple of hours a week just to yourself? Do you need therapy? A housecleaner? A time to get together with friends? Help with meal prep? Or is just everything a struggle right now?
Once you've identified the support you need, make a plan to get it. One of the things I struggled with was meal planning and cooking all the food. Early into the pandemic, I had to let my husband know that this was a source of pain for me. I normally get some solid work time in the evenings but having to cook dinner all the time took away from this. So he took two days a week to meal plan, order groceries, and prepare dinner for the family. And now we've recently added Dinnerly to two meals a night too because I was just over all of our meals. This was a huge impact on my anxiety in the beginning.
But so many of us struggle without knowing what kind of help and support we need. Identify it, communicate with your core people, and make a plan to get what you need.
One of the highlights of Instagram is seeing the clothes you make for yourself. What inspired you to start sewing?
I started sewing when I was 13. I've always had busy hands and a busy mind. I would take things apart as a kid to see how they worked and try my hand at putting them back together. My mom, not wanting me to destroy anything else, put me in a sewing class to busy my hands.
I thought it was a waste of time because by the time the class ended, all I had was a drawstring backpack. Womp! But when I was pregnant with my second child, I picked it back up consistently to upcycle thrifted clothes into maternity wear. And from there I just couldn't stop sewing!
After I had my second baby, I didn't "snap back" and none of my clothes fit. I wanted to make clothes that didn't make me feel like a sausage and that were cute while being comfortable. That's still what keeps me going.
I also LOVE your focus on body positivity. I'm sure it's not easy to be so open and honest, but what a service you're doing for other women! Do you ever second guess what you share?
Thank you! Yes, every. single.day. But one of the things that I have always hated about social media is that it gets a bad rap for having only people share the good things.
The reality is that none of us (influencers included) are perfect, and what's inspiring is sharing the struggle, the triumphs, and the journey. More people need to see that it's ok to love who you are right now. But most important is that if a moment of discomfort can inspire or help even just one person, it's worth it to me.
Your blog is about practical green living. What do you most want people to know about transitioning to sustainable and healthier living?
It's not all or nothing. As we started our journey into greener living, I was really overwhelmed because there were just SO many changes we needed to make! It became discouraging.
But here's the thing: if we all make one, two, or three small changes, it makes a huge impact. Thankfully, there are so many things that make replacing toxic things easier now. You can find replacements in Target or have them delivered to you. Just start small and stay consistent, and the rest will follow.

Latest posts by Amity Hook-Sopko
(see all)