Cauliflower Rice: A versatile, healthy, and delicious meal or side dish
If you follow Green Child on Instagram, you know that hardly a week goes by without us sharing cauliflower rice in some form on our feed or in our stories.
Our team got turned on to ricing a head of cauliflower when we first started working together back in 2011. Now we use it for everything from a side dish to a base for shrimp or chicken to taco filler!
What makes cauliflower rice a healthy choice?
Cauliflower in particular is believed to be so beneficial due to its special combination of phytochemicals called carotenoids, tocopherols and ascorbic acid — all forms of antioxidants currently being extensively researched in order to understand more about how they keep the body healthy.
Brassica crops like cauliflower are now highly correlated with preventing chronic diseases, including cardiovascular diseases, diabetes, neurodegenerative disorders and various forms of cancers, just to name a few.
More flavorful than regular rice and super easy to make… cauliflower rice may just become your new favorite side dish.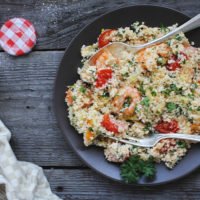 Ingredients
1

Head Cauliflower

1

Red Pepper

1

Green Pepper

1

Onion

Salt & Pepper

to taste
Instructions
Dice onion and peppers. Set aside.

Break up the cauliflower into large florets or chunks. Then finely chop, or pulse in a food processor.

*If you have a blender, fill half way with water, add the cauliflower and then pulse to desired rice texture and drain.

Sauté along with the chopped onions and peppers, in a skillet with your choice of oil or grease.