Chickpea Chocolate Chip Cookies with Einkorn Flour
Even the strongest-willed of us craves chocolate chip cookies every now and then. There's just something about that magical blend of butter and brown sugar…. (sigh). We're taking it to the next level with these chickpea chocolate chip cookies with einkorn flour.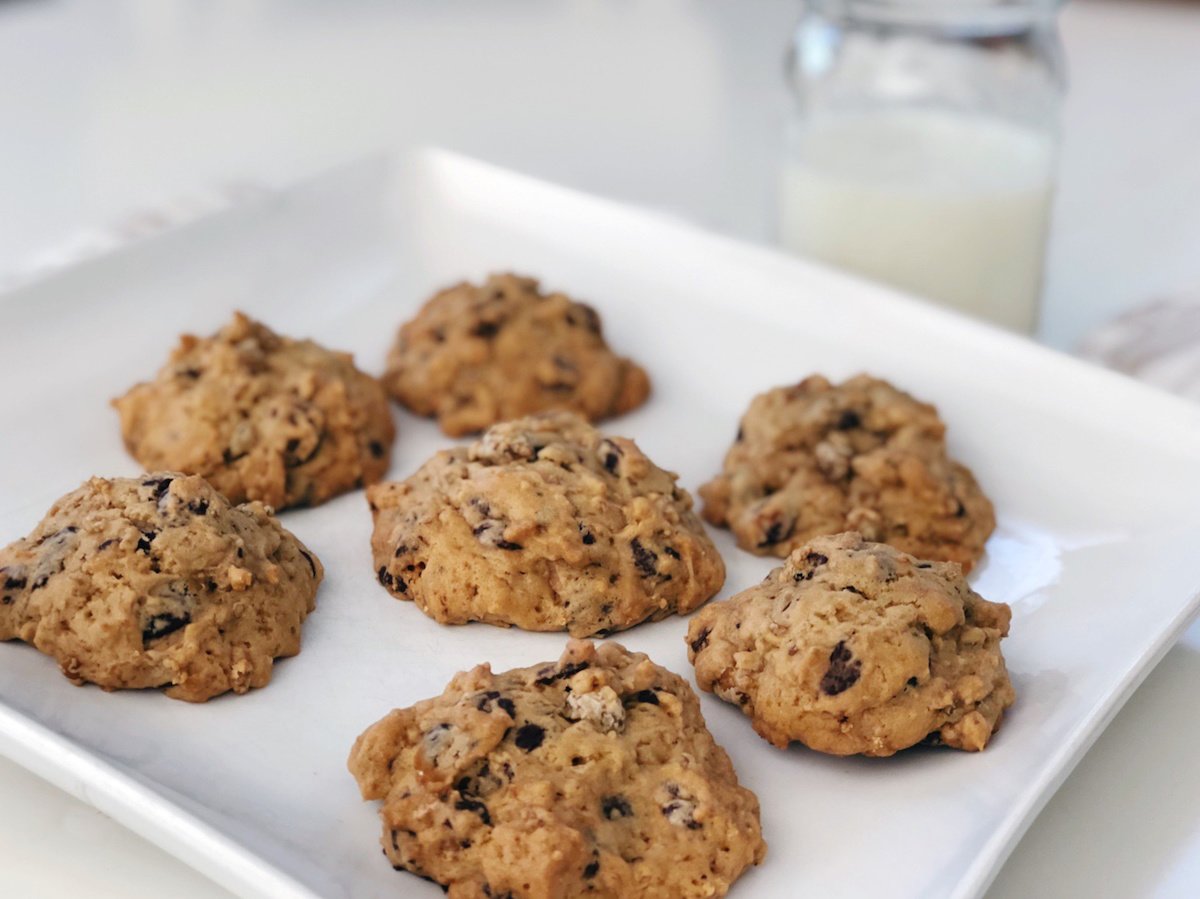 While no one in my family has severe food allergies, over the past decade as we've transitioned to eating mostly real food, we've found that each of us has food sensitivities.
Certain types of cheese and eggs cause eczema outbreaks for our oldest son. My husband and I experience less bloating and weight gain when we avoid wheat and most gluten-containing foods. And we all have fewer seasonal allergy symptoms when we stay off of dairy.
Since my husband and I weren't sensitive to any of these foods growing up, I'm inclined to agree with food activist, Robyn O'Brien who is constantly investigating the question: Are we allergic to food or what's been done to it?
I first learned about wheat-alternative flours when I read Dr. William Davis' book, Wheat Belly. We started trying ancient grains and couldn't believe the rich flavors compared to the processed, whole wheat breads we had been eating. One of my favorite grains turned out to be the oldest variety of wheat, called einkorn.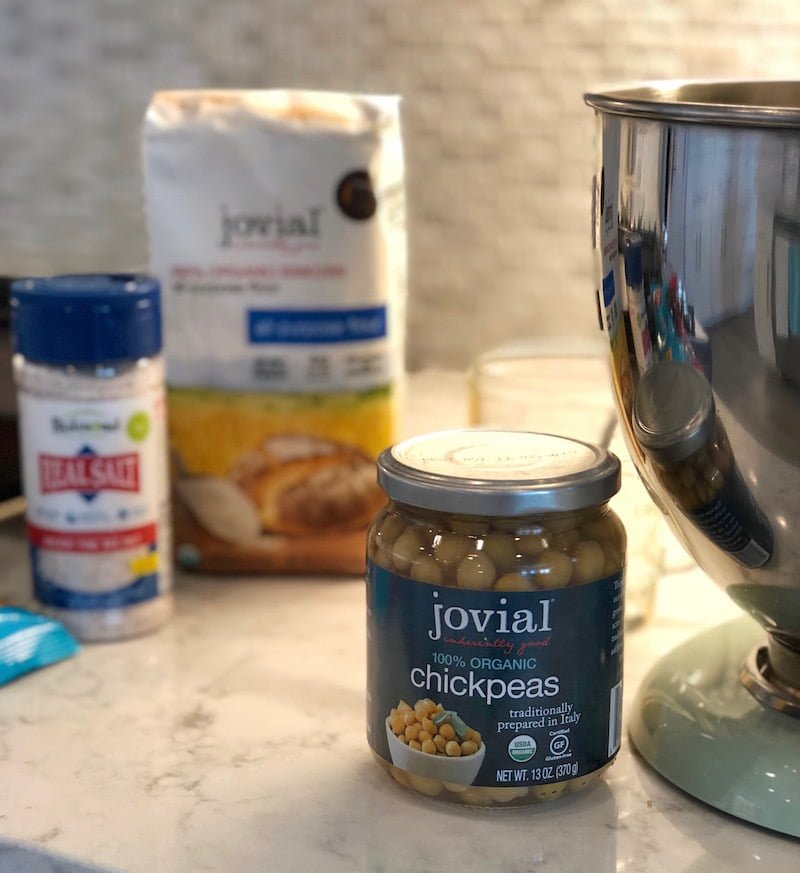 While einkorn flour isn't gluten-free, it's much lower in gluten than hybridized wheat flours. Einkorn grain has been found as easier to digest, and its nutrients are better absorbed. Those are just a few of the benefits of einkorn flour.
Baking with Einkorn Flour
When it comes to baking, I've found einkorn to substitute in my favorite recipes much more easily than almond (too dry) or coconut flour (too crumbly). If you start baking with einkorn, you may notice you need a little more of it than conventional flour, or you can use less of the wet ingredients.
Einkorn is a softer and smaller grain so be prepared to sift your flour twice. We use this stainless steel 3-cup flour sifter. Einkorn dough rolls and rises nicely, although not quite as high as dough made from other flours.
Another difference is the way einkorn flour absorbs fats and liquids. It will absorb less fat than other wheat flours, and it absorbs liquids more slowly due to the size of its grains. You can ease your way into using einkorn flour by making waffles or pancakes.
If you haven't tried it, the easiest to use and best-tasting einkorn flour we've found is made by Jovial Foods. We also love their chickpeas because they come in a glass jar and not a can like pretty much everywhere else unless you used dried. You can buy it at their website, from Amazon, or at the best price we've found from Simply Real Foods.
Now, about these chickpea chocolate chip cookies… Everyone who has tried them loves them. Kids either like the chickpeas or don't notice they're there. (Some people have asked if they're macadamia nuts.)
How much sugar to add to this recipe depends upon your sweet tooth — I often make these with just 3/4 cup of brown sugar, but our tastebuds don't regularly get a ton of sugar. When I make these for parties, I bump the sugar up to a full cup, so that's what is shown here.
As for the baking time, keep an eye on them after the 18 minute mark. I usually let them go 22 – 24 minutes, but if you like ooey-gooey, you may want to take them out a bit earlier.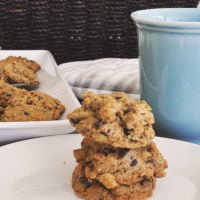 Chickpea Chocolate Chip Cookies with Einkorn Flour
Delicious chocolate chip cookies with chickpeas, oats, and Einkorn flour
Print
Pin
Rate
Ingredients
1

cup

grass-fed butter

1

cup

organic

fair trade brown sugar

2

organic eggs

fresh from the farmers' market if possible!

2 3/4

cups

einkorn flour

1/3

cup

organic oats

1 15

oz.

can organic chickpeas

drained

1

bag allergy friendly chocolate chips

1

tsp.

pure vanilla

1

tsp.

aluminum-free baking soda

1/2

tsp.

sea salt
Instructions
Preheat oven to 350.

In a large mixing bowl, or the bowl of an electric mixer, beat brown sugar and butter with a wooden spoon or on low to medium speed until smooth.

Beat in the egg whites and vanilla.

Add chocolate chips and chickpeas. (If using a stand mixer, beware of flying chickpeas!)

Slowly add the flour, oats, baking soda, and salt, and mix on low speed until a thick dough forms.

Drop the dough by the tablespoonful onto greased baking sheet or stone, spacing the cookies about 2 inches apart.

Press gently with a fork to flatten.

Bake until the cookies are golden brown and just set, 18-24 minutes.

Place on rack to cool.