Easy Thai Noodle Bowl Recipe
This sweet, salty (and spicy if you choose) Thai Noodle Bowl is simple to make, full of flavor, and it makes a great leftover meal.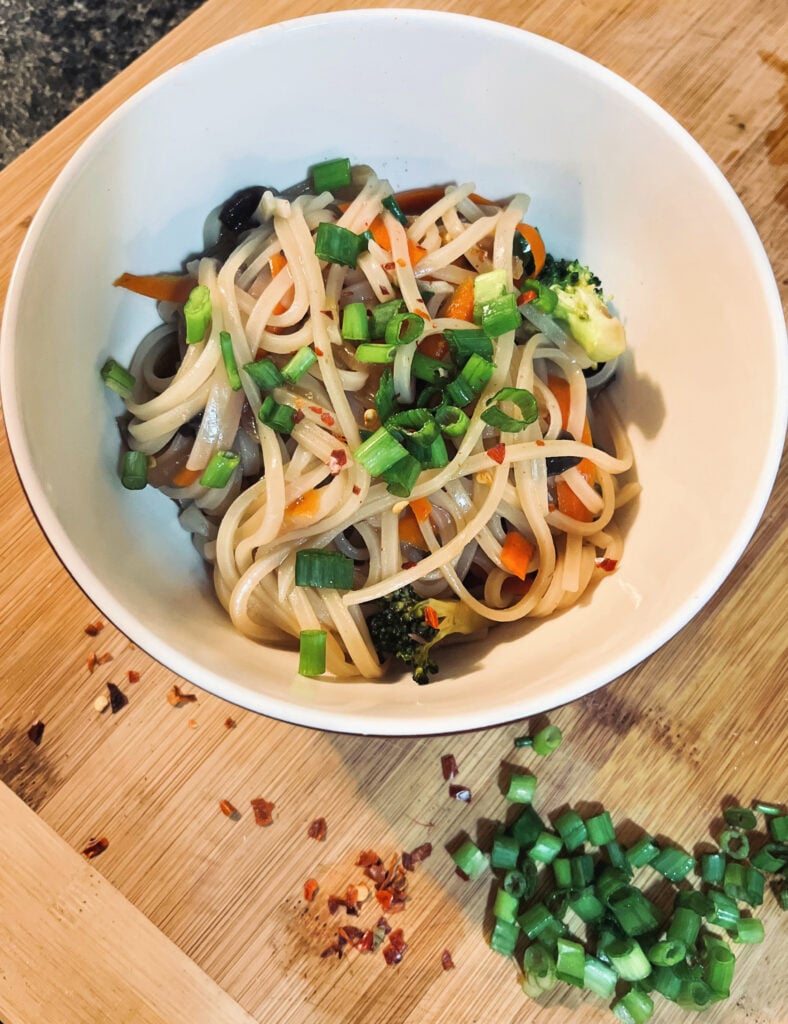 In the heart of the midwest, I grew up eating dinners with meat, potatoes and vegetables. This was almost every night of the week. The exception was, of course, spaghetti night.
Needless to say, I did not have a lot of chances to eat Asian-inspired foods growing up. As an adult I have broadened my palate and moved away from the standard diet I grew up on. This new way of eating includes at least one family meal night with an Asian dish.  
An Asian noodle bowl checks all the areas your tastebuds that need to be satisfied. The noodles are a classic comfort food but far from mom's spaghetti dinners. The vegetables give the dish loads of nutrition as well as some crunch factor.
The sauce is generally sweet, salty, and sometimes spicy!
Thai Noodle Bowl Recipe
Thai noodle bowls have become one of my family's favorite dinners. Everyone enjoys this dish for their own reasons. My son loves the noodles, because he's four and that's what four year olds love. My husband and daughter love all things spicy, so this hits the spot.
I personally love how simple and quick the dish is – and of course all the vegetables. Not to mention it's a great leftover lunch for my husband. 
What's wonderful about Thai noodle bowls is they are easy, quick and most importantly satisfying. When making this recipe I make ours vegan. I swap out the honey for maple syrup in a 1:1 ratio. You can make it how ever you want. I've done it both ways and the sauce always turns out great!
I garnish my Thai noodles with green onions. I will use any excuse to add onions to my dishes, but green onions in a noodle bowl just tie everything together. Other toppings could be sesame seeds, black sesame seeds, or additional red pepper flakes.
Add red pepper flakes to the sauce or atop of everyone's dish according to their heat preference. I opt to add additional red pepper flakes at the end for those who want an extra kick. This recipe calls for half the red pepper flakes in the sauce, but go with your desired amount.
Thai Noodles Substitutions
Oil-free: To make this recipe oil free you can saute the mushrooms, onions and garlic in ¼ c. water. Then make the sauce with ½ c. soy sauce, ½ c. rice vinegar, and 2-3 Tbsp maple syrup or honey. There is a difference in taste. Both very good.
The sauce with the sesame oil and soy sauce feels more complete to me. The sauce without the sesame oil and rice vinegar feel more like a take out inspired dish. I'd suggest giving both recipes a try!
Vegan: To make this spicy thai noodle bowl vegan, simply swap the honey for maple syrup.
Thai Noodle Bowl
This easy Thai Noodle Bowl recipe that is simple to make, flavorful, and makes a great leftover meal.
Print Recipe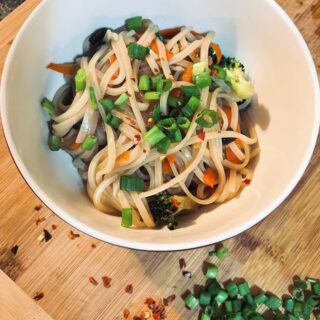 Ingredients
1

14 oz box

Thai rice noodles

8

oz

baby portobello mushrooms

stems removed, cleaned and sliced

1

small red onion

minced or chopped

2-4

cloves

garlic

minced

3/4

cup

carrots

shredded

2-3

cups

broccoli

chopped (can be steamed before)

1/2

cup

green onions

split for garnish
Sauce
2-3

tbsp

honey or maple syrup

1/4

cup

low sodium soy sauce

2

tbsp

sesame oil

1/4

tsp

red pepper flakes
Instructions
Bring a large pot of water to a boil, cook 14 oz box of rice noodles according to directions.

While noodles are cooking, place mushrooms, onions and garlic in a pan over medium heat. Add ⅛-¼ C. water to saute. Start with less water as the mushrooms and onions will sweat, making moisture.

Saute vegetables until tender.

While the vegetables are cooking add the sauce ingredients to a small bowl and mix. Set aside.

Once noodles are cooked, drain and rinse under cold water. Set aside.

When the vegetables are done add noodles, sauce, carrots, half green onions and broccoli to the pan still on medium-low heat and mix well. Let all ingredients cook together for 1-2 minutes.

Plate and garnish with additional green onions and red pepper flakes to taste. 
I hope you and your family love this Thai noodle bowl as much as my family does. Enjoy it for dinner and be sure to save some for the next day, too!
If you're ever at a loss for easy vegan snacks, check this list for some fresh ideas.