Maty's Healthy Products for Natural Cold & Cough Relief
When the temperatures turn to freezing, there's a noticeable increase in our little ones' sniffles, sneezes, and coughs.
It's a time of year that we all dread for that reason. What's worse than seeing a once fun, energetic child turn into a poor little sluggish, cranky mess?
It's enough to break a parent's heart.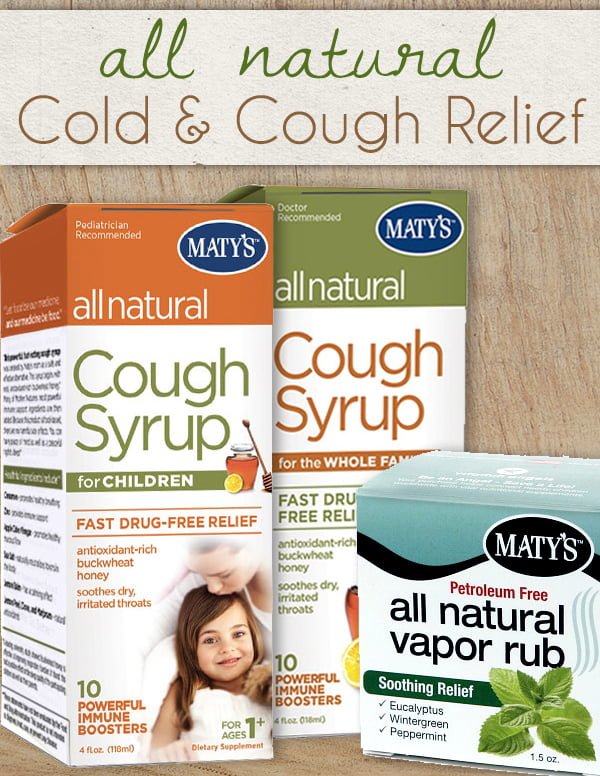 A scary form of this concern struck Maty's Healthy Products founder Carolyn Harrington when her daughter, Maty, was born and diagnosed with severe heart defects and no spleen.
After several surgeries, Maty was left with further difficult health issues and a compromised immune system. Carolyn was determined to find a way to get her daughter healthy and keep her that way.
A Mother on a Mission
This led Carolyn on a long journey to research natural remedies for her daughter. During her search, Carolyn discovered many traditional natural remedies that were no longer widely used. As she began reading everything she could find on the subject, she eventually discovered Applied Kinesiology and became certified as a Holistic Health Practitioner along the way.
Carolyn's newfound skills allowed her to apply modern knowledge of nature's healing agents to the age old remedies she had discovered.
She soon began developing natural remedies that really worked, sharing them with her own family and friends to help improve their health. As word spread about Carolyn's remedies, she received more requests for them and in-turn decided to launch Maty's Healthy Products. As a result, Maty's Healthy Products will be celebrating its sixth year this December!
Today, her not-so-little girl is healthy as can be, and Carolyn's mission has evolved beyond helping her own family into helping everyone. "I want to reverse the unhealthy path our nation is on by giving you pure, all natural, and organic alternatives to traditional medication. I want people to pick up Maty's products and smile because they recognize every ingredient and don't see a long list of scary side effects."
In addition to such a heart-touching story of creation and development, we can trust that these products will not only work for our families, but that they will contain only the highest quality, all natural ingredients designed not only to heal our ailments but to empower overall healing. In other words, these are the remedies that we would mix up for our own families if we had the time, energy, knowledge and resources.
Luckily, we don't have to!
Maty's Healthy Products for Natural Cold & Cough Relief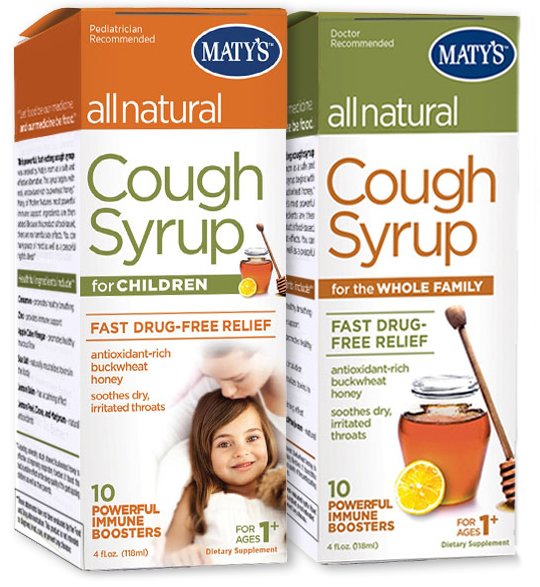 Maty's provides some of the best choices in cough syrups on the market, even when compared to other natural brands. With Maty's All Natural Cough Syrup for Kids and Maty's All Natural Cough Syrup (for the whole family), each spoonful provides 10 immune boosting ingredients.
These fabulous ingredients include antioxidant-rich buckwheat honey, apple cider vinegar, cayenne pepper, clove, and more. They improve sleep quality, have no harmful side effects, and lack alcohol, preservatives, dyes, and many highly allergic ingredients. A great tip is to add some to a nice cup of tea for a soothing remedy. Find it at Maty's or Amazon.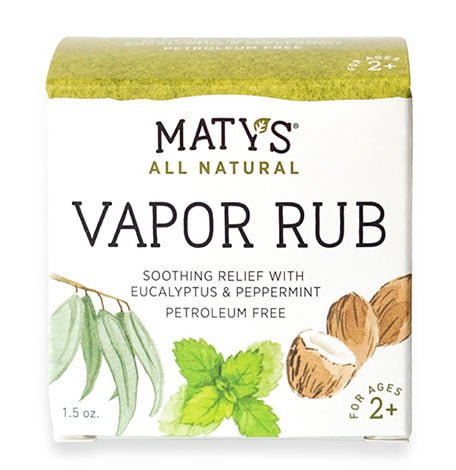 If your child experiences chest and nasal congestion or just needs some soothing during illness, try Maty's All Natural Vapor Rub for anyone two-years-old and up.
This petroleum-free (yes, petroleum-free!), paraben-free remedy contains several soothing oils, including eucalyptus, wintergreen and peppermint essential oils. And for something for the babies, Maty's All Natural Baby Chest Rub helps relieve with chamomile, eucalyptus and lavender essential oils, just to name a few. Massage this three-time national award winner on your little one's feet for an extra-soothing effect. Find it at Maty's or Amazon.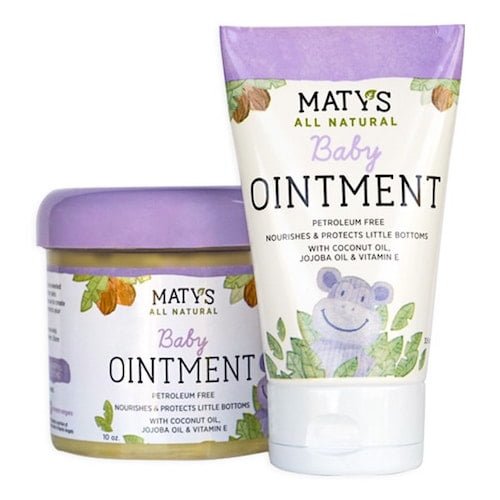 And since this is also the season for super dry skin, helps protect against baby's diaper rashes (and anyone else's severe dry skin) with non-greasy, dermatologically-tested Maty's All Natural Baby Ointment. Promote healing without the use of parabens, phthalates, fragrances, hydrogenated oils, artificial colors, preservatives, mineral oils, gluten or chemicals. Find it at Maty's or Amazon.
No matter which product you try with your family this winter, you're sure to appreciate Maty's quality, health-boosting ingredients and effectiveness. Consider yourself prepared for whatever this cold and flu season has to dish out!
This article is part of a collaboration with our advertising partner, Maty's Healthy Products. All thoughts and opinions shared are strictly our own. Thank you for supporting the brands that make it possible for Green Child to share free natural parenting and healthy living content.