DIY Natural Insect Repellent with Essential Oils
Are the mosquitos already feasting on you or your little ones? You'll be relieved to know our favorite DIY natural insect repellent is easy to make AND it works.
You'll also find other homemade natural bug spray recipes and a few brands that make safe versions in case you're not into DIY.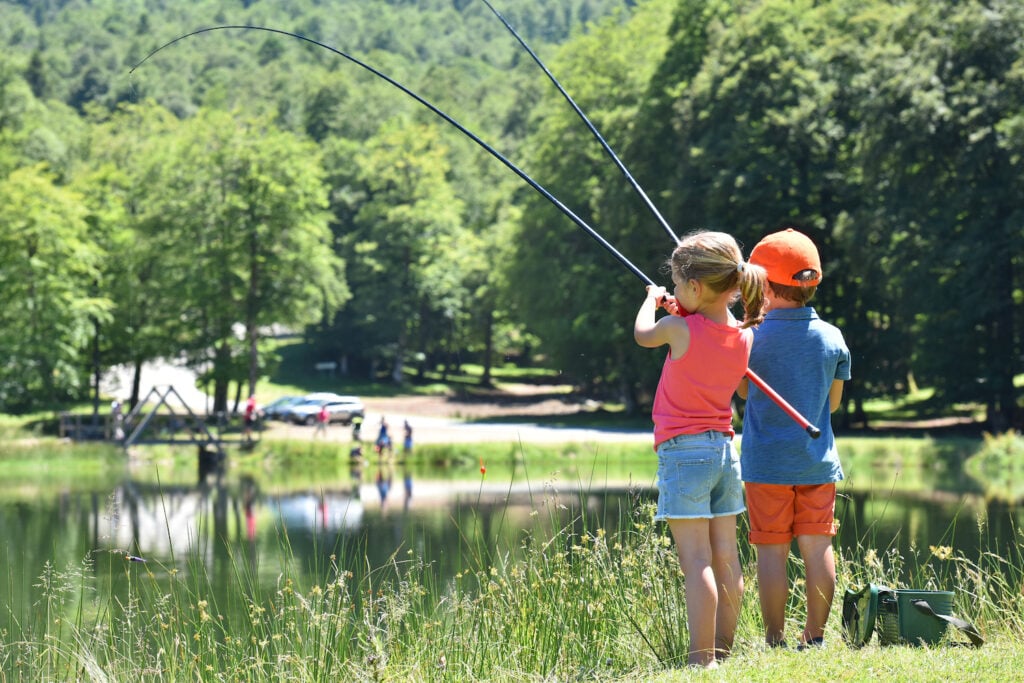 We keep a glass bottle of DIY bug spray in our cars, near the back door, the kids' sports bags, mom's purse, and our natural first aid kit. Ending up with a bunch of mosquito bites because you were unprepared is no fun. So try to make a bottle for all your usual on the go summer places.
Commercial insect repellents are toxic, smell awful, and can cause skin rashes and breathing problems in people sensitive to the chemicals they contain. DEET has been the popular bug repelling ingredient for many years, but it has yet to be proven safe. (source) In fact, it's been linked to neuron death in the brain, memory and concentration issues, skin irritation, allergic reactions, and dizziness, among other health concerns.
Children are at a higher risk for brain changes after DEET exposure because their skin absorbs it more readily and their systems are smaller and still developing. The EPA has yet to include DEET in tests for endocrine disruptors so that's an additional unknown factor when it comes to safety.
What is the strongest natural insect repellent?
Insects tend to avoid most highly fragrant plants. When you distill those plants down to their very essence (essential oils), it makes them even more potent. The strongest ones are citronella, lavender, lemongrass, and eucalyptus. Rosemary and lemon are also powerful.
Further down you'll find the types of herbs and flowers to grow in your yard to help keep bugs away. Some of those can be found in these recipes.
Here's a natural mosquito repellent recipe you can feel good about using (and it smells great, too!)
DIY Natural Insect Repellent & Bug Spray
Mist skin and clothing with one of these essential oil bug repellent mixtures and reapply as needed. For small children, you may feel more comfortable spraying their clothing and shoes, rather than their skin. You know if your child has sensitivities so trust past experience and your own judgment.
Add a label with the ingredients to the bottle in case you share it with someone who has allergies. (We also make our own hand sanitizer with Young Living's Thieves essential oil and once almost shared it with someone who is allergic to cinnamon. Luckily we talked about the ingredients first!)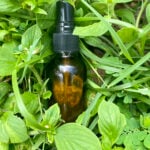 Print Recipe
DIY Insect Repellent Recipe (Essential Oils)
Simple and effective essential oil based DIY bug spray
Ingredients
3

oz

Distilled water

15

drops

Citronella essential oil

10

drops

Lavender essential oil

5

drops

Lemongrass essential oil

5

drops

Eucalyptus essential oil
Instructions
Add distilled water to glass spray bottle

Add each essential oil (drop from bottle) to the mixture

Shake well before each use (essential oils don't dissolve in water)
This recipe from Mountain Rose Herbs includes a few more ingredients, but is another safe and effective option.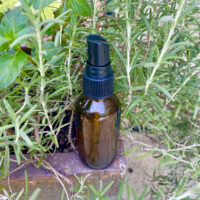 Ingredients
Instructions
Pour both catnip extract and witch hazel extract into an 8 oz. bottle. 

Slowly drip the essential oils into the bottle.

Cap the bottle and shake vigorously to combine.

Store in the refrigerator with tight-fitting lid

Mixture will be shelf-stable for up to a year when stored properly.
Any combination of these essential oils can ward off most insects: citronella, rosemary, lavender, clove, cedar, lemongrass, tea tree, cajeput, eucalyptus, catnip, geranium, mint.
Lavender, Eucalyptus, and Lemongrass essential oils are versatile. They have dozens of uses when it comes to helping baby sleep, keeping your family healthy and cleaning & greening your home.
Natural Ways to Repel Ticks
Preventing a tick bite is extremely important. Cases of Lyme disease, Rocky Mountain spotted fever, and other tick related illnesses can be scary and dangerous. The Farmers Almanac lists these as four ways to safely repel ticks.
Cedar oil
A mixture of 9 drops citronella, 6 drops tea tree, and 6 drops peppermint essential oils in one tablespoon of almond oil
Neem oil
Apple cider vinegar
Safe Bug Spray Brands
If you're on vacation without your homemade bug sprays or don't want to DIY, these are safe brands you can trust. Be sure to read the ingredients if you have family members with allergies or sensitive skin.
Other Natural Insect-Repelling Ideas
These ideas can help in a pinch. Especially if you're just going out to take care of a few things in your yard or garden and don't want to end up feeling like a blood bank.
Plant insect-repelling herbs like lavender, thyme, catnip, mint, basil, and citronella in your yard. Plant them close to the areas where you spend the most time outside. These herbs have many other health benefits too.
Grab a handful of lavender flowers (or use lavender oil) and rub onto your skin to repel bugs.
Rub fresh or dried leaves of any plant in the mint family onto skin (peppermint, spearmint, catnip, pennyroyal, etc). Citronella and lemongrass also work in herb form.
Do you have a favorite mosquito repellent natural option? If so, let us know if the comments.