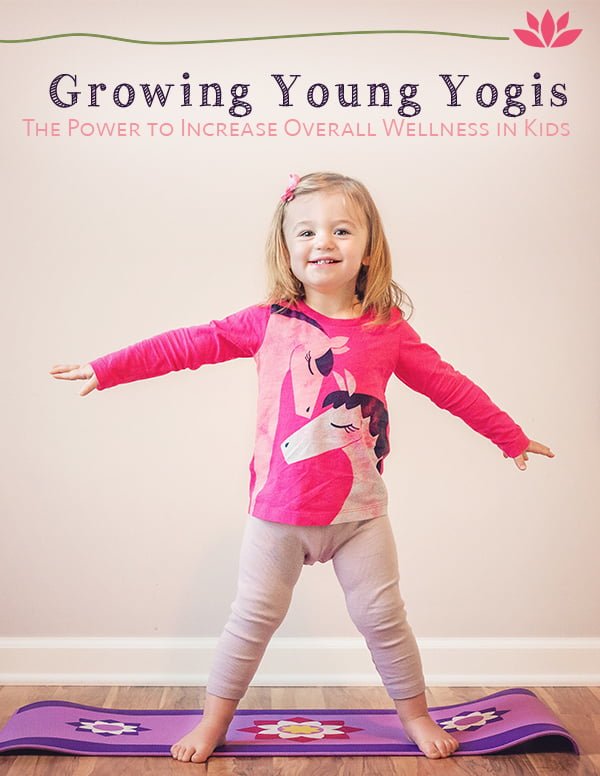 From the moment they are born, children emit a bright and beautiful light.
We strive to strengthen that inner light with each interaction, helping them establish both a firm sense of self and the ability to meet challenges in their lives with strength and grace.
Introducing a mindfulness practice such as yoga can benefit children of all ages, establishing a foundation of wellbeing that will support them throughout their lives.
Taking Root and Bearing Fruit
Yoga provides different growth opportunities as children mature. For toddlers, yoga plants a seed, building confidence, body awareness, and a focus on the breath as a tool for centering. They begin to understand that it feels good to breath, stretch, and play. Props such as a Hoberman Sphere can help youngsters link their breath with simple movements; such as opening the sphere on an inhalation and closing it on an exhalation.
For school-age children, yoga nurtures their growth; improving balance, focus, self-acceptance and acceptance of others. Kids at this age are able to teach a pose to their peers in class – reaffirming the noncompetitive nature of yoga. For pre-teens and teens, yoga encourages open hearts, minds, and bodies to build self-esteem, confidence, and cooperation. They delight in "challenge poses" – like half moon and handstand – and will tap into their lessons on the mat during challenging times at school or sports.
More than just Peace & OM
There are benefits to a child practicing yoga beyond positive social growth. Pediatric physical and occupational therapists apply yoga in their practices because it provides a motivating way to increase a child's strength and flexibility and develop motor skills.
"Yoga can improve bilateral integration (using both sides of the body together), midline awareness, and concentration. It teaches children to use their breath while performing postures; engaging more of their core musculature," states Sarah Raybourn, MS, OTR/L. "Instead of routine exercises, yoga poses that mimic animals or ideas familiar to children are fun yet provide just the right challenge."
A Practice to Share
Messages to children are quite relevant in our adult lives. Practice the following sequence with your children; sharing the beauty and balance of yoga.
Begin in a comfortable seated position (like crisscross applesauce). Take a deep breath in. As you breathe out, make the sound "Om" (or A-U-M) to steady your mind, signal the beginning of your practice, and acknowledge your connection to everything in our vast universe.
Roll onto hands and knees, in tabletop position. Press the floor away and hug your belly toward your spine; arching your back into cat pose. Give your best "Meow." Then drop your belly, lift your heart and "Moo" with delight; taking the shape of cow pose. Alternating between cat and cow pose creates a simple vinyasa; linking breath and movement and warming up your spine. Cat / Cow is a balanced flow, pairing flexion (exhale to arch) and extension (inhale as your belly drops).
Stand and take three mini Sun Salues to energize your whole body. Inhale; stretch your arms up like the sun's rays. Exhale, fold forward and touch your toes; wiggling your fingers like falling raindrops as you dive down. Inhale, lift your chest and gaze past your toes to lengthen your spine. Exhale and fold forward again. As you inhale rise up to stand; reaching your arms wide overhead. Exhale your hands to your heart. That's one sun salute. Repeat two more, moving with your breath. (For little ones, I love to incorporate Elizabeth Mitchell's "Sunny Day" song within our sun salutes)
Return to sit with the soles of your feet touching and knees out; becoming a butterfly. Lift and lower your knees to flap them like wings. Make two antennas with your fingers above your ears. Butterfly pose stretches our inner thighs, reminds us sit up straight and tall, and keeps our joints and tummy organs healthy and strong. Butterflies remind us of the beauty of change.
Through the practice of yoga, you will realize that your breath will help you handle changes in your life with grace.
Namaste. The sunshine in me honors the bright sunshine in you.

Anne Johnson teaches "The Adventures of Super Stretch" Kid's Yoga™ to kids at Simply Yoga in Zionsville, Indiana. As a 200-RYT registered yoga teacher, mother, and engineer, Anne enjoys writing and sharing adult ideas in a way that makes them accessible to children. Anne has authored two children's books on renewable energy and construction.

Latest posts by Anne Johnson (see all)