A nighttime guided imagery for your child can be extremely helpful after an active day or stressful situation. Guided relaxation calms the mind and nervous system and helps kids fall asleep easily.
These peaceful guided relaxation scripts are written by Mellisa Dormoy of ShambalaKids. Her meditation audios help children and teens relieve stress and anxiety, improve self-esteem, feel good (mind, body, and spirit), and develop a positive mental attitude at school and at home.
The Thankful Heart on the Lazy River guided relaxation focuses on simply being grateful for our daily lives. Read the words to this guided imagery script in a calm, soothing voice right before bed. If your child is still awake after, and ask how the relaxation felt and which aspects she enjoyed most. Allow this special time with your child to strengthen the bond you share and assure a relaxing bedtime.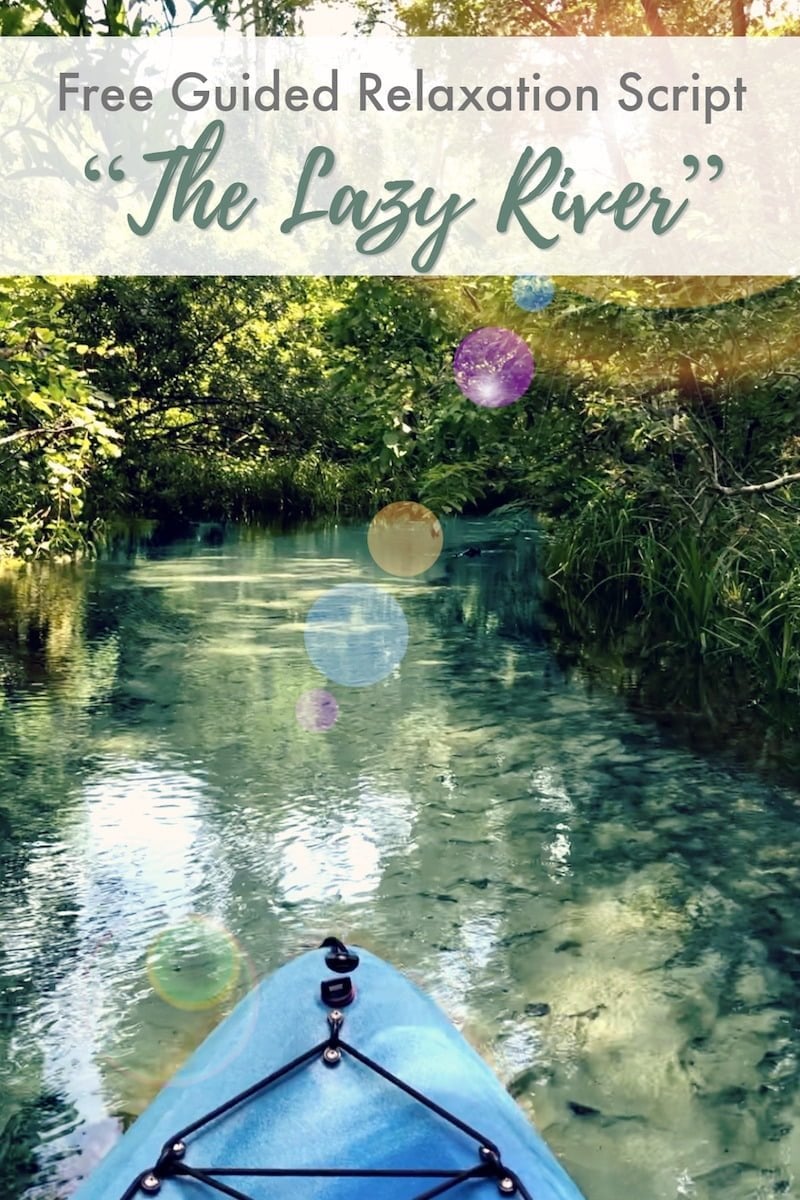 Relax your head, and close your eyes. Breathe in deeply and exhale slowly.
Exhale out any stress, tension or tightness you feel anywhere in your body. Focus your attention on your head, face, and neck and allow all your muscles to become very relaxed. Feel the tension melting away.
Feel the relaxation coming over your entire body. Relax as it flows down your shoulders relaxing them and melting away any tension or stress you hold there. Feel the relaxation flow down your entire body. Feel how limp, relaxed and comfortable you become.
It feels wonderful, and you feel warm and deeply relaxed all over.
Now, imagine in your mind that it's a beautiful day outside with sun's rays lighting everything you see. You've just spent an entire fun-filled day at a water park.
It's the end of the day and time for one last ride down the lazy river before you leave.
You dip a toe into the river and step down into it, feeling the cool water touch your warm skin. The sunshine makes you feel so good inside. You jump up on your water tube and begin your lovely, calming last ride of the day.
As the tube takes you lazily down the river you decide to put your fingers into the water. You allow them to glide back and forth in the water to make circles and swirls around your fingers as you continue floating down this cool, calm river.
You smile to yourself because you feel so good and so grateful for this wonderful day. You realize how fun and exciting life is. You are thankful for all the wonderful things you have and do. You might find yourself especially thankful for this day knowing that there will never be another day exactly like today. Each day is different and you feel happy inside because you know that life is an adventure.
Sometimes we are busy and sometimes things go slowly, but you remind yourself that you are thankful for it all. You realize how unique and amazing life is. You know that each day is special and different and by being thankful and grateful for each day, life just keeps getting better and better.
Gratitude is when our hearts feel thankful for experiences because we know that experiences help us grow. Gratitude fills up our hearts with happiness.
You now notice that you're coming to the end of the lazy river. You've been enjoying the ride so much it passed more quickly than you could ever imagine.
Now it's time to gather your thoughts and keep all your gratitude in your heart as you find yourself back in your room once again.
Open your eyes when you're ready and and give you wonderful body a big wonderful stretch!
---
This a perfect time to discuss what your child felt during the relaxation, or any worries or stress that came up. Your child is in a highly susceptible state right now, so saying positive, loving things is the key to setting up your child's subconscious mind for success.
Find more free printable guided relaxation scripts here.

Since 2010, Green Child has published a digital magazine devoted to natural parenting and conscious living. Hailed as "good for a green mama's soul," Green Child has grown into a resource valued by parents who care about bringing simplicity, compassion, social responsibility, and instinctual intelligence back to parenting.

Latest posts by Green Child Magazine (see all)