Is Babywearing Right for You? A Quiz and Advice for New Parents
Advice for new parents is endless. So it can be hard to sift through the useful and not-so-useful tidbits. But new parent advice that offers you free hands and a happy baby? That could be worth investigating a bit further.
Enter: babywearing. While baby slings and wraps may seem like trendy items, they are actually a part of an age-old tradition that, at its most fundamental, allows mom or dad to keep baby safe and close while still allowing freedom of movement, activity and hands.
Did we say free hands? Could that also mean going places without pushing a massive stroller or carrying a heavy car seat?
Awesome.
Especially when you're one of those people who likes to do things.
Unless you're not, which is cool, too. Whatever works. You know, different strokes and all that.
Diana Coote of OnyaBaby eats, sleeps, and breathes baby carriers, and has helped liberate many stressed parents and foster plenty of calm, satisfied babies. Take a look at the quiz she designed below to determine whether or not babywearing is right for you.
Who knows, this could be the first step of a lifesaving, chore-saving (and arm-saving) journey of beautiful babywearing.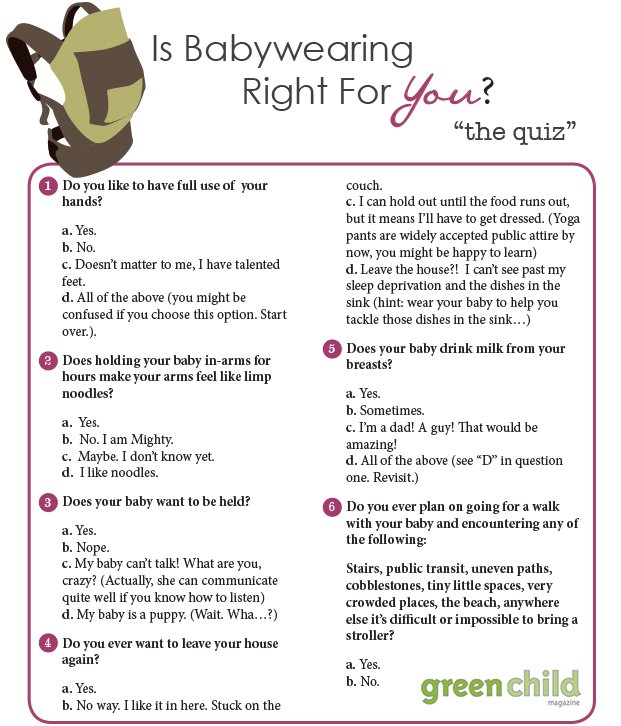 If you answered, "yes" to at least two of the above questions, it's official: babywearing is a perfect fit for you! Welcome to the babywearing club! You'll fit right in here!
If you're not, you're probably fine without it. If that's what floats your boat, then float, momma, float! You're good to go.