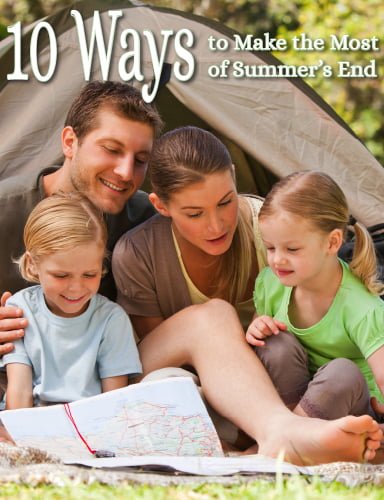 If the end-of-summer blues are setting in for your family, here are 10 ideas for family fun you can squeeze in before the kids head back to the classroom.
Explore a New Park
Pack up everyone and head to a new park in a different part of town. Bring along a picnic lunch, a Frisbee or ball, and maybe even the dog. Spend the afternoon playing catch, reading books under a tree, exploring a new walking trail, or trying out some different playgrounds. Stop for ice cream or a snow cone on the way home.
Go Camping – in Your Own Backyard
Pitch a tent in the backyard and turn off the phone – backyard camping gives you that vacation feeling without actually having to travel. Grill up dinner and eat it on a blanket in front of your tent. Roast marshmallows over a fire pit (or on the stove in the kitchen), and tell ghost stories with that flashlight on your chin. Be grateful for the luxury of being able to go inside to use the bathroom whenever you need to.
Look Beyond the Library
Ok, don't ever stop going to the library. But take this opportunity to visit local theaters, museums, or the nearest planetarium. One bonus is there's lots of air conditioning in these fun places. Another idea is to head to your nearest ice skating rink and get some cool ice time while it's hot outside.
Take a Last-Minute Getaway
Take that weekend getaway you never found time for. Choose a location nearby so you can drive, and look for end-of-summer discounts as everyone heads back to school. Play the license plate game, travel bingo or Slug Bug (Slug Smart Car?) on the way there.
Pool Party
Take one last trip to the pool – and make sure the whole family comes (even Dad if he's usually at work!) Make a day of it. Pack a cooler with water, fruit and treats so you don't have to leave for snacks. Give those floaties one last workout before they're stored for the winter. Don't forget the safe sunscreen!
Farmer's Market Feast
Farmer's Markets are still in full swing in most areas. Make the most of them before the yummy summer produce comes to an end. Take the whole family, and let everyone choose their favorite fruit or veggie. When you get home, use everyone's choices to cook up a delicious end-of-summer feast.
Movie Time
Hit the library, Netflix, or video rental and have a movie marathon at home. Pick a theme – road trip movies, Disney flicks, animated aliens – and create an easy dinner menu using your movie theme to give the foods fun names. Serve your themed dinner on a picnic blanket in front of the screen. Or stay traditional and serve up big bowls of popcorn. Turn off all the lights, and ask everyone to silence their cell phones before the movie begins!
BYOB (Bring Your Own Blanket)
Take advantage of the last summer concerts, music festivals and movies in the park opportunities. Grab a blanket or lawn chair and head to nearby parks to hear local bands strut their stuff, watch classic movies on a big (inflatable) screen, or experience a Shakespeare in the Park performance.
Buy Some Peanuts and Cracker Jacks
Catch a baseball game before the season ends, whether you have a big league team nearby or some minor leaguers to root for. America's past time makes a great family fun day. And if they have ice cream in those little baseball hat bowls, go ahead and splurge!
Don't Feed the Animals
Spend the day at a local zoo or wild animal preserve learning about the animals. Take lots of photos of the kids with the animals. Then head home and ask your kids to draw pictures of what they saw. Combine the kids' artwork with the photos you took, and make a zoo book for Grandma for Christmas.

Latest posts by Sandy Kreps
(see all)