Natural Childbirth in a Hospital
Many natural-minded mamas dream of a home birth. But in reality, most of us will likely birth in a hospital, or hospital-like scenario.
The good news is that natural childbirth in a hospital does not have to be entirely out of your control or comfort zone.
The best way to prepare yourself for the birthing experience is to research, read, and talk to other moms who have birthed naturally. You may want to start with Ina May Gaskin's Guide to Childbirth or if you know for sure you'll be birthing in a hospital, read Natural Hospital Birth: The Best of Both Worlds.
"Hiring a doula who truly went above and beyond was the best birthing decision we made," raves our editor, Amity Hook-Sopko. "She answered all of our questions, attended the hospital tour with us, and labored with us at home so we didn't have to spend a lot of intervention-likely time at the hospital. Not only did she advocate on my behalf at the hospital, she got the baby latched onto the breast and had him nursing beautifully just minutes after he arrived."
If you work with a doula, she may offer you a list of questions to ask your health care provider and the hospital or birthing center. It's a great idea to tour the facility and get a feel for the place you'll be bringing your baby into the world.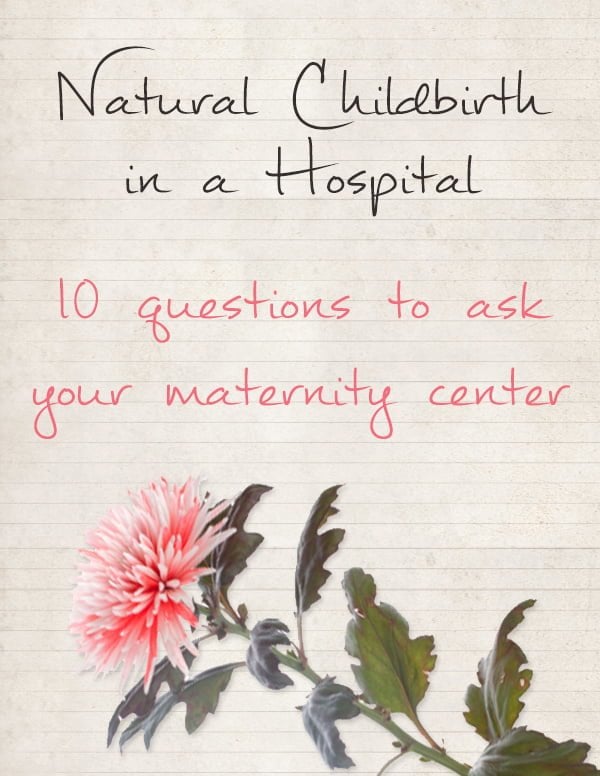 By asking the right questions, you can expect fewer surprises on your big day.
Here are some of the most important questions to ask… and they may open up additional questions as you talk with the people who will be supporting you throughout the birthing process.
10 Questions to Ask About Natural Childbirth in a Hospital
What is the hospital's C-section rate? Epidural rate? Induction rate?
Is there a doula or midwife on staff? Can I bring my own doula to support me during birth?
Will I be able to eat and drink during labor?
Can I move around, walk, or sit on a birthing ball during labor?
What delivery positions are available to me? Will I be expected to deliver lying flat on my back?
What measures will you take to ensure that I have a vaginal birth? In the event of a C-section, who is allowed in the operating room?
Can I hold my baby immediately? Can I nurse my baby immediately after birth? How long can we allow the umbilical cord to pulse before cutting?
Are there lactation consultants on staff to help me with breastfeeding during my stay at the hospital?
If I'm recovering well, how long until we can be discharged from the hospital?
Are there any other guidelines I should be aware of that may affect my birth? (i.e.: allowed length of time between ruptured membranes and delivery)
Keep the lines of communication open with your healthcare provider. The more smoothly everyone can work together, the quicker you'll be back at home for your lying-in with your newborn.