"The feeling of watching your teen drive away without you is probably the same as the separation anxiety babies feel when their mothers leave." That's how our editor Amity Hook-Sopko explains being the mom of a newly licensed teen.
It's not just the fact that your child is on their way to becoming an adult, but the general anxiety that can be involved when driving with a teenager behind the wheel.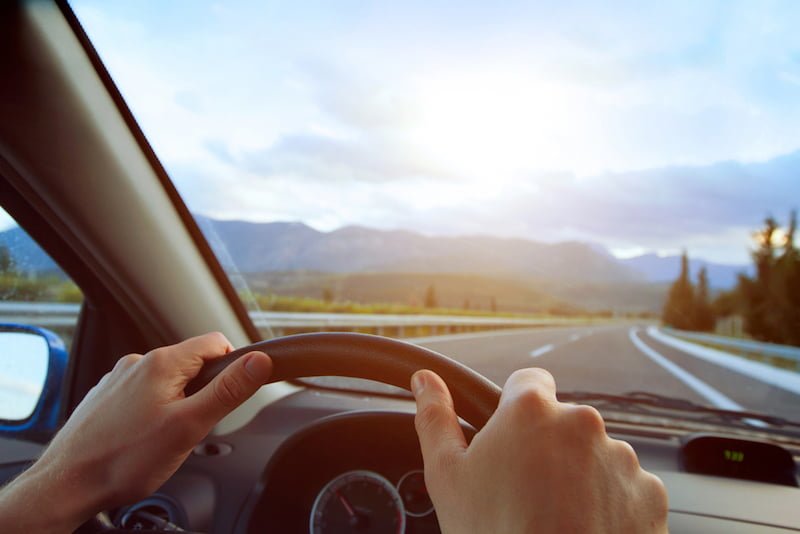 According to TeenSafe, "The crash rate per mile traveled is about three times higher for newly licensed drivers compared to 18-19 year old drivers." Every time your teenager drives to school, practice, or a friend's house can be a nerve wracking experience as you impatiently wait for them to return home.
Although some parents are all for raising the driving age to keep their children safe for as long as possible, only you know if your child is mature enough to get behind the wheel. Some teens may have more of a knack for driving than others, but all of them could get more practice in one important department: mindfulness.
Being a mindful driver is all about acquiring an awareness of yourself and your surroundings, a skill all drivers should have. By teaching your teenager safety skills and mindful driving, they can be less distracted in the driver's seat and give you peace of mind no matter where you are.
Teach her how to be in the moment
You should be present when it comes to most, if not all, situations. This is especially true when it comes to driving. Distracted driving is one of the main causes of vehicular crashes, whether it be due to a phone, other passengers in the car, a song on the radio, or something that just caught your eye when driving by — and teens can be some of the most distracted individuals of all.
We can remember how complicated our teenage years were. It's a time of a lot of changes as you figure out who you are as a person. Couple that with school and the drama that accompanies it and you have a recipe for one distracted kid. It's hard for adults to keep their heads out of the past or stuck in the future — it can be even harder for teenagers.
To help her remain in the moment while driving, encourage her to get in the car with the intent of staying mindful. Ask her to take some deep breaths and become aware of where she is before even starting the engine. Let her feel where her hands, feet, and body are inside their car.
When she's driving, have her really focus on what she's actually seeing and hearing. If she slips into unconscious thought at any point throughout the drive, advise her to take a breath and reorient herself in the present moment. By committing to be aware of her surroundings, your teen can free up mental energy and concentration so her mind is active on the task at hand and she's able to navigate any unexpected occurrences on the road.
Limit distractions
As mentioned before, there are many things already vying for your teen's attention. A favorite song, a long awaited podcast episode, and a dinging phone are all fighting for their attention. With so many things to focus on, the road ahead of him can get pushed to the back burner when it should really be at the forefront.
According to the DMV, there are three types of driving distractions: manual, visual, and cognitive. Manual distractions require one or both of your hands to come off the steering wheel. Visual distractions are when your eyes are no longer on the road. Lastly, cognitive distractions involve anytime when your focus is not on driving.
All three of these distractions impede concentration, meaning your teenager won't be anywhere near the present moment when he's driving. To limit the distractions in your teenager's car and keep his attention on where it should be, here are some tips to help him stay focused:
Turn off the cellphone. Every beep and ring is a chance your teen will pick it up and answer it. Texting or talking on the phone involves more than one of the three driving distractions, so it's best to remove the temptation altogether and have him put his phone on silent.
If your teenager is driving to a new destination, encourage him to map it out on the GPS first before setting off. Mapping it out when you're already on the road can be a major distraction, and the stress and anxiety associated with getting lost won't help him be a more mindful driver either. If a phone is used as a GPS, have your teen turn off notifications to keep distractions at bay.
Keep eating and drinking in the car to a minimum. Your teenager's steering skills won't improve if he's trying to eat a hamburger and drive at the same time — not to mention if anything spills. Having a no food policy will also keep your teen's car cleaner longer while reducing distractions.
Use passengers to your advantage. Although having additional passengers in the car can be a distraction in and of itself, they can help your teen focus on the road by having them be in charge of tasks that would divert the driver's attention, such as changing the music station or controlling the heating and air conditioning.
Before taking off, have your teen adjust his seats and mirrors. It's better to have everything ready and prepared before the drive than realize your mirrors aren't adjusted properly when you're zooming down the highway.
Accept what is
It's hard to be accepting when a driver cuts you off or when every stop light has a secret agenda to turn red when your car comes near. However, if you want you and your teen to have a more mindful driving experience, acceptance will have to come along for the ride.
There are many things that can happen while your teen drives to and from places — and most will be out of their control. Traffic, street lights, other drivers, and pedestrians will all be doing their own thing with little to no input from your teenager.
Although your teen will be practicing mindfulness on the road, it's a good a bet that not many other people around them will be practicing it as well. That being said, uncontrollable things will happen. People will drive recklessly and pedestrians won't always look twice before crossing the street.
You may live in a state with a high concentration of traffic. That means your teen may not always be able to make it to things on time and may even get flustered when they encounter one too many inconsiderate drivers. Instead of succumbing to the negative feelings that usually arise when situations like these happen, have your teen acknowledge that something did occur, then let it go.
It does your teen no good to get aggravated and have their emotions cloud their concentration while they're driving — removing them from the present and trapping them in their thoughts. Emotions are just as distracting as any other physical disturbance.
Although acceptance doesn't mean feeling nothing towards what happened, it does mean not letting it consume you and affect your mood for the rest of your drive. The sooner your teen realizes that they don't have control over every situation, the sooner they can accept this and remain in the present when things don't go according to plan.
Until self-driving cars become widespread, it's up to your teen to be more mindful when they drive. Mindful driving isn't like the meditation many of us have come to know.
However, it is all about becoming aware of themselves and their surroundings. By limiting distractions and accepting that not everything can be controlled, your teenager will be well on their way to being more present on and off the road.

Amethyst Tagney is on her way to living a more present life and appreciating each moment as a gift. Making sure her spiritual side is fed and healthy is just as important to her as her physical health. As Amethyst researches natural ways to bring wellness into her life, she likes to write what she discovers and share it with others.

Latest posts by Amethyst Tagney (see all)