Carrots are sweet and delicious and make a wonderful meal for your baby. Turning this meal into a warm and inviting carrot soup for the rest of your family is the perfect warm, satisfying dinner.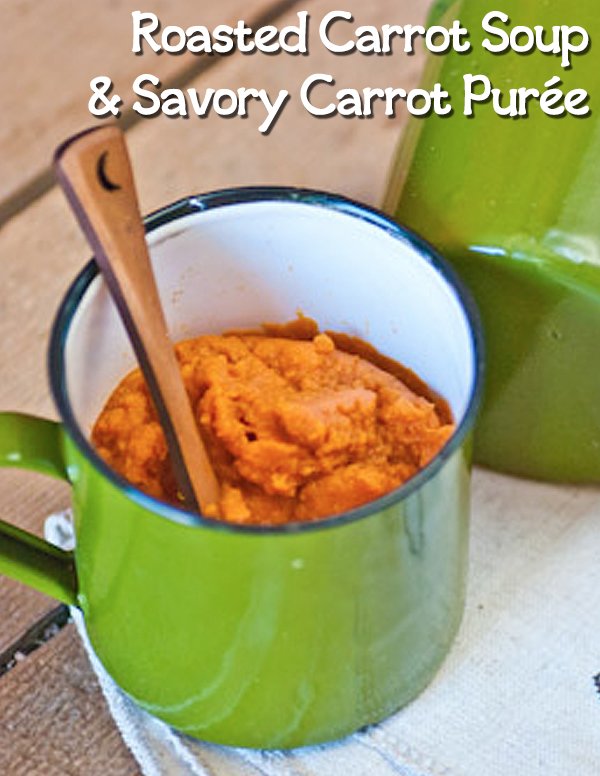 Savory Carrot Purée for Baby (10+ months)
2014-02-10 15:40:30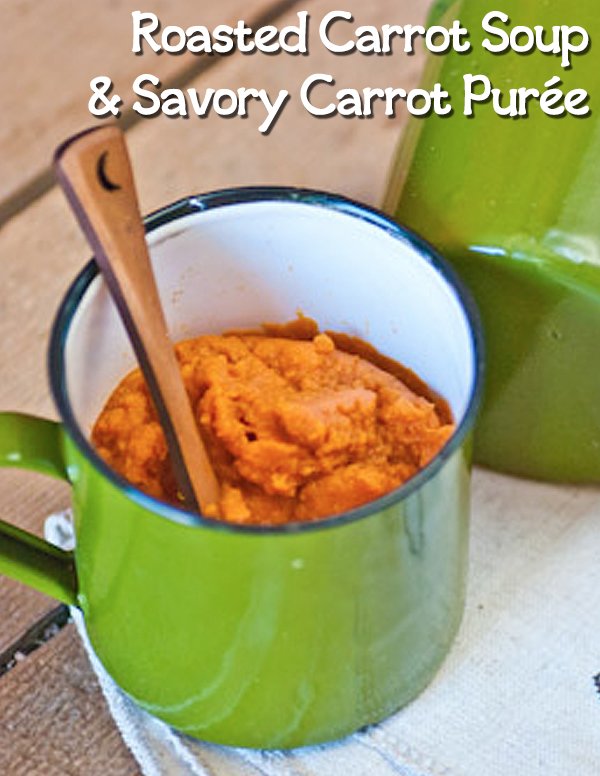 Ingredients
4 full carrots, peeled and diced
1 garlic clove, minced
1 tomato, chopped
Instructions
Steam the carrots and garlic for about 10 minutes or until soft. Reserve the liquid from the steamer.
Add the tomato during the last two minutes.
Purée the carrot mixture in a food processor with 1⁄2 cup of the reserved liquid.
Add more liquid as needed to obtain the desired consistency
Green Child Magazine http://www.greenchildmagazine.com/
When the fall rolls into our countryside, it gets cold, and my kids love warm snacks. This rustic soup is the perfect healthy fall evening meal and fills the house with a comforting smell that is so inviting it's likely to become a family favorite.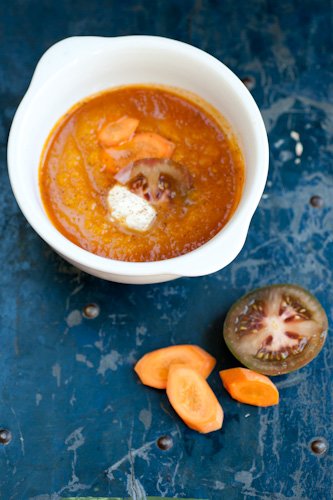 Roasted Carrot Soup for Family
2014-02-10 15:45:00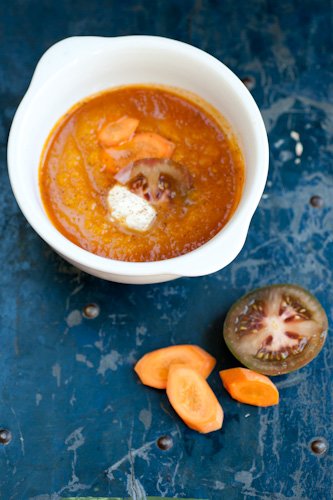 Ingredients
8 large carrots, peeled and sliced
6 garlic cloves, peeled
3 tablespoons olive oil
1 tablespoon unsalted butter
1 large yellow onion, chopped
2 pinches sea salt
4 pinches pepper
1 teaspoon dried basil
4 cups chicken stock
2 vegetable bouillon cubes
2 cups water
2 cups Savory Carrot Purée for Baby (above)
1 pinch red pepper flakes
Instructions
Preheat oven to 300°F.
Wash carrots and slice in half.
Place carrots and garlic on a parchment lined baking tray and lightly drizzle with olive oil. Roast for 45 minutes.
After the carrots have been cooking for 30 minutes, in a large soup pot, melt the butter and sauté the chopped onion until browned. Season with salt, pepper, and dried basil.
Add the roasted carrots and garlic to the pot.
Add chicken stock, bouillons cubes, water, Savory Carrot Purée for Baby, and red pepper flakes and let simmer for about 5 minutes.
Using a hand mixer or blender, purée soup until it is a smooth consistency.
Green Child Magazine http://www.greenchildmagazine.com/
Recipe by Anni Daulter, author of
The Organic Family Cookbook
.

Since 2010, Green Child has published a digital magazine devoted to natural parenting and conscious living. Hailed as "good for a green mama's soul," Green Child has grown into a resource valued by parents who care about bringing simplicity, compassion, social responsibility, and instinctual intelligence back to parenting.

Latest posts by Green Child Magazine (see all)