Allergy-Friendly Chicken Nuggets
Avoid the top allergens with this kid-friendly, healthy, and homemade recipe for allergy-friendly chicken nuggets.
Growing up I used to love my mother's homemade chicken schnitzels, better known as "nuggets" for many. I would come home from school and ask, "What's for dinner?" I'd just melt when she would tell me, "schnitzels."
I'd hover over her as she would shallow fry each piece and I would help by being the Chief Quality Control Officer, eating one after another, trying to find some non-existent fault in them just to snag another piece.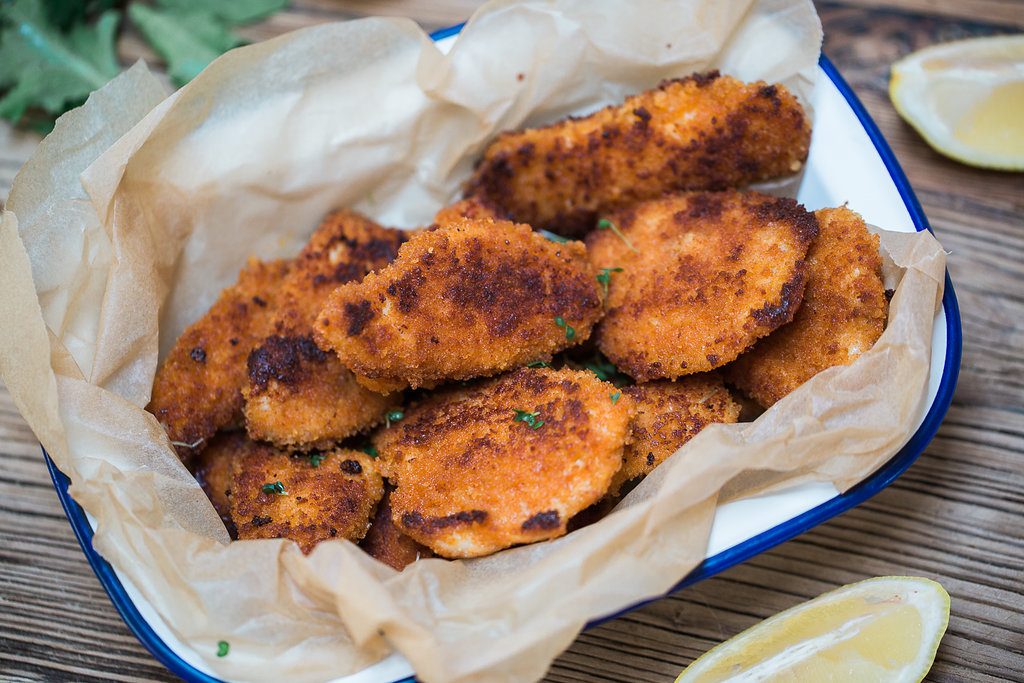 Now 30 years later my kids do the same. Due to allergies and intolerances, I've replaced the white breadcrumbs with an allergy-friendly, nutritious alternative – rice crumbs or quinoa flakes.
And for my youngest son, due to his previous egg allergy, I discovered I could replace the egg for dredging with melted coconut oil or olive oil and these allergy-friendly chicken nuggets taste just as good.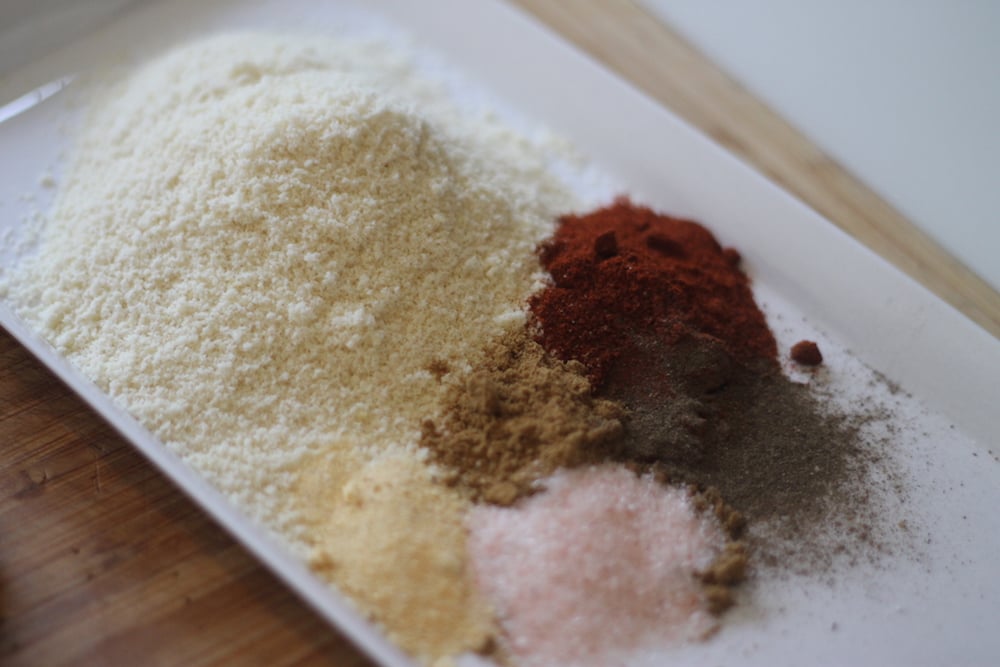 When making homemade nuggets try to source organic, free range chicken. I find the best parts for nuggets are the tenderloins (the little fillets attached to the breasts). As the tenderloins are already the perfect size for nuggets they are ready to go into the egg and crumb mixture, saving heaps of time slicing perfect chicken pieces.
You can buy them already cut up, but you'll pay a lot more than when you work with a whole chicken, which goes a lot farther – especially if you like to make your own bone broth.
You can also use thigh meat, which is more nutritious – just make sure to cut into similar size pieces so everything cooks evenly.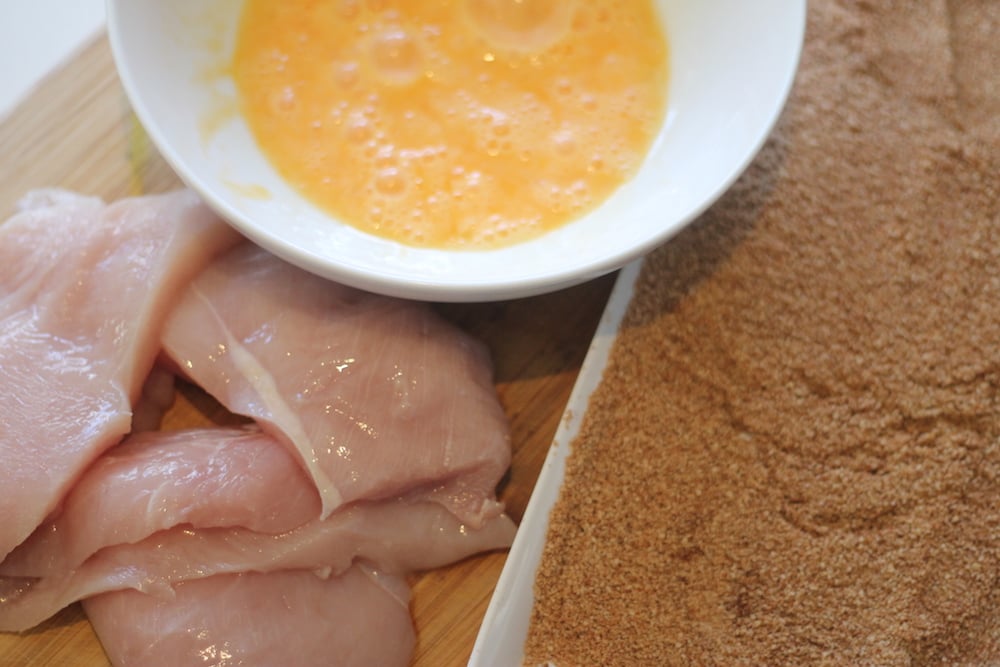 I'll often make a double batch of this recipe and freeze half of the ready-made (uncooked) nuggets for another time for a quick mid-week dinner. The cooked nuggets will stay fresh for 3 days in the fridge and the uncooked prepared nuggets keep well for 3 months in the freezer. But trust me it's unlikely these nuggets will ever get the chance to reach the freezer!
Serve these with sweet potato fries and steamed veggies or my kids' favorite: with homemade tomato pasta sauce and penne pasta. My boys will also eat these straight from the fridge – they taste just as good!
They're also a perfect protein addition in school lunch boxes or picnics.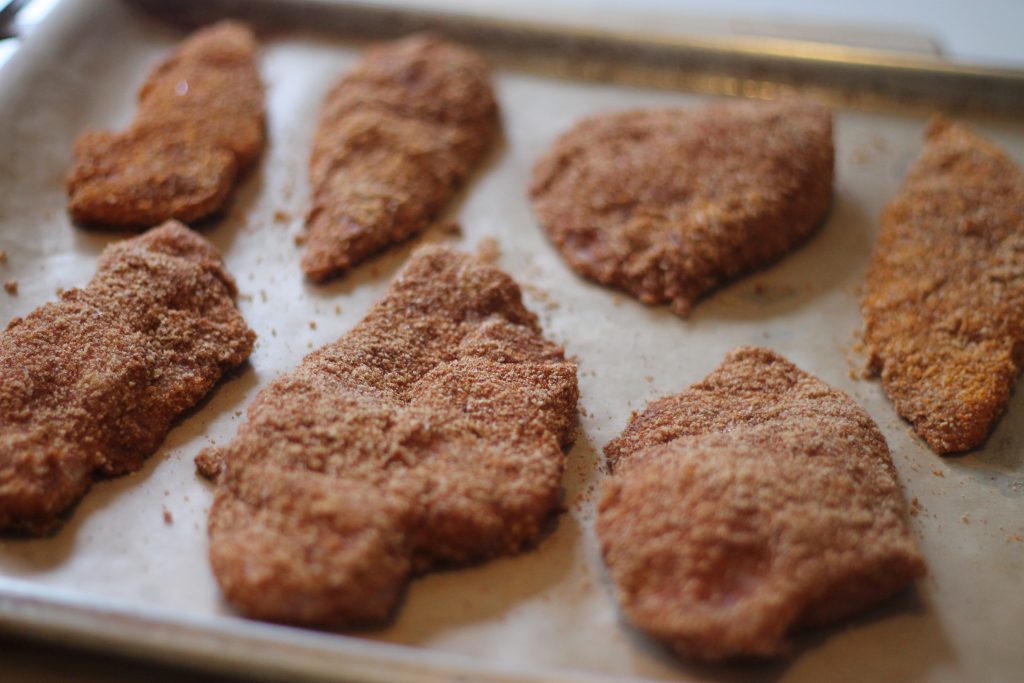 To cook these nuggets you can either fry or bake them. Frying, without doubt, gives them more crunch but they still taste great fresh out of the oven.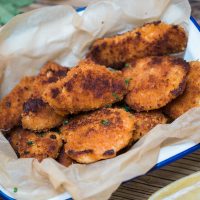 Allergy-Friendly Chicken Nuggets
Avoid the top allergens with this kid-friendly, healthy, and homemade recipe for allergy-friendly chicken nuggets.
Print
Pin
Rate
Ingredients
2

chicken breast fillets or 500g of chicken tenderloins

2

eggs

or replace with ½ cup of melted coconut oil, organic sunflower oil or extra virgin olive oil

1 ½

cups

150g rice crumbs, quinoa flakes or almond meal
Herbs and spices to add flavor to the crumb mixture
1

teaspoon

garlic powder

1

teaspoon

onion powder

1

teaspoon

paprika

1

teaspoon

dried parsley

1

teaspoon

sea salt

¼

teaspoon

ground black pepper

Organic sunflower oil

extra virgin olive oil or other good quality fat for frying
Instructions
If you're baking the nuggets preheat the oven to 190C or 375F.

Line a baking tray with unbleached parchment paper.

Slice the chicken breasts into thin 5 cm long pieces and set aside.

Break the eggs into a bowl and give them a whisk until well combined. Alternatively for egg allergies, add your oil into this bowl and set aside.

In another bowl or plate, mix together the rice crumbs or quinoa flakes, the spices and seasoning and give it a good mix with your hands and set aside with the other bowls.

In batches, dip the chicken strips into the egg or oil (I do a handful at a time).

Individually coat each chicken slice in the flavored crumb mixture on both sides so they are evenly coated and set aside on another plate or on the baking tray (if baking).

Repeat with all chicken pieces.

If frying, heat oil in a large, deep frying pan over medium heat.

Cook in batches and for about 3 minutes each time until they are golden brown and the chicken is cooked through.

Remove the nuggets from the pan using a fork or tongs and drain on paper towels.

Alternatively, if you are baking the nuggets, pop them in the oven to cook for 20-25 minutes, until golden and cooked through.
Notes
If frying, test the heat of the oil by placing a small piece of chicken in the pan. When the oil has reached the perfect heat the oil will sizzle around the chicken and you can then fry more pieces at the same time.
Serve with homemade sweet potato fries, salad and a good quality organic ketchup.
Dairy, soy, gluten, wheat free, nut and peanut free. Can be made egg free.