Pet dander (plus pets tracking in pollen) can aggravate seasonal allergies. We're looking at how to reduce pet dander in your home and lower your risk of sneezing and feeling miserable this spring.
While we may think it's impossible to have an allergen-free home with pets inside, there are some simple steps you can take to make your home livable. Here are some simple (and a couple of more involved) ways to reduce the pet related allergens inside your house.
Keep Your Fur Babies Clean
Regardless of how much you clean your house, if you have dirty pets (and dirty pet bedding), you'll have a house with allergens.
A weekly bath can significantly reduce the amount of dander (or dead skin flakes) on your pet's skin. Dander is the chief trigger for allergy sensitivity when it comes to pets. If your pet is clean, you have less dander and shedding; hence, fewer allergens and allergy symptoms. If your pet is prone to dry skin, use a shampoo specifically for dry skin (like Bodhi Dog Oatmeal Shampoo or Pets Are Kids Too for cats and dogs) so you won't make the problem worse with frequent baths.
When tree and grass pollen are high, keep a clean towel near the door so you can easily wipe your pet's paws and fur after going outside. This will keep your pet from tracking pollen into the house.
Related: Professional Quality Air Purifier
Along with regular baths, give your pet a good brushing once a day. Just make sure you brush them outdoors or in a place where the hair and dander won't fly all through the house.
Keeping your pets clean also means keeping their bedding clean. The best way to remember to wash their bedding regularly is to make it part of the routine of bathing them. Pet goes into the sink or tub – bedding goes into the wash.
Step Up Your House Cleaning
Regular dusting and vacuuming will keep your house as dust and allergen free as possible and make a noticeable difference when it comes to air quality.
Dust before you vacuum so airborne particles don't have a chance to relocate. A HEPA filter vacuum will remove up to 99.97% of all allergen and dust particles from the air in your home. If you don't have time to vacuum a few times a week, try a robotic vacuum with a HEPA filter like the Neato Botvac Connected vacuum.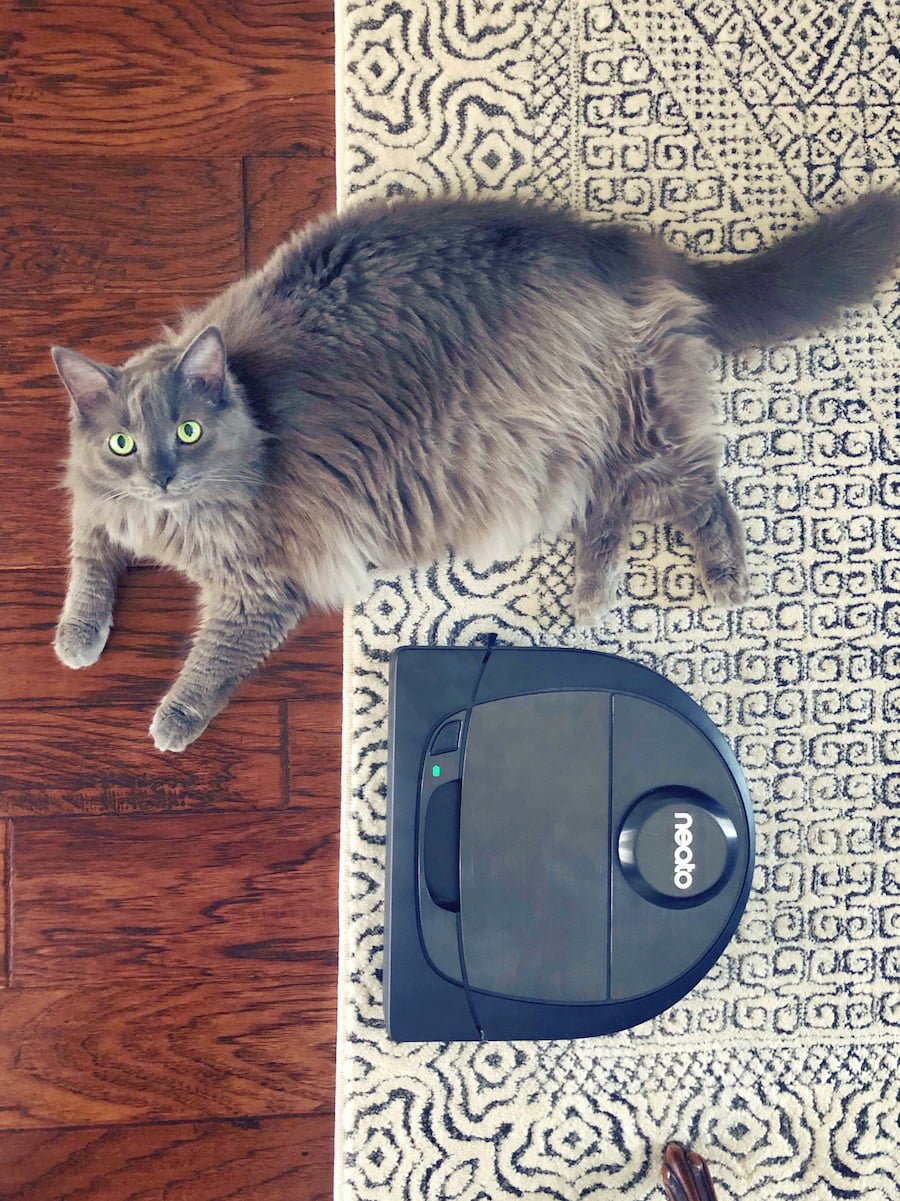 We like the Neato Botvac's D-shape because it can get closer to the wall where pet hair clings. And it's extra-large filter captures dust and allergens as small as .3 microns. Set a cleaning schedule through the app and get instant notification about the status of your vacuuming. Program it and come home every day to a freshly vacuumed home. Or if you're not a fan of having everything in your home running off Wifi, the Neato works offline with manual settings too.
And make sure shoes are removed at the door. This limits the amount of outdoor allergens coming into the house and also keeps your pet cleaner since he typically spends a lot of time near the ground.
Clean the Air Inside Your Home
You can keep the air inside your house cleaner by taking a few simple steps. When things start blooming in the spring, keep the windows closed during the worst of it. Full disclosure – this is easier said than done because we love a nice spring breeze! We maintain that balance by running our AIR Doctor air purifier on the days we just can't stand to keep the house closed up.
Related: Natural Remedies for Seasonal Allergies
A good air purifier cleans the air and removes most of the allergens you breathe inside your home. A bonus is the cleaner the air, the less dust and dander. The less dust and dander, the less you have to dust.
The AIR Doctor uses a combination of a high-grade HEPA filter along with a carbon/gas trap/VOC filter. It's a 100% sealed system and removes even ultra-fine particles smaller than .1 microns – meaning it removes very close to 100% of particles. We love the AIR Doctor's built-in sensor that tests the quality of the air and adjusts the filter to the correct level of filtration.
When buying filters for your furnace or air conditioning unit, invest a little extra money in the filters designed to reduce allergens. And remember to change them regularly.
And be sure to keep some air purifying house plants in your home, but make sure they're not the kind of plants that are dangerous to kids and pets.
Make One Room A Pet-Free Zone
Reduce pet dander in your home in a way that really counts by designating one room in your home as a pet-free zone, and stick to it. You can spend time with your pets throughout the remainder of the house, but keep one room free of pet hair and dander.
The best pet-free choice is your bedroom since you spend so much time there and sleep quality has a direct effect on your immune system (and your ability to handle allergies). You'll save yourself some cleaning time in the bedroom and will breathe more easily at night.
Limit Cloth Surfaces
If your home has a lot of carpet and you can't easily replace it with hardwood or tile, invest in a safe steam cleaning service at least twice a year. Choose mini blinds or shutters for your windows as they're easier to wipe down to remove dust and pet allergens than drapes.
Train your pets to stay off of upholstered furniture or designate one chair or loveseat for pet cuddling and keep the others free from fur and dander.
If you have our own methods to reduce pet dander in your home, tell us about them in the comments.

Susie Lyons' lifelong interest in natural remedies and holistic health practices led to the publication of The Herbalist Journal and her own line of herbal products. Both enterprises were born of her curiosity about natural healing and the folk remedies she grew up with in her extended East Texas family. She is currently pursuing certification as a Master Herbalist.

Latest posts by Susie Lyons (see all)