Indoor plants can beautify your home, bring a bit of nature to your interior space, and purify the air. But some house plants can be dangerous to curious kids and pets.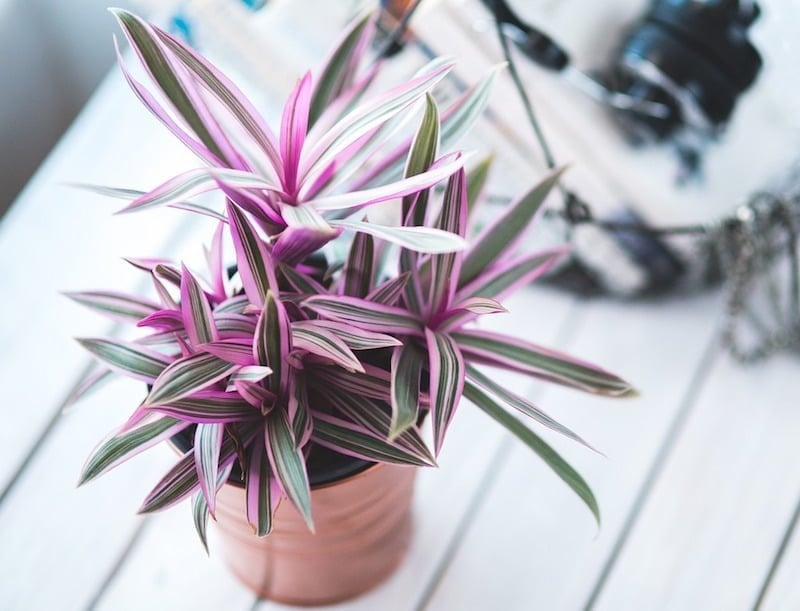 Many tropical or exotic plants can be dangerous if ingested, and those that aren't harmful to eat could still cause a skin reaction in a child or pet with a sensitivity.
Keep reading to learn about ten plants that can be harmful to household residents.
1. Philodendron
A plant that grows natively in tropical American climates, philodendron is a popular indoor plant due to its pretty heart-shaped leaves. You can also grow it from seed, or repot it into a container you use inside the house. However, it is mildly toxic to both children and pets.
2. Oleander
This indoor/outdoor flowering plant needs at least half a day of direct sunlight in order to bloom, and it doesn't tolerate the cold very well. Due to those characteristics, some experts recommend bringing the oleander inside, especially during the winter. However, the leaves and flowers are both extremely toxic to humans and animals (source). Because reactions following ingestion can vary greatly, it's essential to seek medical attention promptly.
3. Amaryllis
The Amaryllis plant comes from South Africa and contains a poisonous irritant called lycorine. It is present in the bulb and must be eaten in large amounts to cause adverse reactions. Such symptoms include diarrhea and vomiting. If you have one of these plants and it's already flowering so the bulb is not as accessible to kids and pets, it may be worthwhile to keep around.
4. Devil's Trumpet
This plant is easy to grow indoors, but all parts of it are poisonous. The degree of toxicity is so severe, it has been used in suicides and murders. The plant is beloved due to its distinctive flowers that become up to six inches long. Due to the inherent danger of this plant, though, you may want to keep it out of the house.
5. Crown of Thorns
Interestingly, this plant has many associations with Jesus Christ, and by its name, you may be led to believe it was used during his crucifixion. However, the Crown of Thorns is native to Madagascar, and wasn't known in biblical times. It has caustic and irritating chemicals that cause problems like abdominal pain, mouth irritation and vomiting. Be sure to avoid coming in contact with the leaves and flowers.
6. Peace Lily
This plant has calcium oxalate crystals that damage tissue once ingested. Swelling of the airway can result afterwards, along with mouth pain. Although this houseplant is very familiar, it's a good idea to look for safer alternatives to prevent potentially severe consequences.
7. Dumb Cane or Leopard Lily
Due to its distinctive two-toned green leaves, the Dumb Cane plant is a visually attractive choice. It also helps with air purification. However, if its leaves are ingested, they can cause mouth irritation and speech impediments that persist for several days.
8. Croton
This is another very common houseplant that must be kept out of reach of kids and pets. Its leaves are so toxic that even coming in contact with them through touch alone could have bad results. It also contains an oily substance that causes vomiting if ingested.
9. Poinsettia
A winter holiday staple, this plant is beloved for its vibrant colors. Red is the most popular variety, but you can also find pink and white versions. Skin irritation is the most likely unpleasant reaction people and pets experience, but nausea and vomiting occur after ingestion.
10. Mistletoe
Another plant that's often found in homes during the holidays, mistletoe has poisonous berries and leaves, due to a component called phoratoxin. The American varieties are less poisonous than those found in Europe, but they can still cause symptoms ranging from blurred vision to stomach discomfort and diarrhea.
Some of the plants on this list are commonly found in many homes. However, if you live with kids and pets, it's best to look for safer house plants like the following.
Safer, Non-toxic House Plants
Boston fern
African violet
Spider plants
Parlor palm
Phalaenopsis Orchids
Christmas cactus
Peperomia

Latest posts by Green Child Magazine
(see all)