Anti-Inflammatory Cocktail Recipe
Inflammation is now being recognized as the "underlying basis of a significant number of diseases," according to Dr. Tanya Edwards, director of the Center for Integrative Medicine.
Although inflammation has long been known to play a role in allergic diseases like asthma, arthritis and Crohn's disease, Edwards says that Alzheimer's disease, cancer, cardiovascular disease, diabetes, high blood pressure, high cholesterol levels and Parkinson's disease may all be related to chronic inflammation in the body.
Dr. Andrew Weil's Anti-Inflammatory food pyramid is an extremely helpful guideline for reducing inflammation in the body.
We love this anti-inflammatory cocktail for packing several of these powerful foods into one easy drink. Here's what makes it so good for your body: Fennel is an anti-inflammatory, anti-histamine, analgesic, & antioxidant. Apples inhibit the development of allergies because rich in histamine-lowering Quercetin.
Cucumber has analgesic (pain killing) properties and is an antioxidant that prevents the synthesis of the inflammatory compound prostaglandin. Broccoli is anti-carcinogenic, prevents gastric mucosal damage (suggesting potential histamine-lowering action), and finally, ginger is as effective as an H2 receptor antagonist prescription drug.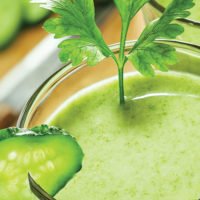 Ingredients
1

green apple

½

large fennel with fronds

1-

inch-piece ginger root

1

large broccoli stem

3

leaves

kale

½

cucumber

peeled if not organic
Instructions
Cut produce to fit your juicer.

Start by juicing the apple and finish with the cucumber.

Drink as soon as possible.