Is Your Child Ready for a Big Kid Bed?
How do you know when your child is ready for a big kid bed? We're talking about this big transition and how to choose the right safe mattress.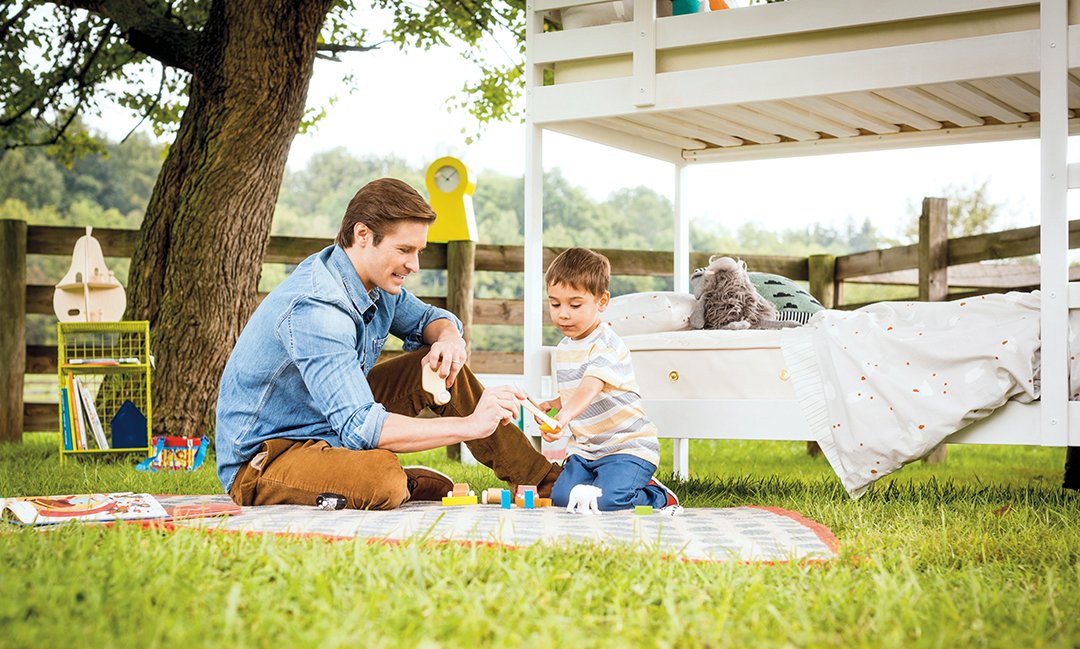 As parents, we all know the importance of sleep. No matter the age of your child, you realize that their entire day can be thrown off because of a rough night, lack of a nap, or generally just trying to find the happy balance of enough sleep.
Another emotional time can be the transition to a big kid bed.
It can be a challenge, to say the least.
And to add to the worry, there's all the toxic materials that go into the manufacturing of conventional mattresses. Considering how much time our littles spend in their beds, the flame retardants and other endocrine disruptors can be downright worrisome.
But, today we're here to offer some tips to help with the "it's time for your own special bed!" challenges you may be facing.
"You're a big kid now"
The transition to a big kid bed holds all different types of emotions, from excitement and wonder to a bit of anxiety and fear (for both parents AND children).
Certified Child and Family Sleep Consultant Jenni June gave us some valuable answers to the big kid bed questions many parents have.
How do I know if my child is ready for a big kid bed?
A huge part of parenting is trusting your instincts. "When a child can scale the crib faster than you can sprint to the door in your running shoes after laying them down to sleep," says June, "it's probably time."
Showing signs of readiness for potty training is another sign.
Most experts recommend transitioning to a bigger bed between the ages of 2 and 3.
According to a 2018 study by Dr. Jodi Mindell, chair of the Pediatric Sleep Council, waiting until age 3 significantly benefits a child's sleep. (source) The study of nearly 2,000 toddlers globally found crib sleeping coincided with healthier sleep habits, like earlier bedtime, longer stretches of time asleep, and less resistance to going to bed.
Why should my child stay in a crib?
Safety is the main reason to wait.
It can be much harder to keep a young toddler safe in a large room full of toys, furniture, windows, outlets, and electrical devices than it is a crib. You're nodding your head if you have a tot who knows how to leave the room and wander the house unsupervised.
Also, a child age two or older is generally better able to understand and comply with the rules regarding sleep time and may be more likely to get themselves back to sleep if they wake during the night.
Should I move my child to a toddler bed first?
If your child's crib is convertible, you have the toddler bed option right away. When our editor's first child scaled the crib at 11 months, her husband got out the tool box that night. They used a rail guard to make sure their son didn't roll off during the night.
If you'll be using the crib mattress longer, make sure it's a safe crib / toddler mattress with no flame retardants or chemicals that are harmful to a toddler's growing brain and body.
How long can a child stay in a toddler bed?
Most children use a toddler bed between 18 months and 3.5 years old. Again, you'll want to watch your child's developmental milestones and behavior. And again, tune into your instincts.
When you decide it's time to move into a twin or full size bed, you can keep the guardrail up to make sure they don't roll out. It can also help provide a little more security.
What other "big kid bed" options are there?
Aside from the convertible crib / toddler bed option, there are some creative (and safe) ways to get your child used to sleeping without the crib.
Place a twin mattress on the floor or on a low bed frame. Make sure the area around it is clear with no places for your little one to get stuck.
Later add a bed frame and then finally a box spring, so that the bed height gradually changes as the child adjusts and grows.
Keep in mind – bunk beds and loft beds are not recommended for children 6 or younger.
How do we gently transition our child to a big kid bed?
June suggests starting with a brief family meeting to talk about the new responsibilities of a big kid bed. Follow up with some role play earlier in the day to put a fun spin on the new transition, where you're the child and your child is parent.
"Act out scenarios," suggests June, "where you get tempted to, or try to, leave the room, but notice there's a gate, or it's too dark to see, or practicing how they will be silently and quickly returned to their bed should they forget the parameters your family has set."
Validate their feelings, whether positive or negative. Change isn't always easy, especially at this age.
From the first night, though, be consistent with your expectations in a calm, simple, firm way. Remember that "responsive and attentive parenting sometimes means we resist the urge to 'rescue' a child from temporary struggle while learning a new skill."
Most of all – keep a positive, gentle attitude so the new bedtime routine feels happy and safe.
Which mattress is best for little kids?
Whether making the switch from co-sleeping or a crib, a new mattress is key for a comfortable big kid bed experience. If you're looking for a bed that isn't full of toxic adhesives, dyes, chemical flame retardants, and a slew of other nastiness, we recommend Naturepedic's line of certified non-toxic mattresses.
As the most recognized organic mattress brand in the U.S., Naturepedic offers a line of organic mattresses specifically designed with kids in mind, featuring a comfortable medium-firm support and organic materials throughout. With GOTS certification, your mind can rest that your entire finished mattress (not just its individual component materials) is certified, completely meeting healthy non-toxic standards.
From luxuriously quilted organic cotton fabric to waterproof and dust mite-proof fabric, Naturepedic has thought of it all. The fact that these mattresses meet all federal and state flammability standards without the use of any fire retardant chemicals or flame retardant barriers is mind-easing icing on the cake.
You can use Greenchild15 to get 15% off the purchase of their top-rated, certified organic mattresses and accessories.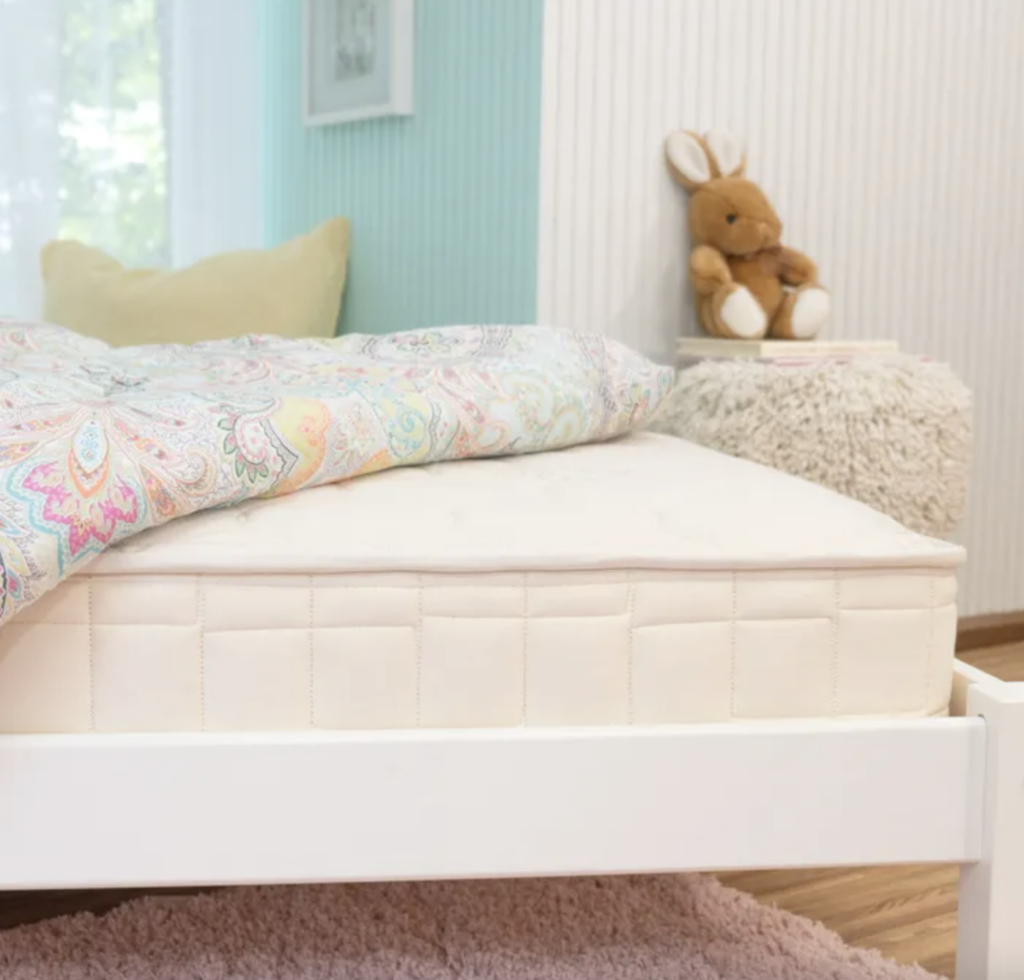 Naturepedic's organic fiber mattress features a luxurious quilted finish on one side and a smooth waterproof surface on the other.
The waterproof side is handy for bed-wetters if the mattress pad comes off, is in the wash, or was forgotten entirely. Once bedwetting is under control, just flip over for a more mature quilted feel.
This organic mattress works great in bunk beds, platform beds, and trundles. It even comes with a built-in bedbug/dust mite barrier!
Use Greenchild15 for 15% off Naturepedic's top-rated, certified organic mattresses and accessories.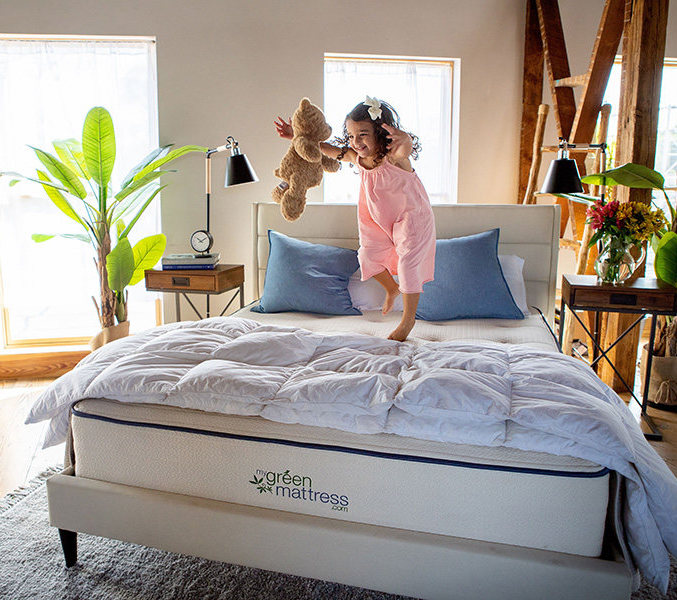 The Kiwi from My Green Mattress is a firm yet contouring hybrid mattress, which makes it the perfect choice for growing children or for adults looking for an affordable, firm hybrid mattress. They handcraft the Kiwi mattress with a pocketed coil innerspring and all-natural and hypoallergenic materials, including: GOTS Certified organic cotton, GOTS certified organic wool, and GOLS certified organic Dunlop latex.
It is made without the use of chemical flame retardants or polyurethane foams.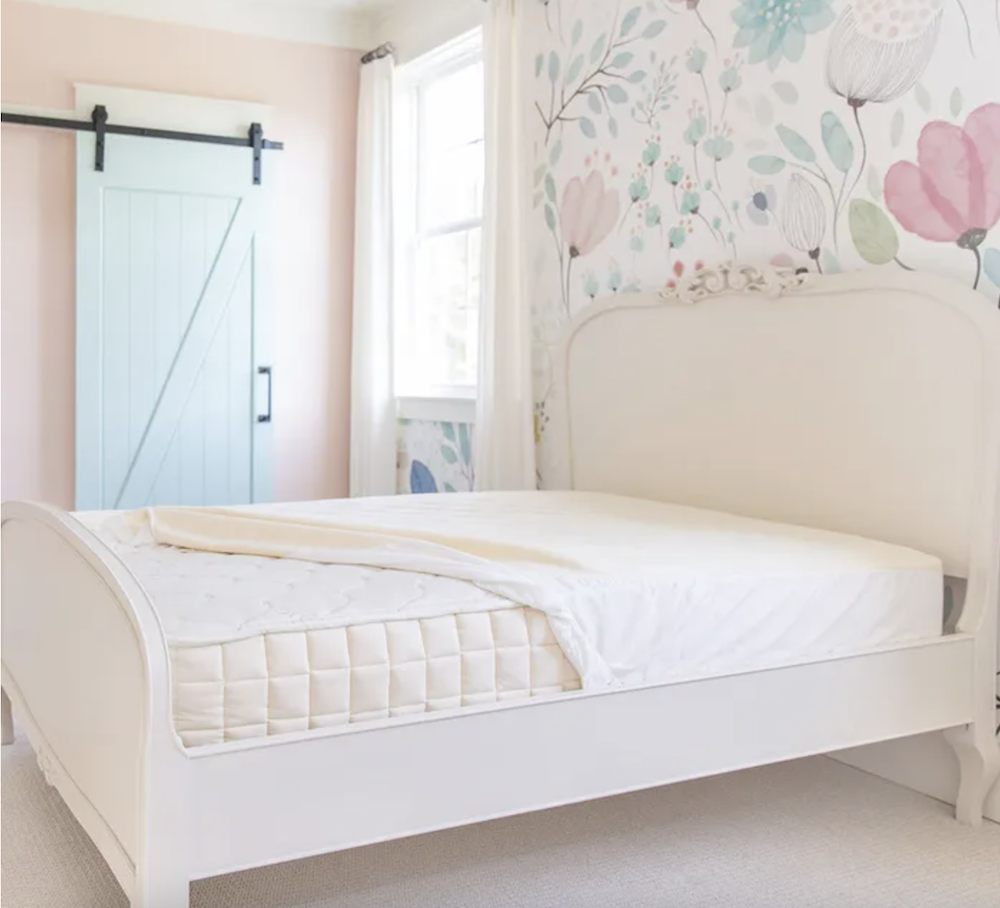 If a new mattress isn't in the budget, you can add an organic layer between your child and a conventional mattress with the help of an organic mattress topper or protector.
Naturepedic's 3-layer system consists of 100% GOTS certified organic cotton top and bottom with ultra-thin waterproof layer in the center. It completely blocks all liquid while allowing water vapor to pass through, reducing sweat and humidity for a more comfortable sleep.
Naturepedic even stands behind their quality workmanship with a 20-year limited warranty. There are seriously tons of reasons that Naturepedic makes the best choice.
Naturepedic also offers pillows, pillowcases, pads and toppers, all made with the same exemplary quality and attention to natural materials you can expect from their mattresses.
Don't forget to let your child pick out their own organic cotton bedding in a fun color or design.
Embrace the change, remember these tips, and know that it may be easy – or possibly a challenge – but it will work with patience and consistency.
Before you know it, you'll all be sleeping easily.