12 Reasons You'll Love Cloth Napkins
Why switch to cloth napkins? We've got 12 fun reasons to love cloth napkins.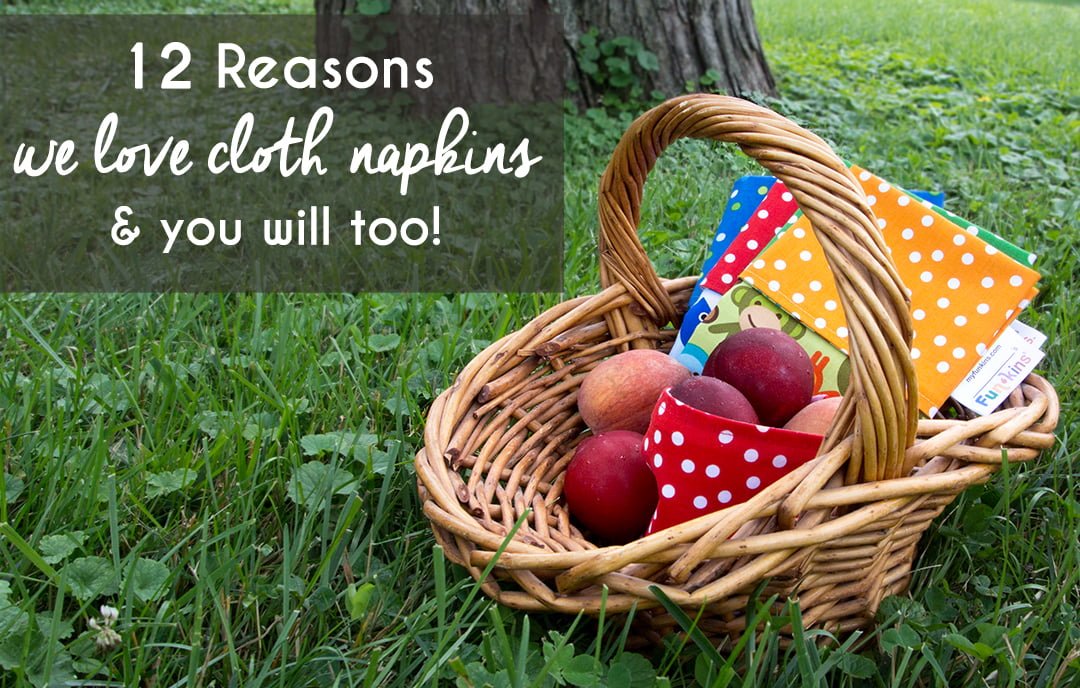 Each year in our Back to School issue, we use the most adorable cloth napkins as backdrops and accessories in our popular school lunch inspiration section and feature. Not a week goes by in August that we don't get an email asking, "Where can I get the pink polka dot napkin from your healthy lunches section?"
So here's the scoop… These super fun napkins are none other than the aptly named – Funkins. Today we're talking about all the ways cloth napkins can make your meals both fun and waste-free… and a few other fun ideas as well!
Why Use Cloth Napkins?
While you won't find paper towels and disposable napkins floating in the Great Pacific garbage patch, it doesn't mean they're harmless to the planet. It takes 20,000 gallons of water and 17 trees to make one ton of paper towels. Decomposing paper towels product methane gas, and 3,000 tons of them head to the landfill each day in the U.S. alone.
Cloth napkins have SO many benefits

High-quality napkins can last you years (we may even still have some from our grandmothers!)
A one-time purchase will save you money in the long run — you'll be reducing the amount you spend on disposables, and you'll be eliminated a source of waste in your home — talk about a win!
They're the perfect addition to your waste-free lunch! Friends and parents will be asking where you got them — trust us, we've been there.
For cleanup, cloth absorbs more liquid than paper; one napkin can hold 3-4 times the amount of a paper towel.
A formal dinner table looks infinitely more classy with cloth napkins, and parties are that much more fun with colorful designs.
Picnics are more fun (and far less wasteful) with pretty reusable napkins.
In kid-friendly prints, they're just plain FUN.
Soft cotton is easy on a child's delicate skin and won't leave fibers behind to pull moisture.
They can also double as a placemat!
They're super handy when traveling or out and about with kids, and they look a lot better than a wadded up tissue when you need to wipe a face.
Accessorize your child's birthday party with cloth napkins and then send them home as the party favor.
They make great gift wrapping. We're huge fans of furoshiki style wrapping, and we adore gift wrapping with purpose.
Have we mentioned how fun they are?
Why Funkins Cloth Napkins Are Our Favorites
[easingslider id="13197″]
Funkins Reflect YOU
From adorable whales, ninjas, and ballerinas, to the periodic table, baseballs, and flowers — Funkins are  designed to reflect the personality of your child.
Funkins Impact Initiative
Funkins will even help you start a waste-free lunch program in your community!
100% Cotton with Low-Impact Dyes
Lead and phthalate-free, there's nothing you don't want near your child's skin or mouth. They even go the extra mile with low-impact dyes that are better for the environment.
Fabulous Selection of Prints & Colors
Funkins' patterns are unmatched. Not only are they top-notch in design, they're double-sided so your child has a variety of fun things to see while she's eating or helping pack her lunch.
Generous Size
At 13″x15″, Funkins can handle big messes and are versatile around the kitchen and home.
High Quality
For two years now, we've tossed our cloth napkins in with towels, and they really hold up, wash after wash. The colors are still vibrant, and they're softer than ever!
Summer gatherings, Back to School, birthday or holiday parties — any occasion is a good excuse to build your stash of reusable napkins!
This article is part of a collaboration with our advertising partner, Funkins. All thoughts and opinions shared are strictly our own. Thank you for supporting the brands that make it possible for Green Child to share free natural parenting and healthy living content.