What to Avoid in Personal Lubricant + A Certified Organic Solution: Coconu
Many personal lubricants – even some that claim to be all natural – contain ingredients that range from questionable to downright toxic.

We're covering what to avoid when choosing a lubricant, and we're happy to introduce you to Coconu and their line of certified organic products.

Be sure to read all the way through to find a special discount for Green Child readers.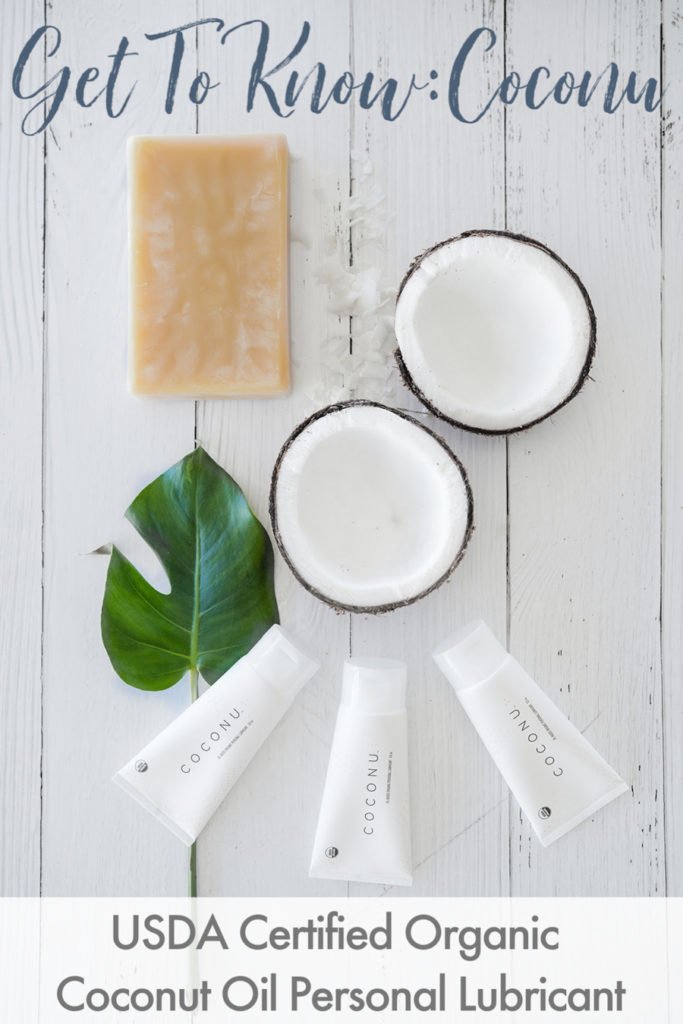 If you've transitioned to eating real, whole, organic foods, you understand the importance of paying attention to what you put in your body. And maybe you only use natural cosmetics and personal care products because you've learned about the dangers of endocrine disruptors, so you're aware of the importance of what you put on your body.
But many of us have blind spots to a few areas where we could still be exposing ourselves to harmful substances. If you practice deep breathing techniques on a PVC yoga mat, you're breathing in carcinogens. If you eat the healthiest takeout meal from a styrofoam tray, you're ingesting phthalates. And if you use conventional lubricant, you're exposing your body to chemicals that can cause irritation, infections, and even cancer.
INGREDIENTS TO AVOID IN PERSONAL LUBRICANT
It's hard to understand why mainstream companies put these types of hormone disruptors, known carcinogens, and skin irritants into their products. Or maybe it's not hard to understand. These ingredients are cheaper than their safer counterparts.
Adding to the problem is the lack of regulation in the personal care industry in the United States. Product labels and claims can be misleading in category from makeup to personal hygiene. So, when you're choosing a personal lubricant, here are the ingredients to avoid.
PETROLEUM
Petroleum – as in petrol – is found in loads of personal care products. The main health concern with petroleum is cancer (source). It coats the skin, creating an artificial layer and making it difficult for the skin to breathe. Petroleum can also lead to irritation, inflammation, and infection.
GLYCERIN
Glycerin (also labeled as "glycerine" or "glycerol") behaves similarly to sugar inside the body. Women who are prone to yeast infections may get them more frequently if they use a lubricant containing glycerin.
PROPYLENE GLYCOL & POLYETHYLENE GLYCOL
Added to lubricant to keep the product from drying out, propylene glycol can cause extremely painful itching and burning upon contact.
Polyethylene glycol is a stabilizer typically labeled as "PEG". When PEG absorbs into skin, toxins and heavy metals used in its production absorb right along with it. This enhanced absorption effect can extend to any other unsavory ingredients.
PARABENS
Parabens easily absorb into the skin. Once inside your body, parabens mimic the effect of estrogen. The disruptive effects of parabens on the body can extend to the male reproductive system, raising estrogen levels while lowering sperm counts and testosterone levels. This hormonal imbalance can lead to fertility problems, lower sex drive, and even erectile dysfunction.

Avoid any ingredient with -paraben at the end of it, including methylparaben, propylparaben, and butylparaben.
CHLORHEXIDINE
Chlorhexidine can kill the good bacteria that live in the vagina, messing with pH levels, and leading to infections. It can also be irritating to the sensitive skin inside the vagina.
PHENOXYETHANOL OR "FRAGRANCE"
A preservative, phenoxyethanol sometimes shows up labeled simply as "fragrance." It is often irritating to sensitive skin (especially for those who suffer from dermatitis or eczema). In high doses, phenoxyethanol may cause damage to the brain and central nervous system.
NONOXYNOL-9
Nonoxynol-9 kills sperm as well as some STD-causing germs, but it also damages healthy vaginal cells. The damaged cells are then more susceptible to infection with STDs, including HIV.
CHOOSING A SAFER PERSONAL LUBRICANT
First off, why might you want a natural lubricant? Because sex should never cause discomfort or pain. Vaginal dryness can have a variety of causes (source) but it doesn't have to inhibit your sex life. Personal lubricant can help enhance the pleasure for both partners.
Now that you know what to avoid, you'll be relieved to know it's not that hard to find safer, natural options. As with any personal care item, one fairly simple step is to check the ingredients on The Environmental Working Group's Skin Deep Database.
You can also look to a brand like Coconu who specializes in creating the safest, most effective personal lubricant with real natural health benefits. Their plant-based, USDA-certified, non-GMO ingredients not only make you feel good – they're good for your body.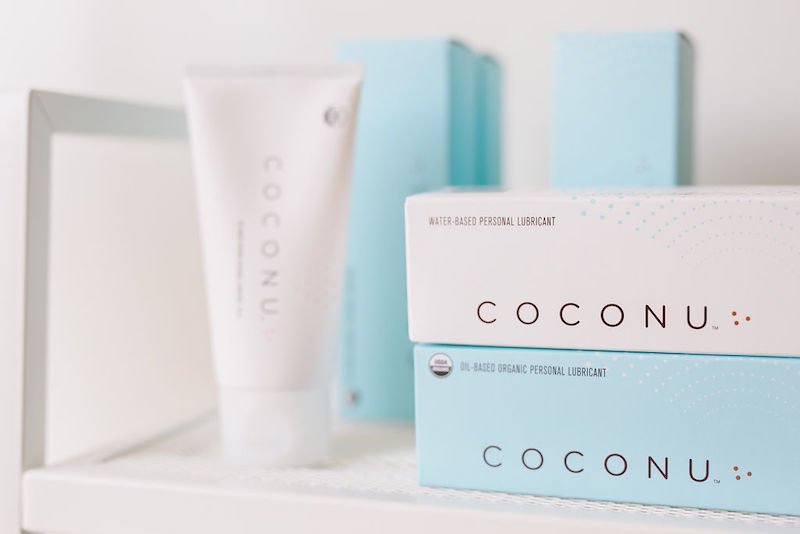 COCONU ORGANIC LUBRICANTS
Taylor Warnick founded Coconu to meet the need for personal care products with the same standard of healthy organic ingredients his family chooses for their food. His sister Sarah Belzer joined the team in 2017 to help expand their line and bring her influence in local political and social organizations focused on the environment and women's health issues. Coconu is a Certified B Corporation and gives 10% of its proceeds to the Ovarian Cancer Research Alliance (OCRA).
Coconu offers two organic lubricant products: Coconu Water Based (vegan and condom compatible) and Coconu Oil Based (a long-lasting coconut oil lubricant). Both products contain only ingredients that are hypoallergenic, cruelty-free, and edible. Coconu natural lubricants for women contain none of the ingredients on the avoid-list. In fact, you can find their full ingredient list at the product links above.
If you're ready to give their organic lubricants a try, you can use the special code GREEN for 15% off at www.coconu.com.
Feel free to email us if you'd prefer to ask questions privately rather than in the comments.
This article is part of a collaboration with our advertising partner, Coconu. All thoughts and opinions shared are strictly our own. Thank you for supporting the brands that make it possible for Green Child to share free natural parenting and healthy living content.