Meaningful Fourth Trimester Rituals to Mark the Transition into New Parenthood
The fourth trimester is often downplayed or overlooked completely. It's certainly not recognized in modern culture. And it's hard for new mothers to focus on anything but adapting to life with a new baby. But honoring the fourth trimester is a beautiful and highly useful way to make the transition to motherhood easier.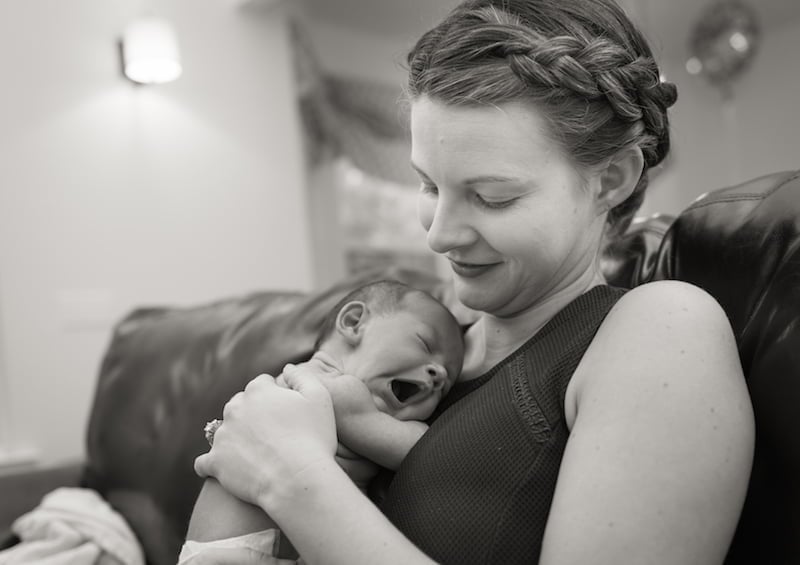 Every new parent goes through something of an initiation during the monumental transition of the fourth trimester. Changes happen on a profoundly spiritual and psychological level right after having a baby. And many cultures around the world recognize this with some sort of rite of passage.
These rites of passage are important for several different reasons. They signal the distinction of a parent's new role in the community. This often helps the support system rally around the new parents' needs. More importantly is the way rites of passage serve as rituals to help integrate parents into their new identities.
Rites of passage help us internalize the significance of this transition. And this can allow us to more fully embrace the changes happening on every level throughout this special time, the fourth trimester.
In modern society, most traditional rites of passage, such as closing the bones, have been left by the wayside. The fallout from this is an expectation that new parents bounce back to business-as-usual. And our culture can minimize the important social role that parents play.
Reclaiming these transitions and creating our own rituals that honor and celebrate the significance of having a baby are key pieces to a much needed culture shift in postpartum care.
We have to teach ourselves how to create something significant, as most of us are separated from traditions that include formal rites of passage. For those of us who want to be conscientious and respectful of traditions that don't belong to us, this can be tricky. So I've written the following tips and ideas to help people create their own authentic traditions.
Emerging out of the womb after lying-in
A lying-in or babymoon involves creating a sacred bubble or protected environment at home during the first few weeks postpartum. When you are ready, you will emerge into the world at large as the postpartum dyad. In the cultures that do this, a celebration is often held to honor the "birth of the mother" and her crossing the threshold of the riskiest time for her health into a more stable physical state.
Adopting this concept by simply deciding when to start integrating back into the public and how to do that is a choice that can help in many ways. It can help prevent depletion, strengthen boundaries, and honor the tenderness of the postpartum dyad in those early days.
It can be as simple as deciding that the first trip out is to a family member's house. Or as complex as creating a ceremony that officially honors the transition into parenthood after birth.
Honoring and thanking the body with bodywork ritual
Another fulfilling rite of passage may be an act of gratitude and deep care for our bodies. This can honor everything they have done to serve us during pregnancy, birth, and postpartum. Physically, these acts can help restore the nervous system and nourish circulation. And energetically, they can provide a sense of completion and closure to the openness that was created during pregnancy. This can happen in several different ways.
Postpartum ritual baths are something that can be done throughout healing. You can make this postpartum care activity extra special when used to mark the transition out of recovery. Getting a massage—particularly an abdominal massage—from someone who specializes in postpartum care and healing is a great way to honor the service of our bodies and return energy inward as we transition into the full force of parenting.
Another physical ritual is closing the bones, which involves wrapping the body snuggly in swaths of cloth and letting the new mother deeply meditate and come back into her body completely. These fourth trimester rituals are deeply nourishing on every level and when they are done with great reverence and intention, can serve to integrate us more fully into our role.
Creating a fourth trimester postpartum ceremony
Truly, anything can be a ceremony with the right amount of intention and creativity. And everything mentioned so far are great examples of potential ceremonies. The function of ceremony is to call in a specific purpose. That purpose can be to provide closure of the fourth trimester. Or it can honor the new parents' status and welcome the postpartum dyad into the community. There's no need to be intimidated by this process, as it can be as elaborate or straight-forward as anyone wants.
The basics are to have a beginning, middle, and end to the ceremony. For example, a word of gratitude, an offering, and a prayer or intention for the future. And incorporate physical elements that have personal meaning and represent the themes and purpose of the ceremony. The possibilities are truly endless.
Your nervous system likes closed loops. A fourth trimester ceremony helps signal to your body that the transition has occurred, allowing the nervous system to devote more energy to healing and bonding with baby.
This list is simply a starting point. New parents should explore the limits of their imagination of what rituals are meaningful to them. They can provide us strength, restoration, and the ability to adjust to the many changes that face us. More than anything, the act of reclaiming rites of passage as necessary elements of the fourth trimester is a step toward fully integrating as new parents.