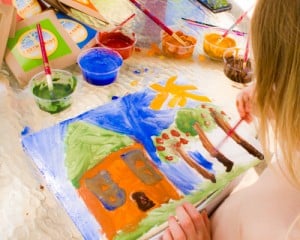 When was the last time you let your creativity run wild?
For many busy parents, art has become something we hang on the fridge when it comes home from school, or glance at while our children entertain themselves as we make dinner.
But the more we learn about how the brain works, the more you might want to carve out time to be creative with your child… and on your own.
The practice of making art stimulates the part of the brain that functions without words and can only express itself non-verbally.  And plenty of research backs up the theory that giving kids a creative outlet is good for their grades, mood, and overall wellbeing.
Leah Fanning Mebane is a professional artist who wanted to keep art as a priority in her life after becoming a mother.  As an oil painter, toxic paints and turpentine were a challenge.  "I just wanted to create beautiful paintings without poisoning my body and the earth. I learned that acrylics are also toxic, being a petroleum product mixed with synthetic pigments and preservatives. That began my research on earth pigments and eco friendly painting techniques."
After extensive research, Leah developed a completely earth friendly, non-toxic way to paint with high quality oils… without the turpentine and heavy-metal laden paints. Instead she used natural earth pigments she dug from the ground and processed into paint. Earth Paint was born.
One day as she was nursing her 8-month old baby, the idea for children's earth paints popped into her head like a light bulb. If I hadn't had all those hours of nursing time – sitting, being and letting my thoughts drift, the inspiration would have probably never come."
Leah realized, as many parents do when they settle into their new roles, that trusting her instincts and listening to her inner voice was guiding her to create her ideal business. Commercial "non-toxic" kids paints are filled with preservatives and chemicals.  What could be more natural than painting with the actual earth?  Now Leah and her husband Drew source their clay and mineral pigments sustainably from their environment.  They dry, grind, sift, and combine them with a milk powder binder.
Earth Paints comply with US Safety Standards testing ASTM D4236 and contain no heavy metals or toxins.
So the ingredients are as pure as can be… what do moms have to say about them?
Tiffany from Nature Moms said:
"The colors are rich and true to nature… not glossy, overly bright colors that scream 'came from a bottle.' It just bothers me to see paintings of trees where the green looks like it is a shade away from neon. These are the real colors of nature because they actually come from nature."
Lynn & Corey from Celebrate Green shared:
"I loved the consistency of these paints. They were smooth as butter, no lumps and they went on brilliantly. Except for a bright blue, the other colors included in the package—red, orange, yellow, green, and brown are, as you might suspect given the company's name, earth tones."
You'll find resources for nature-inspired art projects, natural paint recipes, eco friendly oil painting tips, the ancient history of earth paint and more at Natural Earth Paint online.  Plus you'll find more info on their range of products:
The Children's Earth Paint Kit includes six earth colors (red, orange, yellow, green, blue, and brown), biodegradable mixing cups, an Earth Art Booklet with complete directions, and nature-based activity ideas. The kit contains 3 oz. of dry pigment for each of the 6 colors – makes approximately 16 oz. of paint per color when mixed – for a total of 96 oz. of paint per kit!
The same set in a smaller size, the Children's Paint Kit Petite (2 oz. of each color – makes approx. 11 oz. of paint per color when mixed – a total of 66 oz. of paint per kit)
The paints in the Earth Oil Paint Kit are professional-quality oil paints that can be used on canvas, wood, primed paper or any surface that regular oil paint is used on. Unlike traditional tube oil paints, these paints contain no preservatives, fillers, heavy metals or toxins. They also offer excellent UV resistance, longevity and are beautifully radiant on the canvas. They also mix with tube oil paints perfectly.
The kit contains six earth pigments – 3 oz. each (red, orange, yellow, green, blue, brown), refined walnut oil, and complete directions. Included are tips on eliminating toxins from the oil painting process and more.
Latest posts by Green Child Magazine
(see all)