Eco Spotlight On: Avishi Organics
During pregnancy, our bodies perform some amazing tricks. An increased sensitivity to gross smells, jumping from complete nausea to intense cravings in the same moment, and, of course, the ability to expand and create the room needed to safely grow a little one. This last little mind-blowing feat also conjures up thoughts of the inevitable motherly badge of honor: stretch marks.
While they're a natural fact of life, stretch marks tend to be a challenge to emotionally embrace. But, what's just as hard as attempting to embrace them? Getting rid of them. Whether it's greasy, chemical-filled over-the-counter lotions or expensive treatments, no matter what you try, nothing seems to work. Isn't there a natural, chemical-free option that really helps those stretch marks fade?
Luckily, yes!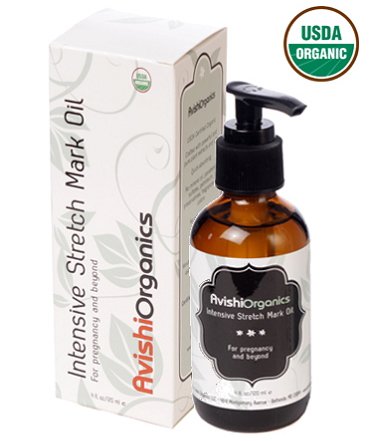 Avishi Organics has created the perfect product, naturally safe enough to use during and after your pregnancy (even while breastfeeding), but potent enough to help majorly reduce the appearance of stretch marks. Intensive Stretch Mark Oil is USDA-certified organic and totally free of mineral oils, chemicals, parabens, fragrances, colors, sulfates and other toxins. Its luxurious, light and quick-absorbing formula not only deters stretch marks but also relieves the irritating itchiness that often forms during pregnancy.
The effectiveness of Avishi Organics' Intensive Stretch Mark Oil comes from its pure botanical extracts and oils, renowned for their powerful healing properties. While promoting skin-cell regeneration to smooth skin texture, these plant-derived ingredients encourage skin elasticity and enhance the repair process. Stretch marks and scars can be expected to be visibly improved within 8 to 12 weeks (although individual results may vary). The best word to describe its effectiveness? "Powerhouse."
Each specifically chosen ingredient has an important role in making this a highly effective, natural choice. From rosehip seed oil to tamanu and sea buckthorn oils, each has been study-proven to improve the appearance of scars. The ancient herb, gotu kola, has been proven as an excellent skin and tissue regenerator that deters scarring and keloid formation. Also, Helichrysum Italicum was found, in a 2001 study, to be exceptionally high in tissue-regenerating diketones that help stimulate regrowth, reduce scar tissue, heal stretch marks and fade blemishes. Every ingredient serves an important role, and you'll see the proof on your skin.
Avishi Organics was founded by a mother who, during her first pregnancy, realized the clear lack of specialist skin treatments for mothers-to-be and babies that were free from chemicals, toxic substances and harmful additives.
The natural products that she did come across appeared to lack therapeutic benefits and failed to show significant results. So, Avishi Organics was launched with the specific purpose of creating luxurious, high-performance formulations made from 100% natural ingredients. The term "Avishi" is even Sanskrit for "from nature," a constant reminder of the company's integrity.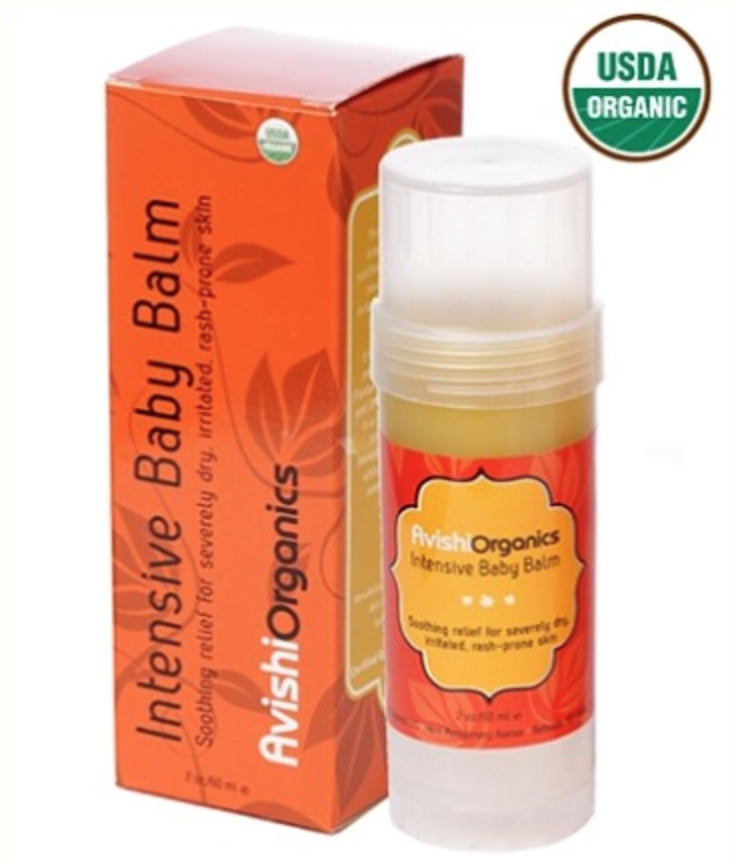 And that's why you can even trust your baby's beautiful, sensitive skin to Avishi Organics! Their USDA-certified organic Intensive Baby Balm, recently clinically proven to be hypoallergenic and non-irritating, is perfect for healing and soothing the most stubborn skin irritations and diaper rash. The regenerative properties of neem, coconut, plantain, shea butter and other botanical ingredients offer an extremely powerful yet gentle formulation. The balm stick provides an ease of application, which makes on-the-go use a non-sticky snap.
As the body's largest organ, it's important to care for your skin naturally and effectively. With Avishi Organics, you can be sure that you will be putting the purest, meticulously-selected ingredients possible on the skin of you and your child. Rest assured knowing that you're healing skin "from nature."